When you purchase through our links, we may earn a commission. As an Amazon affiliate, we earn from qualifying purchases.
Find the perfect pieces to complete every room
Article by
Sarah Morris
Sarah Morris is an avid writer of home decor and product reviews. She covers furniture products and more for ChosenFurniture.
| Fact Check by
Kate Wilson
Kate Wilson is a writer and fact checker for home decor and furnishings at ChosenFurniture. She enjoys splitting her finds with others.
| Updated on September 20, 2022
Home furnishings are essential whether you buy a new empty house or relocate. Buying furniture may be costly, especially if you are purchasing new, so it is always a good idea to browse around and do your research on the furniture that your home needs the most. Some individuals like to have their living space fully equipped, whilst others prefer an uncluttered home filled only with necessities.
Learn about the options you have – the different types of furniture and the names of furniture pieces – to help you make the best shopping decisions. The key to successful online shopping is knowing where and what to search. Whatever your unique taste, we've produced a list of the most important furniture types to add to your living space. And you should always shop from the best furniture brands, as they always offer the best deals, high-quality designs, and materials. Additionally, we put together a list of the best high end furniture brands and the best American-made furniture brands you can choose from.
Wikipedia
Furniture refers to movable objects intended to support various human activities such as seating (e.g., stools, chairs, and sofas), eating (tables), storing items, eating and/or working with an item, and sleeping (e.g., beds and hammocks). Furniture is also used to hold objects at a convenient height for work (as horizontal surfaces above the ground, such as tables and desks), or to store things (e.g., cupboards, shelves, and drawers)
Let's go over them, room by room….
The Living Room: A Place to Sit Back and Entertain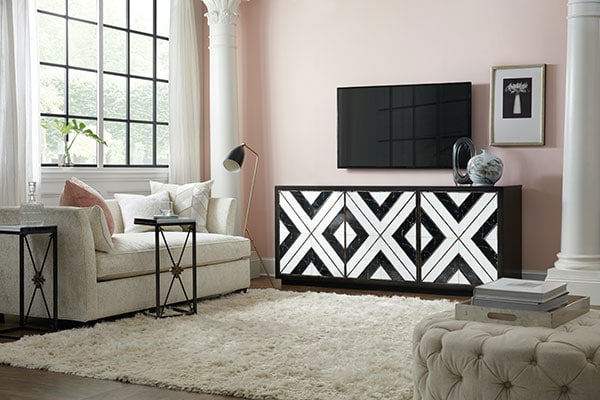 The living room is a place where you relax, entertain guests, and spend time with family, so it's important to choose furniture that reflects your personal style. And there is no right or wrong way to decorating a living room. The most important piece of furniture in the living room is the sofa. A great sofa becomes the centerpiece of the living room, should be comfortable and stylish, comes in many different styles, and add an extra aesthetic value to your home.
If you want a couch that you can sink into, look for one with loose cushions and a deep seat. Choose a sofa with tight back cushions and rolled arms for a more formal look. If you have a small living room, look for a loveseat or settee. These smaller pieces can help save space without sacrificing style. For larger living rooms, a sectional sleeper sofa can enhance the beauty of your space. By day it provides the cozy seating, and by night they transform into a spare bed.
Accent tables are another important piece of furniture for the living room. Although not quite necessary, coffee tables are a useful addition to any living room. A coffee table is typically placed in front of the sofa, and it can be used to hold books, magazines, remote controls, and more. End tables are placed next to chairs and can be used as a surface for lamps or decorative objects. A console table can be placed against a wall and is a great spot to display photos or artwork.
In addition, living rooms must include a few chairs. Chairs can be used for sitting or as accent pieces, and they come in a variety of styles. An accent chair in your living room is a lovely statement piece that will brighten the space. Armchairs are comfy chairs that may be used in the living room or family room. An armchair is a good choice if you want a comfortable place to read or watch TV. A side chair can be pulled up to the coffee table when you have guests. And a Lazyboy recliner is perfect for kicking back and relaxing.
Other pieces of furniture that are often found in the living room include ottomans, bookshelves, and entertainment centers. Ottomans can be used as extra seating or as a coffee table, while bookshelves are a great way to store books, magazines, and other items. Entertainment centers provide a place to put entertainment equipment. An entertainment center is an ideal location for your living room electronics and gadgets. And don't forget lightning, be bold and use a Sputnik chandelier!
The Bedroom: A Place to Unwind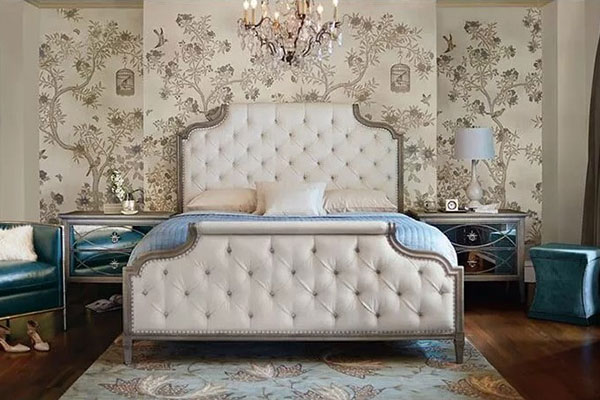 A bedroom is a place where you may unwind and get away from the stresses of everyday life. The most important piece of furniture in the bedroom is the bed. This is where you'll sleep, so it should be big enough to accommodate you and your partner comfortably. You'll also want to choose a bed that fits well in the space and that complements the other pieces of furniture in the room.
Choose a bed that's comfortable and that fits well in the space. If you have a small bedroom, consider a twin-size bed. For a medium-sized bedroom choose a full-size bed, while a queen-size or king-size bed will work well in a larger space. Check also the La-Z-Boy Furniture review for one of the finest selections of beds and sofas.
In almost all bedrooms, the bed takes up the most area. As a result, a bed frame is regarded as an essential component of this room of the house. They are available in a variety of typical sizes, including twin, full, queen, and king. The specific types of bed frames also vary. There are bed frames that have both headboards and footboards, and there are zero gravity bed frames for specific sleeping postures. Not lastly, you can buy any of our best sleeper sofas we review deeply in another article.
Other essential pieces of bedroom furniture include dressers, nightstands, vanities, and mirrors. Dressers provide a place to store clothes, and they come in a variety of styles. Almost a necessity, bedside tables (nightstands) flank a bed. They come in all sizes, but a small bedside table is always appreciated.
Nightstands can be placed next to the bed, and they're a great spot for a lamp or alarm clock. Vanities function as a distinct place for your daily grooming and personal care needs, such as hair styling or cosmetics application. Mirrors can be hung on the wall or placed on top of a dresser.
The Dining Room: A Place to Gather and Eat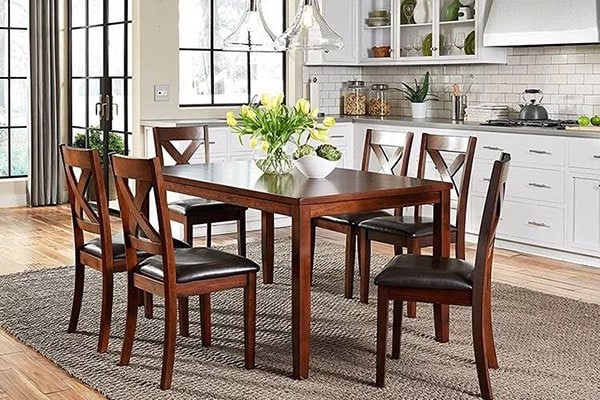 Many types of furniture can transform your living space, so this applies to the dining room. The dining room is a place where we all gather to eat. In comparison to other rooms in the house, the dining room is low-key in the sense that it just requires a dining table and chairs to be completed.
As you guessed, the dining room's most important piece of furniture is the table. Because this is where everyone would sit during meals, it should be spacious enough to accommodate all of your visitors. You should also select a table that suits the area and compliments the other pieces of furniture in the room. The dining table is one of the most used pieces of furniture in the house, so when you're ready to shop for one, look around for the greatest selection for your home.
Dining chairs are seats that are meant to be used around a dining table during mealtimes. The one cannot exist without the other. You'll need enough chairs to seat all of your guests, and you'll want to choose comfortable chairs. However, they do not have to match because one may easily blend different styles based on their preferences. Some people choose dining seats with cushions to seep a morning coffee in style.
China cabinets or cupboards provide extra storage for the area. China cabinets with clear glass doors are used to store and display beautiful and delicate dishes that are only used on special occasions. A china cabinet with a glass face is meant to function as a display, while a buffet is more of a functional storage solution.
A buffet or hutch is another common piece of furniture in the dining room, and it can be used to store dishes, silverware, and other items. Should be made of wood because a quality piece of solid wood furniture you buy today will save money in the long run it it it by not having it to replace it year after year.
Bars are a simple and elegant way to add more storage as well as eating space to your area. Serving carts are ideal for holding your wine, liquor, and glassware. The best aspect is that most of them are portable, allowing you to move them from room to room or even outside.
The Office: A Place to Get Work Done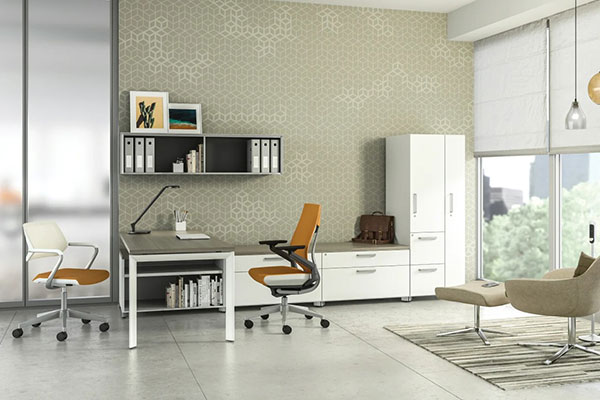 If you're setting up an office in your home, you'll need to choose furniture that is both functional and stylish. The most important piece of furniture in the office is the desk. This is where you'll do your work, so it should be big enough to accommodate all of your supplies and equipment. You'll also want to choose a desk that fits well in the space and that complements the other pieces of furniture in the room.
In addition to the desk, chairs are another essential piece of office furniture. You'll need a comfortable chair to sit in while you work, and you may also want to choose a chair that can be adjusted to different heights. If you want a chair that is comfy for your back, you should opt for an ergonomic chair. This chair is ideal for people who have back or spine problems since it has curved back support. It's also appropriate for people that need a lot of sitting. Ergonomic chairs also include adjustable heights, armrests, and headrests to help you maintain optimal posture while working.
Other important pieces of office furniture are file storage units (filing cabinets). This is where you store office documents in safety. Filing cabinets come in a variety of sizes, shapes, and a small number of colors. Office cupboards are intended to maintain your workspace clean and tidy in an orderly fashion. It is available in a variety of styles, sizes, and forms. Some cabinet designs include tall, slimline, small, and desk-high variants. They are used to store documents and valuables and come with spare keys for further protection.
If you plan on working from home regularly, you may also want to invest in a sofa or futon so that you can take breaks and relax in comfort.
One of the elements to consider while shopping for office furniture is your budget. A quality furniture store should have a large selection of office furnishings. Design, quality, and style should not be sacrificed due to financial constraints. Your budget should provide appealing furnishings at reasonable prices.
The Kitchen: A Place to Prepare and Eat Meals
A kitchen is a place where people congregate to prepare and sometimes eat meals. It is just a place to show cooking abilities and win everyone's hearts. The space also needs to be neat, clean, and friendly. Furnishing your kitchen can be a creative and engaging practice if you want to decorate a new kitchen or want to update your existing one.
When it comes to kitchen furniture, there are numerous factors to consider, such as the placement of major appliances, plus the selection of cabinets, bar stools, table and chairs, kitchen islands, buffet furniture, and other accessories.
Kitchen cabinets are, without a doubt, the most talked-about type of kitchen furniture. The diversity of cabinets is unbelievable, ranging from simple, conventional wood cabinets to modern kitchen cabinets made of futuristic materials. You should ensure that the aesthetics of your kitchen cabinet reflect both your particular tastes and style. Cabinets now include pull-out drawers that provide conveniently adjustable storage space. They are adaptable, robust, functional, and fashionable.
If you need additional storage or counter space in your kitchen, a beautifully constructed classic or vintage kitchen island may meet both your practical and aesthetic demands. Classic kitchen islands are constructed with a top butcher block made of different types of wood that has been stained and lacquered to prevent deterioration.
If you owned a larger luxury kitchen, a movable kitchen cart helps to keep close the goods required to prepare a spectacular dinner without requiring anybody to get up and down from the dining table. Kitchen carts, which come in also a variety of sizes, may also be utilized as outside barbeque accessories or for other entertaining reasons.
Today's kitchen bar with stools is more popular. Bar stools come in a large number of styles and are built from a variety of materials such as wood, steel, cast iron, and bamboo. Tables and chairs are becoming common in kitchens nowadays. They are available in a variety of materials and styles, including wood, bent iron, aluminum, and fiberglass.
The Dressing Room: A Place to Get Ready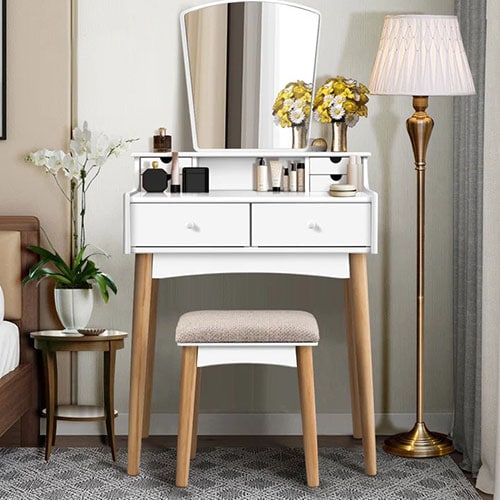 A dressing room is an area from your home dedicated to dressing as well as storing shoes, clothing, and jewelry. A dressing room also frees up space in the bedroom, allowing you to create your own distinct area of leisure. The most important piece of furniture in the dressing room is the vanity. This is where you'll do your hair and makeup, so it should be big enough to accommodate all of your supplies and equipment.
You'll also want to choose a vanity that fits well in the space and that complements the other pieces of furniture in the room. In addition to the vanity, chairs are another essential piece of furniture. Choose a comfortable chair to sit in, and you may also want one that can be adjusted to different heights.
A mirror is another common piece of furniture, and it should be used to check your appearance before you start your day. Mirrors help to extend tiny rooms, so it is a good idea to replace solid cabinet doors with sliding mirror doors.
Lighting may not be as exciting as selecting other furnishings, but it is essential when building a practical dressing room. Dressing rooms are often darkish environments with few windows (if any), thus enough lighting is essential. You need to shop for a powerful overhead light, but you can soften the look with spotlights or LED strip lights built inside the wardrobes.
A well-organized area makes getting ready in the morning much simpler. It will not only make your area feel less organized, but you will also be able to find items more quickly. You can do this by using shoe cabinets, ottomans, benches, jewelry boxes, hanging rails, canvas wardrobes, and holders.
The Bathroom: All Essentials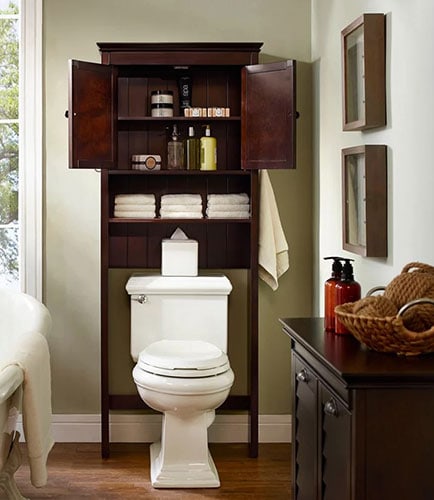 The bathroom is another important room in the house and compared to living room furniture, it's outfitted with specific types of furniture. A bathroom is a place where people go to get clean and to take care of personal hygiene, so it's important to have the right furniture. In general, the bathroom is one of the smaller rooms in the house, so proper design is essential. Plan your bathroom layout and take measurements to verify that your furniture will fit.
When looking to buy furniture online, you'll see that there are several varieties of bathroom furniture available, including vanity units, drawer units, cupboards, wall units, and mirrored cabinets.
The most important piece of furniture in the bathroom is – again – the vanity. Bathroom vanities are multifunctional and have plenty of storage space, making them ideal for storing bathroom staples, cleaning goods, towels, toilet paper, and supplies. They are available in a variety of sizes, from little under-sink units to enormous combination vanities that include the sink and the toilet. With this simplistic yet very effective design, you could even go back to the fundamentals.
A mirror is another vital element of every bathroom, but selecting the right size and design may be difficult. It is critical to consider how this bathroom will be utilized; will there be multiple sinks or a single sink? Mirrored cabinets have a mirror as well as extra storage and may be ideal for compact rooms with limited storage. Mirrored cabinets come in a variety of styles, some of which have built-in outlets, LED lights, and mirror defoggers.
Other pieces of furniture that are often found in the bathroom include linen cabinets, medicine cabinets, and storage shelves. Linen cabinets are tall, narrow cabinets that are typically used to store towels and other linens. Medicine cabinets are small cabinets that can be hung on the wall and are used to store medicine, first-aid supplies, and other items. Storage shelves can be used to hold towels, toiletries, and other items, and they can be placed over the toilet or in other areas of the bathroom.
The Kids Room: A Place to Play and Learn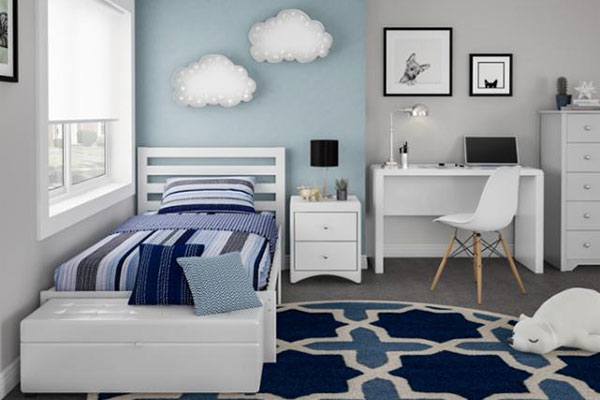 The kids' room is a place where children can play, sleep, and do homework, so it's important to have the right furniture. The key to designing a children's room is to discover methods to use the floor space wisely, adding furniture that makes the most of the space it takes up. Buying furniture that serves more than one purpose in a child's room is a great method to free up space for other things your child may require.
The most essential piece of furniture in the kids' room is the bed. This is where your child will sleep, so it should be big enough to accommodate your child's body comfortably. You'll also want to choose a bed that fits well in the space and that complements the other pieces of furniture in the room. A child-friendly bed is highly recommended. As a result, the greatest ones are created with safety and comfort in mind. If more than one kid will be sharing a room, consider bunk beds or trundle beds.
A study table is a must-have for growing youngsters who are already enrolled in school or will be soon. Look for study tables that are ergonomically constructed. These tables should be the appropriate height, built of durable material, and equipped with storage drawers or cubbies. Your child's usage of this place may alter as they get older, but giving them a defined spot to work will keep them focused for longer.
A nightstand provides a place for your child to put a drink of water, a toy, or a stack of storybooks. A nightstand with at least one drawer provides your child a place to keep any unique keepsakes. Even if your child has a full-size bed, one nightstand is usually plenty. In a tiny bedroom, you could even use a chest of drawers or a small dresser as a nightstand to create a 2-in-1 piece of furniture.
In addition to the bed, other essential pieces of kids' furniture include dressers, bookcases, and chairs. Poufs, pillows, blankets, and bean bag chairs – these fluffy objects are enjoyable additions that provide a little extra delight and comfort to the area. Use them to decorate a lovely reading nook or play space.
The Storage Room: A Place to Keep Your Things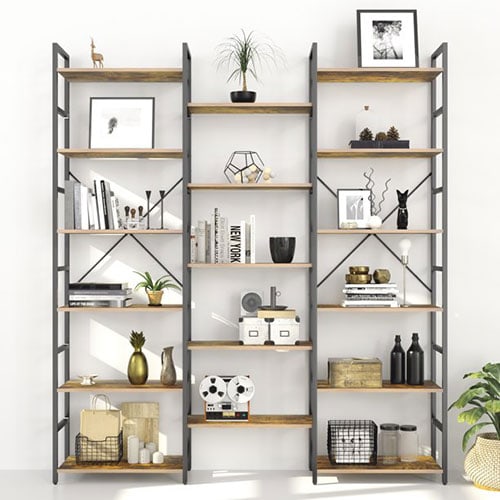 The storage room is a place where you can keep your belongings safe and out of the way. The functionality of your storage space might impact your furniture selection. When choosing furniture, the use and access are key factors to consider. In general, the furniture chosen should be as versatile and flexible as possible to suit changing demands. Shop furnishings that stack or adapt. Almost every type you want is commercially accessible from online furniture vendors.
Instead of stacking boxes full of your objects, why not invest in some strong shelves to keep things in order? It not only keeps your stuff off the floor, but it also makes it easier to find what you're searching for because everything is visible. Storage shelves come in a wide range of designs to meet your needs and can be used to store almost anything. It would be best if you searched for shelves that are durable and fit well in the space.
Wardrobes are storage devices that are useful when only a few items need to be stored and when the goods may be hung on cushioned hangers. Some cabinets include shelves or drawers in the lower or higher parts for small goods.
Cabinets with doors are frequently selected when security and dust-prevention are important considerations. They come in a large variety of sizes and combinations. These may be ordered with shelves or drawers. Other changeable characteristics include glass doors for easy visual access, solid metal doors for light attenuation, and adjustable, sliding, permanent, or detachable shelves or drawers.
Another type of storage furniture is the chest. Chests are often used to store blankets, pillows, and other items. They typically have one or two doors that can be opened to access the contents inside.
The Outdoor: A Place to Enjoy with Family and Friends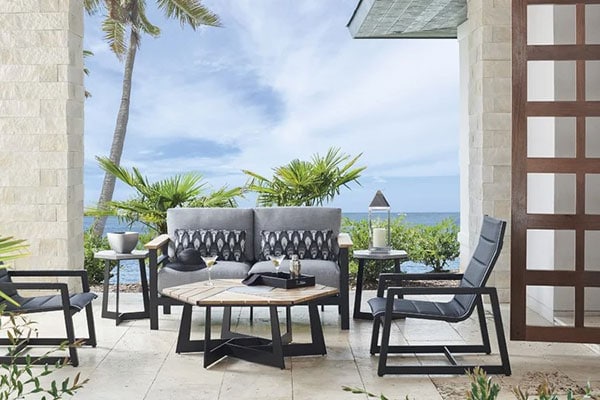 With outdoor furniture, in essence, you take dining room furniture or living room furniture types and move them out. You can mix and match outdoor furnishings made of different materials such as plastic and wood, or cast aluminum and PVC-coated steel. When selecting how much to spend, keep the frequency of usage in mind. You'll also want to choose pieces that are made of durable materials and that can withstand the weather elements.
The most important piece of outdoor furniture is the patio set. This is where you'll spend most of your time with your guests. You'll also want to choose a patio set that fits well in the space. Patio sets include a three-seater wicker sofa and two wicker side chairs composed of wicker, resin weave, and metal. These materials require minimal upkeep and do not need to be brought within when not in use.
Sofa sets are definitely one of the greatest options if you have a garden. They have an appealing and sophisticated look. What could be better than sitting outside with your friends and conversing while enjoying the cool breeze?
Benches are another popular type of outdoor furniture. They are comfy and complement different types of furniture. Benches with storage are also available if you have limited outdoor space. In any yard, bistro sets seem incredibly fashionable and sophisticated. They are often made up of bar chairs and tiny circular or oval café tables. They are often composed of iron, although other materials are available.
In addition to all of these furniture options, you may also want to choose a porch swing chair and umbrellas for your outdoor space. These pieces of furniture can be used to create a comfortable seating area where you can relax and enjoy the outdoors.
Different Types of Furniture – By Room and Name
There are many different types of furniture to choose from when furnishing your home. The most important thing to consider is the function of the piece. For example, if you need a place to sleep, you'll want to choose a bed. If you need a place to sit, you'll want to choose a chair. Once you've determined the function of the piece, you can then select the material and style that best suits your needs.
Following are furniture types in different rooms of any home.
Living Room Furniture
Sofas
Sectionals
Sleeper sofas
Accent chairs
Loveseats
Chaises
Chairs-and-a-half
Recliners
Swivels and gliders
Ottomans
Bedroom Furniture
Beds
Headboards
Nightstands
Dressers
Chests and armoires
Mirrors
Mattresses
Benches
Dining Room Furniture
Dining tables
Arm chairs
Side chairs
China Cabinet
Bar and counter stools
Sideboards
Console tables
Kitchen Furniture
Kitchen cabinets
Kitchen islands
Bar stools and chairs
Kitchen carts
Baker racks
Kitchen buffets
Pot racks
Office Funiture
Desks
Chairs
Filing cabinets
Bookcases
Sofa
Wall art
Lighting
Mini-bar
Dressing Room Furniture
Flat-panel
Open-panel
Raised-panel
Recessed-panel
Shaker
Glass-front
Beaded inset
Louvered
Bathroom Funiture
Sinks
Storage shelves
Linen cabinets
Medicine cabinets
Vanities
Mirrors
Showers
Toilets
Kids Furniture
Beds/bunk beds
Chairs
Tables
Desks
Wardrobe
Toy boxes
Storage units
Poufs
Storage Funiture
Chests, footlockers, and trunks
Ottomans
Lift top table
Benches
Cabinets
Magazine rack
Wardrobe
Bookshelves
Outdoor Furniture
Patio sets
Chairs
Tables
Benches
Sofas
Dining sets
Bistro sets
Gazebos and pergolas
Now that you know more about the different types of furniture and the names of furniture pieces, you can make better decisions when it comes to filling your home with stylish and functional pieces. These extremely versatile pieces of furniture are the most important furnishings for your home. Use this guide as a starting point, and then let your creativity take over as you design each room in your house. With a little bit of planning, you can create a beautiful and inviting space that everyone will love.