When you purchase through our links, we may earn a commission. As an Amazon affiliate, we earn from qualifying purchases.
Step into the past and experience the splendor of the Victorian era
Article by
Sarah Morris
Sarah Morris is an avid writer specializing in home decor and product reviews. She covers furniture products and more for ChosenFurniture.
| Updated on July 16, 2023
What Is Victorian Style Furniture?
The timeless elegance and grandeur of Victorian style furniture are almost unprecedented. The ornate details, rich materials, and intricate carvings are just a few reasons this style has remained popular for centuries.
Victorian style refers to furniture popular during the reign of Queen Victoria in the 19th Century. This furniture style is known for its luxury, elegance, and ornate details. The Victorian era spanned from 1837 to 1901, and during this time, furniture makers created pieces that reflected the tastes and trends of the period.
Victorian furniture is often associated with opulence, and it was popular among the upper classes of society during the era. Victorian pieces are still popular today because of their traditional attractiveness and the prestige they provide to any room.
RELATED: 27+ Timeless Style of Furniture That Never Goes Out of Fashion
Key Takeaways
It is intricately designed for aesthetic appeal and incorporates exquisite carvings, patterns, and themes.
Victorian furniture makers favored dark woods such as mahogany, walnut, and rosewood, combining them with rich velvet, silk, and brocade fabrics.
It was popular among the upper classes during the Victorian era, representing luxury and sophistication.
Victorian-style furniture has a timeless appeal. It continues to be popular among homeowners who appreciate its classic beauty and ability to add a touch of sophisticated elegance to interior home decor.
A Brief History and Evolution of Victorian Furniture
Queen Victoria governed England from 1837 when she was crowned, until she died in 1901. The Victorian era, so named because of the tremendous pace of social and technological change, lasted from about 1837 to 1901.
The period's furnishings perfectly reflected the royal family's taste in decoration, and the English house was romanticized with fervor. The emerging middle class, eager to flaunt their wealth, favored antiques. Several revivalist designs with foreign influences, such as Greek, Rococo, Oriental, and more, were created by carpenters who balanced the need for bourgeois taste with home practicality.
Multiple furniture types, reflecting the period's shifting design, appeared throughout the Victorian era. Here are some of the distinct characteristics of each period of Victorian furniture:
Gothic Revival (1840-1860)
About halfway through the Victorian period, a style with roots in the Middle Ages, known as Gothic Revival, gained popularity. Gothic Revival furniture featured pointed arches, tracery, and intricate carvings of gargoyles, dragons, and other Gothic motifs. Darker woods like walnut, mahogany, and oak were used for most furniture.
Rococo Revival (1840-1865)
The Rococo Revival style emerged during the early Victorian period and was characterized by a return to the ornate and elaborate designs of the Rococo period. Furniture of this style featured curvaceous forms, intricate carving, and a profusion of scrolls, foliage, and other decorative motifs. Rosewood and mahogany were the usual materials for the furnishings.
Renaissance Revival (1860-1880)
The Renaissance Revival era of Victorian design saw a resurgence of interest in the classical forms of the Renaissance era. Furniture of this style featured heavy ornamentation, including carved columns, pediments, and other architectural details. Typically, oak, walnut, or mahogany was used in the building process of the furniture.
Eastlake (1870-1890)
The Eastlake style emerged during the late Victorian period and was named after the British designer Charles Eastlake. This style was characterized by rejecting the ornate designs of earlier Victorian styles and focusing on simple, geometric forms. Furniture of this style featured straight lines, flat surfaces, and minimal decoration. The furniture was typically made of oak or walnut.
Arts and Crafts (1880-1910)
The mass-produced, machine-made furniture inspired the late Victorian Arts and Crafts movement. Furniture of this style was characterized by its simplicity, functionality, and use of natural materials. The furniture often featured exposed joinery and emphasized the beauty of the wood grain. The furniture was typically made of oak or other natural woods.
Characteristics of Victorian Furniture
One of the critical influences on Victorian-style furniture was the Gothic Revival movement. This movement drew inspiration from medieval architecture and art, reflected in the pointed arches, intricate carvings, and decorative flourishes characteristic of Victorian furniture.
The Arts and Crafts movement also significantly influenced Victorian-style furniture. This movement emphasized simplicity and craftsmanship, reflected in some Victorian-style pieces' use of natural materials and simple, clean lines.
Important features of Victorian-era furniture include:
Dark woods: Mahogany, walnut, and rosewood are often used to construct Victorian-era furniture. These woods are prized for their richness and durability.
Ornate details: often characterized by elaborate finer points, such as intricate carvings, scrollwork, and decorative flourishes. These details add a sense of grandeur and elegance to any room. Often, the materials would be embellished with decorative trim, tassels, or fringe, further emphasizing the ornate nature of the furniture.
Upholstery: Another hallmark of Victorian furniture is its use of rich fabrics. Rich fabrics such as velvet, silk, and brocade created luxurious seating options.
Curves: Victorian furniture often features curved lines and shapes, adding a sense of softness and femininity to the pieces.
Exotic materials: It often incorporates exotic materials such as mother-of-pearl, ivory, and tortoiseshell. These materials were used to add a sense of luxury and opulence to the pieces.
Finally, Victorian furniture was often associated with luxury and wealth, widespread among the upper classes during the Victorian era. Furniture makers often create custom pieces for wealthy clients, incorporating their tastes and preferences into the design. Victorian furniture continues to be prized for its timeless beauty and classic elegance.
😍 From ornate carvings to plush upholstery, it exudes elegance and sophistication. 👑 Whether it's a plush sofa, a grandiose armchair, or a beautiful dining table, Victorian furniture never fails to impress. #VictorianFurniture…
Click To Tweet
Pros of Victorian Furniture
Timeless elegance and classic beauty.
High-quality construction and durability.
Intricate details and ornate designs add visual interest.
Use luxurious materials such as dark woods and rich fabrics.
Association with luxury and sophistication.
Cons of Victorian Furniture
Large and bulky, which may not be suitable for smaller homes or apartments.
Prices escalate because of the high standard of workmanship and materials.
It may be too ornate or decorative for some modern tastes.
Heavy use of dark wood may not match lighter, more contemporary interior design styles.
It may require regular maintenance and upkeep to preserve its beauty and condition.
Expert Opinion
"Victorian furniture underwent massive changes, often reflecting regional and historic influences to manifest furniture across several decades that hardly follows a consistent design throughline." –
Megan Cooper, writer at LoveToKnow
Why Choose Victorian Style Furniture for Your Home?
One of the top reasons to choose Victorian furniture is its timeless elegance. This furniture style has been popular for centuries and is a classic choice today. The intricate details, ornate carvings, and rich materials used in Victorian furniture make it a statement piece in any room, and it never goes out of style.
Another reason to choose Victorian-style furniture is its high-quality construction. Victorian furniture makers favored durable materials and construction techniques, ensuring their pieces were built to last. Victorian furniture is a wise purchase for your house since it will retain its elegance and usefulness for decades.
Victorian furniture is also known for its intricate details. Its beautiful carvings and decorations suggest it may be regarded as art. These details add visual interest and make each piece unique and special.
Luxurious materials like dark wood, velvet, silk, and brocade are often used in the construction of such pieces of furniture. These materials look beautiful and luxurious, adding to the overall feeling of opulence and sophistication.
Victorian furniture is also versatile, with various styles. Whether you prefer Gothic, Rococo, or Renaissance styles, there is a Victorian piece that will suit your taste and preferences. Victorian furniture can also work well in multiple interior design styles, whether you want to create a grand, opulent feel or add a touch of classic beauty to your home.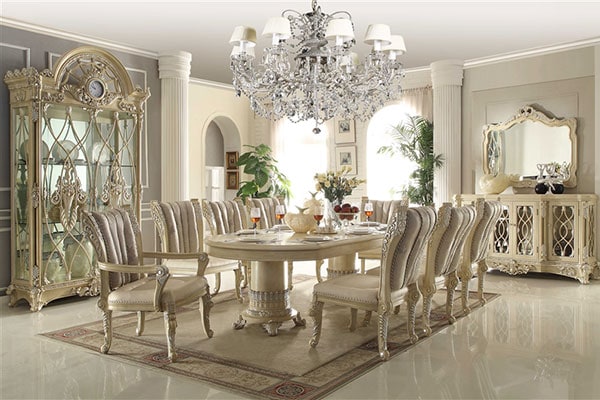 There are numerous pros to furnishing your house with a Victorian design and some negatives. Victorian furniture can be large and bulky, which may not be suitable for smaller homes or apartments. Due to the high cost of the materials and the required workmanship level, it may be rather pricey. Additionally, Victorian furniture may be too ornate or decorative for some modern tastes, and the heavy use of dark wood may not match lighter, more contemporary interior design styles.
Where to Buy Victorian Style Furniture
One iconic piece of Victorian furniture is the fainting couch, a chaise lounge. This long, low sofa features a curved back and high armrests, providing the perfect spot for a Victorian lady to rest and recuperate. Today, fainting couches are often used as stylish accent pieces in living rooms or bedrooms.
Chesterfield couches are the pinnacle of Victorian elegance. In the 18th century, the 4th Earl of Chesterfield had a local artisan create a couch for him out of leather so that his guests could sit up straight without creasing their clothes. Chesterfield sofas are easily recognizable by their tufted leather upholstery, brass tacks, and scrolled armrests.
Another iconic piece of Victorian furniture is the parlor chair. These chairs are known for their intricate carvings, plush upholstery, and luxurious details. Formerly confined to the formal parlor, they are commonplace in the living room, bedroom, and home office.
The Victorian era was known for its love of ornate mirrors. Large, decorative mirrors were often used as statement pieces in living rooms, dining rooms, and bedrooms. These mirrors were often framed in intricately carved wood or adorned with decorative details, making them functional and beautiful.
There is an extensive range of choices accessible to customers interested in buying legendary Victorian furniture. Because they often sell one-of-a-kind and exclusive finds, antique and vintage stores are excellent starting points for one's search. These stores may also have knowledgeable staff who can help you identify different styles and periods of Victorian furniture.
Online marketplaces like Amazon, eBay, Walmart, Etsy, and Wayfair can also be an excellent resource for finding iconic Victorian furniture. These platforms offer various options, from high-end antique pieces to more affordable reproductions. However, it is essential to conduct research and make certain that you buy from a vendor with a solid reputation and track record.
Some furniture companies specialize in this style for those who prefer new furniture inspired by Victorian design. These companies often offer reproductions of iconic Victorian pieces, as well as new designs that are inspired by this era. Some popular Victorian-inspired furniture companies include Victoria Palace, The Bella Cottage, and Victorian Trading Co.
How to Incorporate Victorian-Style Furniture into Your Decor
Incorporating Victorian furniture into your decor can be tricky, as it can easily overpower a room or clash with other design elements. Here are some suggestions for matching Victorian furnishings with the rest of your interior design.
Mix and Match Styles
Mixing and matching styles are keys to successfully incorporating Victorian furniture into your decor. Victorian furniture tends to be quite ornate, so pairing it with more modern, streamlined pieces can help balance the room. A Victorian couch, for instance, may be used with a trendy coffee table and a rug from the present day to beautiful effect.
Choose a Focal Point
Incorporating Victorian furniture into a room can quickly overwhelm you, so choosing a focal point is essential. A statement piece of Victorian furniture, such as a carved wood armoire or a velvet chaise lounge, can serve as the focal point of a room, allowing the rest of the decor to be more understated and complementary.
Be Mindful of Scale
Victorian furniture tends to be large and ornate, so it's important to consider scale when incorporating it into your decor. It's best to use Victorian furniture in larger rooms with high ceilings, where it can be appreciated and admired. Opt for smaller pieces of Victorian furniture, such as a decorative side table or a carved wood chair, rather than large statement pieces in smaller rooms.
Use Color and Texture
Victorian furniture is often made with rich, luxurious materials such as velvet, silk, and brocade. These materials can make a space seem more three-dimensional, but the color scheme must always be considered. Victorian furniture tends to be dark, so balancing it with lighter colors and textures is crucial. Use light-colored walls, neutral rugs, and bright accents to create a harmonious balance.
Add Accessories
Accessorizing is critical when incorporating Victorian furniture into your decor. Ornate mirrors, crystal chandeliers, and antique vases are all great ways to add to the room's Victorian mood. However, be careful not to go overboard; too many accessories can make the room feel cluttered and overwhelming.
Incorporating Victorian-style furniture into your decor can be fun and rewarding. Mixing and matching styles, choosing a focal point, being mindful of scale, using color and texture, and adding accessories can create an elegant, timeless, balanced room.
Expert Opinion
"The type of wood utilized may also indicate that the furniture originated in the Victorian period. Mahogany and rosewood were often considered the Victorian woods of choice, though oak was sometimes preferred for its symbolic significance as the national tree of England." –
Catie Cullen, RauAntiques
What Are the Alternatives to Victorian Furniture Style?
Antique: pieces often have intricate details, fine joinery, and unique features that reflect the style and craftsmanship of their period.
Regency: characterized by its use of high-quality woods, such as mahogany, with delicate details, brass accents, and delicate inlays.
Bohemian: eclectic, free-spirited, and often incorporates patterns, textures, and colors. It's an excellent style for those who want to showcase their personality and love of art and culture.
Edwardian: Made for the middle class, but rather than being massive, components were scaled down to be more portable and used in various scenarios.
Frequently Asked Questions
What are the features of Victorian furniture?
Victorian furniture includes ornate designs, rich colors, and various wood, metal, and glass materials. It is characterized by intricate carvings and embellishments, focusing on curved lines and asymmetrical shapes. It also often features plush upholstery and tufting with a mix of patterns and textures.
What is the difference between Regency and Victorian furniture?
Regency furniture refers to when George IV served as Prince Regent of England from 1811 to 1820 and is characterized by a neoclassical style with simple lines and elegant curves. Victorian furniture spans the reign of Queen Victoria from 1837 to 1901 and is known for its ornate, eclectic style with a focus on embellishments and details.
What is a Victorian furniture style?
Victorian furniture style refers to the design and aesthetic trends that emerged during the Victorian era. This style is characterized by a mix of Gothic, Rococo, and Renaissance Revival influences, resulting in ornate and elaborate designs.
What is the difference between Queen Anne and Victorian furniture?
Queen Anne furniture refers to the style that was popular during the reign of Queen Anne of England from 1702 to 1714 and is characterized by a more straightforward, refined design with curved lines and cabriole legs. Victorian furniture is more ornate and eclectic, focusing on embellishments and details.
🤗 Victorian furniture is so elegant and timeless, isn't it? From ornate carvings to rich fabrics, there's something so special about it. #victorianfurniture #interiordesign #furniturestyles 🏰
Click To Tweet
Conclusion
Victorian-style furniture is a timeless addition to any home. Its ornate details, rich materials, and intricate carvings add elegance and sophistication to any space. While the Victorian style isn't for everyone, it's obvious that people who want to make a statement with their furnishings will continue to choose pieces from this era. It's best to get settled into a Victorian look by adding carefully selected pieces of high-quality, long-lasting furniture.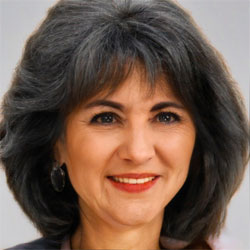 Sarah Morris is a passionate home decor expert, a how-to reviewer of furniture products, and a fact checker for Chosen Furniture. She is passionate about all types of design and prefers traditional, rustic, and modern. She has over ten years of writing and editing experience, covering the kitchen, living room, outdoor decor choices, and more.