Practical way to get extra storage and maximize space in your kitchen
The answer is NO! There is a fine line between a kitchen cart and a kitchen island. Unlike kitchen islands, kitchen carts are generally mobile and you can buy them at a fraction of the cost. They can be used for storage purposes or may also be your new favorite place to chop up meat and veggies. Or they could be a table with wheels that is used especially for serving food [source: Merriam-Webster dictionary].
Kitchen carts are commonly made of wood or metal. As a countertop, some might have marble, granite, stainless steel, or a solid butcher block. They can range from basic with just a few shelves to more sophisticated with features like towel bars, drawers, cabinets, and more.
Depending on your needs, you will always find the right kitchen cart that will help organize your kitchen or whatever space it is. To get you started with choosing the best kitchen cart for your kitchen, we have prepared this comprehensive guide.
Consumer Reports – Kitchen Carts Pros and Cons
Sometimes, kitchen carts are not an absolute necessity but can have many advantages. The most beneficial aspect is the extra working space. Yet, people find that kitchen carts provide a variety of utility other than just cooking. So, are kitchen carts the heart of your home or just a mess magnet?
Best Kitchen Carts Reviews
The kitchen is a place from your home where we all need more space and functionality over time. From storage to counter space, an additional area to cook will make your life easier. When you need to add more storage and counter space kitchen carts is a great way to go! But which one is best for you? Here is our list of the best kitchen carts for your home.
Homestyles Kitchen Cart with Stainless Steel Metal Top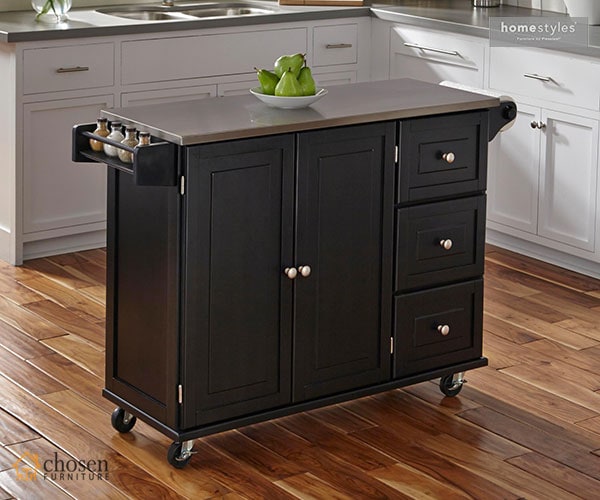 Add elegance and extra storage to your home with Homestyles Kitchen Cart with Stainless Steel Metal Top. Designed with functionality in mind, this compact kitchen island cart will make your life easier. The stylish and durable materials feature hardwood solids and engineered wood with a stainless steel top for a sophisticated look. The 3 drawers and adjustable shelves can be used as a pantry or to store silverware, dishes, pots, pans, and more.
A very handy spice rack and a towel rack offer even more convenience. The stainless steel top has very fine lines engraved into it, like a texture, so things don't slide around. Four rolling wheels provide smooth movement for when you're working in the kitchen. Whether you want an additional work surface, to get better organized, or simply need a way to maximize your existing space, this solid cart has got you covered.
Size: 53.5 x 18 x 36 inches | Material: Wood / MDF | Weight Capacity: Not listed
Ashwaubenon 42″ Kitchen Carts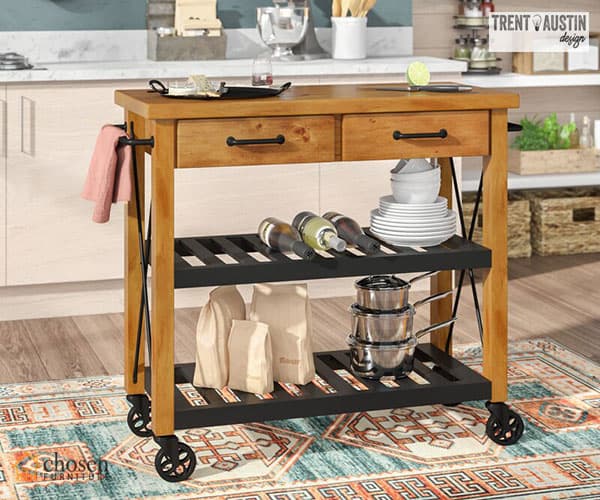 Not too big not too small, the Ashwaubenon 42″ Kitchen Carts can do it all. It's the perfect place to prep a hefty meal, but also offers room for friends to gather around appetizers at a cocktail party. Plus, it includes two storage shelves for all your chef-worthy essentials. The open metal slatted shelving can be used to store your favorite wine for the next party. The drawers are a little short and some longer cooking tools like tongs and wooden spoons have to lay slanted in the drawers to fit.
Exemplary of industrial style, it pairs a rustic pine wood frame with black-finished metal elements for factory-chic contrast that works well in converted lofts and modern farmhouses alike. Hardware finish is in brass and features locking wheels. The added caster wheels can bring the party to any room in your home. Relatively simple to assemble, or buy the already assembled model.
Size: 36.5 x 42 x 18 inches | Material: Solid wood | Weight Capacity: 200 pounds
Winsome Wood Drop-Leaf Kitchen Carts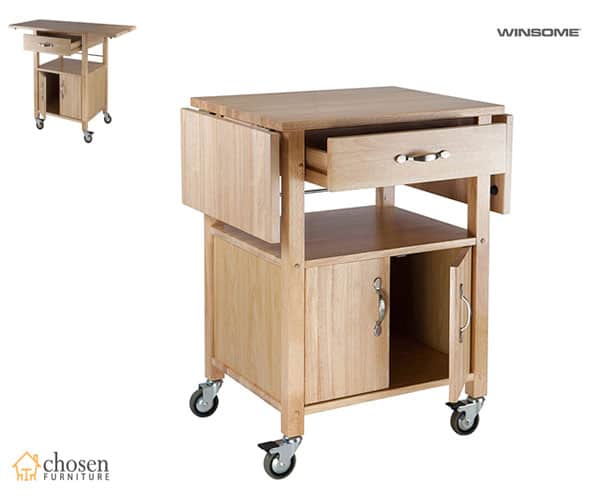 This kitchen cart surprised you in the best way. Perfect for small kitchens that need more workspace, Winsome Wood Drop-Leaf Kitchen Cart packs a lot into its compact dimensions. The top counter offers a roomy food prep area with two foldout sides that add almost 10 more inches in length. The storage space is great. With the sides extended, you could probably even use this as a bistro table. The natural finish is nice and the quality of materials is great.
Underneath are a deep drawer for utensils and tools, an open shelf, and two cabinet drawers with storage space for tall and large items. Crafted of solid beechwood with brushed nickel hardware, this handy cart moves on lockable casters wherever it's needed, then slides out of the way when not in use. The wheels are sturdy and lock, and it rolls very easily. Assembly is required.
Size: 43.25 x 20.1 x 33 inches | Material: Solid / composite wood | Weight Capacity: 50 pounds
Winston Porter Selborne Solid Wood Kitchen Carts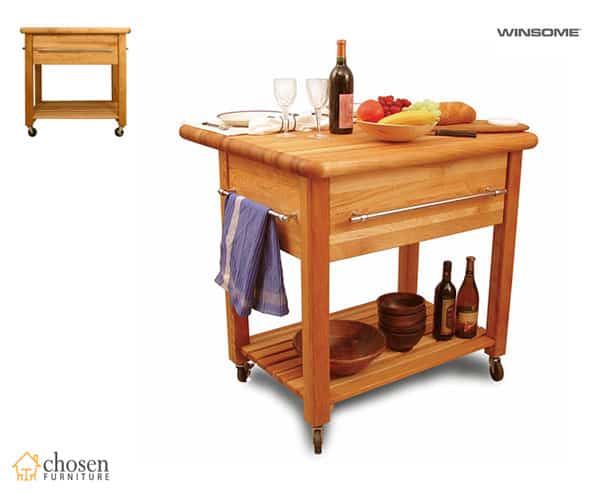 Blending traditional style with contemporary clean-lined silhouettes, Winston Porter Selborne Solid Wood Kitchen Cart gives your home the best of both worlds. Classic design and yellow birch color add familiar comfort and warmth, while simple geometric lines add a refreshing pop of chic style. This is truly a top of the line work center! Made of solid domestic hardwood, this will command attention and provide years of function even in the most distinguished kitchens.
It's solid like a rock, the finish on the wood is like satin, and the hardware is pristine and tightly fits. Moreover, it also presents a nice polish against the earthy butcher block. Pull out the leaf and everyone circles up with a glass of wine and enjoys this centerpiece. With plenty of storage space and easy mobility, the Selborne cart will meet the needs of even the most critical kitchen connoisseur. The bottom storage rack is firm, and overall, this cart is very attractive, functional, movable, and solid.
Size: 35.5 x 36 x 34 inches | Material: Solid wood | Weight Capacity: 300 pounds
3-Tier Kitchen Cart on Wheels with Storage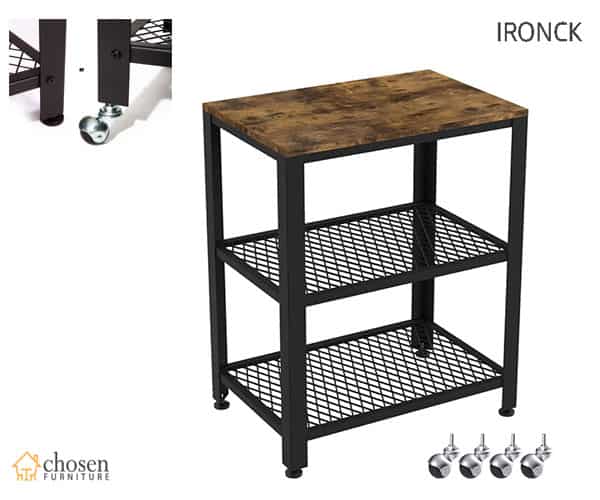 You'll be pleasantly surprised by this piece of furniture. This 3-Tier Kitchen Cart on Wheels with Storage looks beautiful and is very sturdy. It gives you an extra work surface as well as a prep space. By seamlessly connecting a solid industrial aesthetic design to practical daily use, you open up more possibilities for your home. Provide more solutions for your room layout, storage, and furniture mix and match. Made using a smooth wear-resistant board with a solid metal frame.
It comes with the option of using wheels, or stationary feet, both of which are easy to attach. It is easy to assemble within 15 minutes. Installation drawings and tools are provided. It isn't overly heavy, but is sturdy and holds a microwave as well as having space for storing a larger-size crockpot and other items on the shelves. It has a nice industrial-type look and the quality is exemplary.
Size: 15.7 x 23.6 x 30.6 inches | Material: Alloy steel frame | Weight Capacity: 176 pounds
Yaheetech Kitchen Carts on Wheels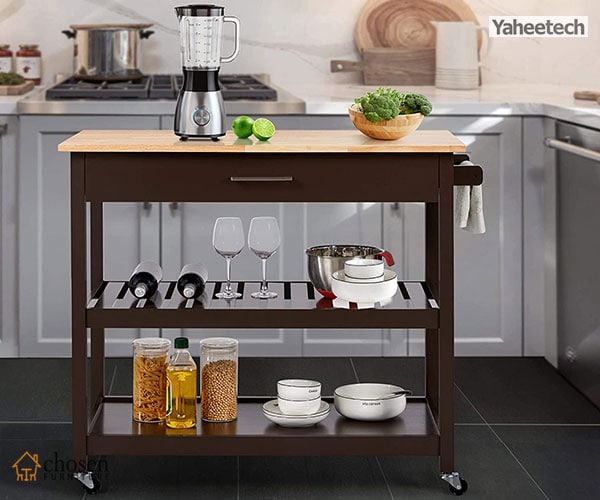 This portable kitchen cart gives you plenty of extra workspace. It is packed with storage space to keep essentials organized and close at hand. Yaheetech Kitchen Carts on Wheels is made to be durable, while its elegant minimalist finish accentuates the kitchen with traditional quality. Construction consists of painted solid wood for the frame, and CARB Phase II compliant MDF for the rest. Countertop is made off solid rubberwood in a natural wood grain finish.
One large easy-glide drawer and two shelves provide plenty of room for even more of your kitchenware. The four industrial casters are the highlight of this kitchen island. When combined with the easy-to-grip long pull on the side, you can easily push this kitchen cart to anywhere you want – it has two casters with brakes so you can safely lock the cart in place. Comes carefully packaged with all items labeled with coordinating easy to follow assembly directions.
Size: 14.37 x 15.75 x 7.87 inches | Material: Solid wood / MDF | Weight Capacity: 44 pounds
Dotted Line Enos Kitchen Carts with Wood Top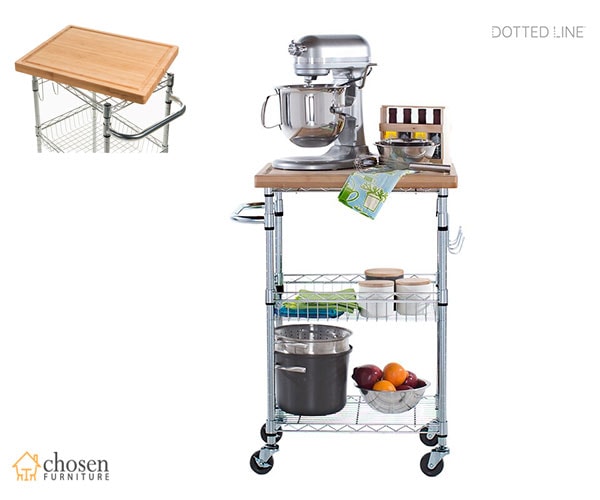 Do you need a handy organization, extra prep space, and flexible mobility? At 1.5 inches thick, Dotted Line Enos Kitchen Cart with Wood Top is built to withstand all your cutting needs. Crafted from stainless steel with a bamboo work surface, this piece combines both form and function with a streamlined modern feel. And this portable cart is here to help you with cookware storage needs. The EcoStorage finish rest assure you that no toxic chemicals are released into the environment during the production of this cart.
Underneath the board sits an additional shelf for extra storage space. Both shelves and basket are adjustable in 1-inch increments, allowing you to configure your kitchen cart depending on your preference. The sidebar with four fixed hooks is perfect to hang cooking tools and utensils. This is is well built, strong, sturdy, and very easy to assemble. Very reasonably priced and super functional.
Size: 36.5 x 28.6 x 19.8 inches | Material: Stainless steel | Weight Capacity: 500 pounds
Hodedah Kitchen Carts with Spice Rack, Towel Rack and Drawer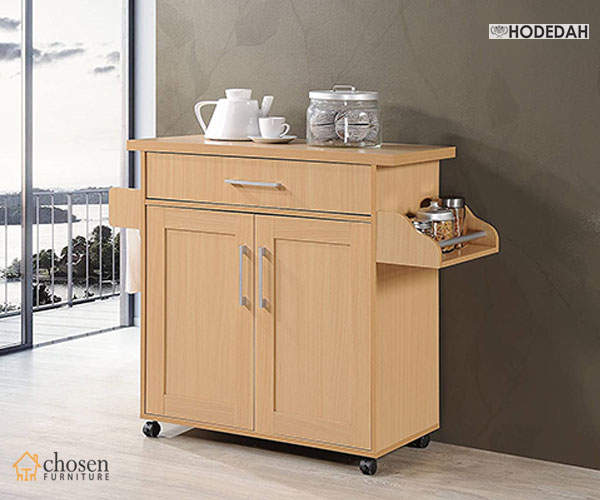 This multi-purpose kitchen cart is an excellent addition for your kitchen or dining room. The Hodedah Kitchen Carts with Spice Rack, Towel Rack and Drawer is constructed of high-quality compressed wood. The kitchen island cart is solid enough to serve you for a long time. The counter top saves you from the trouble of deformation or mold. With its simple and classic design, it can be perfectly combined with most home decor styles. Suitable for apartments, or anywhere you need more extra storage.
Featuring two shelves and a generous drawer, this rolling kitchen cart will meet your different needs for storing and make good use of space. A convenient handle makes it more effortless for push or you can use it as a towel rack. Four universal wheels ensure you can move it smoothly and silently, and two of which have brakes for safe use. Keep in mind that this is made of pressed wood. Water cannot remain on it for an extended period of time. If you simply need this cart for storage, it will probably last you a long time.
Size: 35 x 46.65 x 15.5 inches | Material: Compressed wood | Weight Capacity: Not listed
Kuhnhenn Kitchen Cart with Solid Wood Top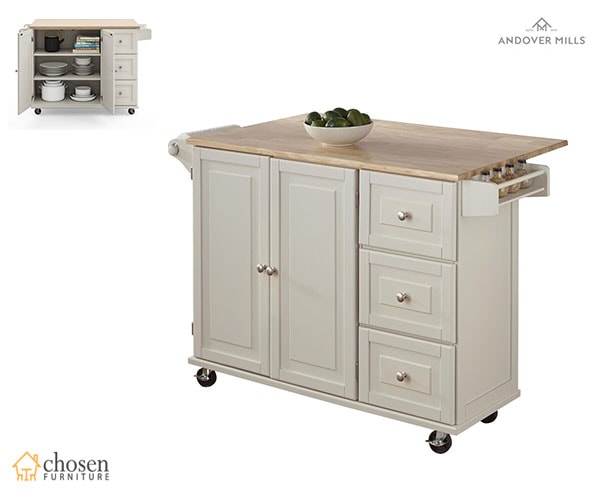 Optimize and expand your prep space with Kuhnhenn Kitchen Cart with Solid Wood Top. Its clean lines and wood top pair together to give this design a traditional look that blends effortlessly into any kitchen. Hardwood and engineered wood offers incredible structural strength and durability. This portable cart is available in two stunning finishes – White and Black. Use its drop-leaf function to craft a breakfast bar in your kitchen or to maximize your prep space.
Drop leaf extends when more surface is needed and folds down to save space. Three storage drawers and two adjustable shelves accommodate a variety of kitchen items. Four casters with two locking roll easily when unlocked and keep the unit in place when locked. To minimize shipping cost, this item does require moderate assembly.
Size: 36 x 53.5 x 18 inches | Material: Solid and manufactured wood | Weight Capacity: 100 pounds
Courtright Solid Wood Kitchen Cart with Stainless Steel Top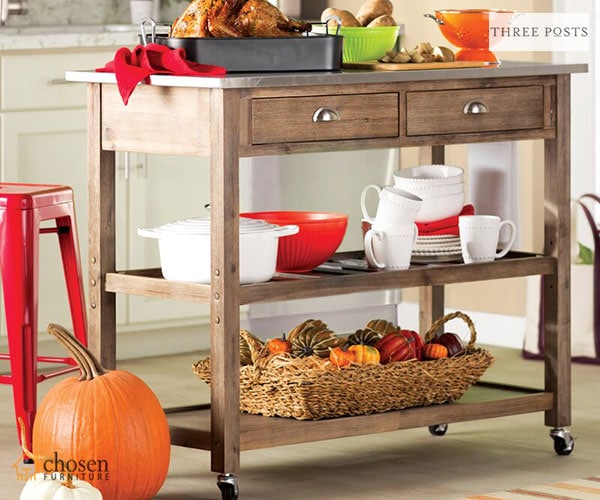 A stylish and functional piece, the portable kitchen cart offers additional countertop and storage space in your kitchen. Courtright Solid Wood Kitchen Cart with Stainless Steel Top fuses rustic detailing and industrial inspiration with modern silhouettes. It is optimal to keep your go-to cookware, serveware, and barware close by and organized. Stylish, functional, and affordable. In a small apartment where you need more space, but can't put in any permanent additions, this cart works perfectly.
Crafted from solid rubberwood in a distressed wood grain finish, its base features two drawers and two shelves that provide a place for all the essentials. The cart has two utility drawers and a towel rack. The space between the levels is large enough to store big kitchen items. The stainless steel countertop gives you extra elbow room as you prepare meals while locking caster wheels below offer must-have mobility. Assembly is required to put things together.
Size: 35 x 44 x 20.5 inches | Material: Wood or rubberwood | Weight Capacity: 200 pounds
What To Consider When Buying a Portable Cart?
Maximising preparation area, storage space, and property value with the help of a kitchen cart is a worthwhile investment. Here's what you need to look at when you are choosing a kitchen cart.
Size of the cart: they aren't a one-size-fits. The width, depth, and high are extremely important. You need a portable cart that will fit into the space that you have in your kitchen. You need to have at least 40 inches between the worktop and the run. This distance ensures you can walk around the island easily. It also needs to have a comfortable height for you to work at.
Construction material: the choice for materials is vast, all of which have their own characteristics. You can match or contrast your finish cart with the rest of your kitchen, or even combine contrasting materials. Wood is still by far the most popular option. The countertop selection offers a bit more. Many prefer, again, wood or the rich look of natural stone like granite or marble. Others want a hassle-free stainless steel finish.
Organizational components: one of the biggest advantages of a kitchen cart is the additional storage space it provides. You have a choice of cabinets, open shelves, sliding baskets, wine racks, knife blocks, towel holders, and utility hooks to name just a few.
Functional aspects: one option is to have a butcher blocks countertop. A quality butcher block is at least two inches thick and made from end grain or edge grain to protect your knives from dulling. A drop-leaf is a tabletop or counter section that unfolds to extend the existing work area. Drop-leafs can be useful as a serving buffet or breakfast bar. Another choice is to have an electric outlet strip on the cart that will allow you to plug in small kitchen appliances.
Weight capacity: Over-loading a portable cart can lead to nasty accidents. So it is paramount to be aware of the maximum weight capacity a cart or shelf can support. Think about what you want to place on it (electric appliances, serving pieces, dish rack, or full stockpots) and then choose an appropriate cart model.
Mobility: when you need to entertain guests, transport foods from the kitchen to the dining room, or surprise someone with a birthday cake, well, a portable cart is a great option. A pair of solid casters convert a stationary kitchen island or cart into a mobile workstation. Locking casters allow you to position your portable cart wherever needed and then secure it in place. Neoprene rubber castors are designed not to damage the floor and are the best option.
Assembly: are you ready and have the knowledge to put the cart together yourself? Do you have the right tools to help you do so? If not, perhaps the best choice is to buy a ready-assembled kitchen cart.
Conclusions
Our top 10 pick of the best kitchen carts gives both preparation surface and storage. You can move them around with ease. It features pull-out drawers, cabinets with two or more shelves, spice racks, and even towel holders. They do not occupy that much space in your kitchen and in return give you a place where you can prepare so many delightful recipes.
We recommend the Homestyles Kitchen Cart with Stainless Steel Metal Top as the best buying option for this category. Its simple and classic design, the storage space, and the materials used won't let you down. And the price for this kitchen cart is irresistible. Go for it!