Here's another fascinating home furnishing – porch swing chairs. You've probably come to realize that people buy for emotional reasons and then justify their purchase with logic. But, there's a very intriguing – deeper understanding – inherent in this discovery, which few internalize and express. The heart of the matter is that all of us as human beings are looking to feel "good".
Do you want to revolutionize your way of relaxing? Then I challenge you to dig deeper and to feel more passionately about your comfort. Listen. I'm not being metaphysical. I'm being so bottom-line serious it would shock you. If you can't fall in love with your porch swing, you're in the wrong place, or you don't appreciate your home, or you don't appreciate your own worth.
So, in order to help you choose the best product for your sweet home, we spent more than 27 hours researching dozens of moderately priced porch swings chairs, balancing the pros and cons of various models.
5-Feet Amish Heavy Duty Roll Back Porch Swing With Cupholders, Cedar Stain
. It's authentic
Amish handmade craftsmanship
, attractive, sturdy and well made. The cup holders are an added bonus, fit a tea or coffee cup perfectly and will also accommodate other beverage containers without falling out of the holder while swinging.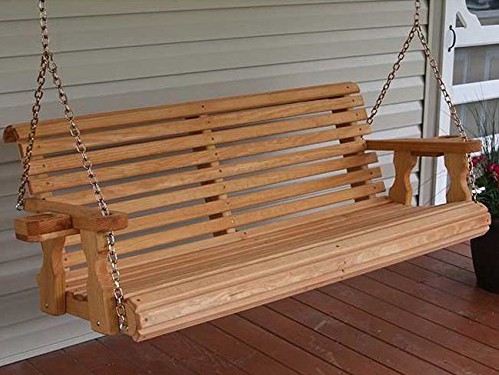 In other cases, the swing has its own stand (A-Frame) and is hanging in the garden or near to a swimming pool.
Porch swing chairs will always play the same role: to give us moments of peace and relaxation with the people we love.
The main attribute of a porch is to swing – this is where all the fun starts. They also take little space and offer additional seating.
Most swing chairs have seats made of horizontal slats. However, the traditional model is straight top to bottom back with vertical slats.
Some have seating and backs that are straight at the top or bottom and then roll backward at the bottom or top.
Swing chairs also have decorative carvings or additional improvements like cup holders, flip cups, or canopies.
In search of the perfect swing chair, whether you are looking for traditional wooden swings or a modern patio swing – here is an overview of different types of swings and everything that you wanted to know about them. And if you're searching for other outdoor furniture, check out our best rated hammock chairs.
No matter if you're seeking a champion all-around swing chairs, the best value, or a model that will last for long years, we help you narrow down the options for your perfect fit.
Below we've reviewed the best porch swings for 2019.

Best Porch Swing Chairs in 2019
The classic, rustic or modern style you choose is a matter of personal preference.
Classic porch swings
are made of wood, while
rustic porch chairs
are built of logs.
Stylish porch swings
include metal and UV and water resistant fabrics. Most porch swings are often painted in white, green or black, but lately you can select from a broad selection of colors. If you are a traditionalist and stick with classic models, you can decorate your porch swing with colorful cushions and mattresses.
Our reviews will cover all necessary information that you need to know before purchasing the
best porch swing chair
. We count all the features that actually matter, and have come up with this top 10 list (
plus more…
).
Criteria We Used to Evaluate Porch Swings
When we started to complete this top 10 best porch swing chart, we considered the following factors as the most important in making a decision about choosing your furniture:
Comfort
Quality
Material
Price
Other elements you might take into consideration before you took a buying decision: delivery time, maintenance costs, service rendered by vendor (like free transport, consulting, etcetera), warranty.
We rate each product based on our criteria, were low features receive 0 points and higher features get 10 points. For "Price" ratings, we had a different approach. The swing with the lowest price receives the most points (10), and the one with the highest value receive fewer points (only 5). Howbeit, we thought this rating system is not quite ethic this way, so we also took into consideration consumer's reviews (using a proportional mathematical formula).
Best Porch Swing Chair Under $100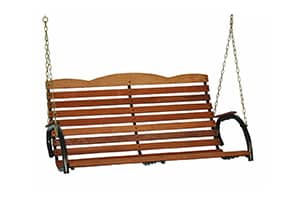 Jack Post CG-05Z Country Garden Swing Seat with chains is a comfortable swing chair with a classic design perfect for your porch. The Country Garden Collection from Jack Post is made to last.
The tube steel frames are painted in a bronze powder-coated finish with quality hardwood derived from fruit trees. Assembly required. Woodcare guide included.
The maximum weight capacity is 500 pounds. Assembled dimensions are 52 W x 27 H x 24.75 D inches.
To complete your set, you can buy a Jack Post Woodlawn Swing Frame. It is painted in a bronze powder coated finish, like the porch swing, to provide a classic look. The frame is very sturdy as is, but frequent assemblies may impact the integrity of the tight fitting frame. Keep in mind – swing frame is sold separately!

Best Porch Swing Chair New Release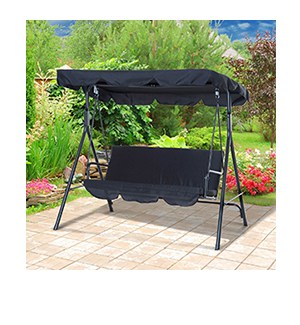 Outsunny Steel Porch Swing Outdoor Lounge Chair 3 Person with Top Canopy it's a magic swing, it's a canopy, well… it's both! This model easily accommodates three-persons, while the frame is made from durable powder-coated steel with a water-resistant polyester canopy for extra shade.
The seats are curved for a comfortable seating angle complete with armrests on each side. Well-padded, water-resistant cushions and backrest provide superior comfort when sitting. Plastic anti-skid feet pads make this porch lounger safer and also prevent floors from being scratched.
Overall dimensions are 75 L x 43.25 W x 60 H, seat dimensions 52 L x 19 W, seat to floor height is 17.75 H (inches), the product weighs 40 pounds, with a total supporting capacity of 440 pounds.
Perfect for any garden, park, patio, yard, backyard and other outdoor areas. Sit back, grab your favorite drink or snacks, and let the breeze take you away in this relaxing outsunny backyard swing chair.

Best Single Porch Swing Chairs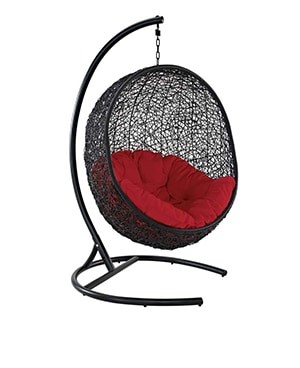 Modway Encase Rattan Outdoor Patio Swing Chair, Suspension Series transform the mundane to heightened states of consciousness. With its sturdy stand and seat, you can surround yourself with cushions to complete a memorable way to relax.
Made with an exotic outdoor recreation-themed design, Modway Encase Swing Chair comes outfitted with an all-weather synthetic rattan seat, water-resistant plush fabric cushion (available in multiple colors), and sturdy powder coated frame with hanging chain. Inspired by adventure and discovery, the Suspension Series works well in patios, backyards or porches. Stand-alone swing hammocks are also popularly used in indoor lounge, living or bedroom spaces.
Product Dimensions: 43.5 L x 40 W x 71 H; Stand Dimensions: 39.5 L x 40 W x 71 H; Chair Dimensions: 26 L x 37 W x 47 H; Cushion Dimensions: 44.5 L x 44.5 W x 5 H (all measures in inches). Plush cushions are washable, water and UV resistant. The set includes one stand and one swing chair. Ships pre-assembled, it comes with everything you need and it is so easy to put together. The weight limit is around 265 pounds.
Modway Furniture comes on the market with a surprising number of different and amazing single outdoor porch swing chair models. Here is a couple of them you need to consider – click on the image.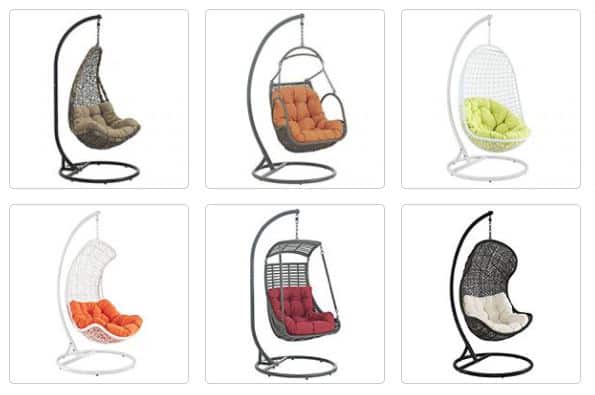 *
ALL wooden porch swings proudly Made in the USA.
| | | |
| --- | --- | --- |
| | #1 | |
Product Specifications:
Manufacturer: Countryside Amish Furniture (CAF) – Arthur, IL
Material: Kiln-dried pressure treated pine wood
Color: Natural pine with cedar stain
Dimensions: 21" H x 63" W x 27" D
Max Capacity: 800 pounds
Weight: 62 pounds
The 5-Feet Amish Heavy Duty Roll Back Porch Swing With Cupholders by CAF is made from kiln-dried pressure-treated pine and finished in an eco-friendly soy-based cedar tone stain. This authentic Amish handmade craftsmanship has a rollback design that contours your body and is considered the most comfortable layout available for swinging.
Two side armrests provide unobstructed use of the cupholders – you can enjoy your drinks while swinging. Please note that the cupholders add a total of 9 inches to the span of the swing at the widest point. Slats, all sides, and ends are routered (no sharp edges) for your safety and supreme comfort. Moreover, the one inch thick slats are screwed to the frame, not stapled. The frame is bolted together with 5/16 inch bolts.
This swing porch chair comes with enough chain to hang it from a standard 8-foot ceiling. So you need some extra chain? You can order extra chain from here. Or, you can add some hangers and comfort springs to improve your safety – order a hanging kit here. Seat dimension is 58 W x 19 D x 19 H inches. The height of the seat back is about 19 inches.
It comes 90% assembled, with detailed instructions included. All slats are already screwed to the back and seat, the only assembly required is connecting the back and seat and securing the arms. Mounting hardware is included – nuts, bolts, and chain. It assembled easy and quick. Its versatile design makes it ideal for both a favorite fun spot and a rejuvenating retreat. Can be also used outside, however, you need to apply a light sanding and refinish with polyurethane at least once a year.
The 5-Feet Amish Heavy Duty Roll Back Porch Swing makes a beautiful and comfortable addition to any porch or backyard space, where you can enjoy several hours of swinging and relaxation. This porch swing is proudly handmade in the USA.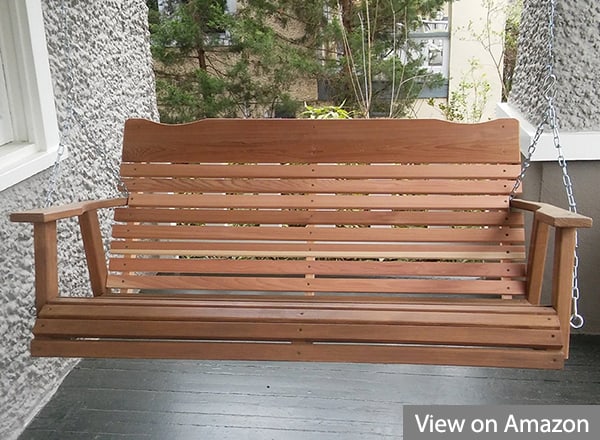 Product Specifications:
Manufacturer: Kilmer Creek Cedar Outdoor Furniture – Lynnwood, WA
Material: Western red cedar wood
Color: Natural red cedar
Dimensions: 23" H x 50" W x 27" D
Max Capacity: 550 pounds
Shipping Weight: 42 pounds
The Kilmer Creek 4-Feet Natural Cedar Porch Swing Amish Crafted seats two comfortably. It is made of tight knotty Western Red Cedar which is naturally resistant to rot, decay and insect damage. Known for its lightweight strength, long natural life as outdoor furniture, and resistant to splitting, cupping, and warping.
This traditional natural wood swing chair comes with comfortable contoured seating, all clear span slats are flat and edges routed for rounded smoothness. Use only screws and bolts, no nails. The back is straight but angled back. The slats are about 1" thick and 1 1/2 inches wide. Assembled, the cedar swing seat area approximates 18 Deep and 46 Wide (all inches). This amazing cedar porch swing arrives with springs and enough chain for a standard 8 inches porch ceiling.
The back chains connect at the back of the armrest in between the back support and the armrest itself. The front chains attach to the outside of the armrest at the sitting level. It can be hung on an A-frame, but you have to purchase it separately. If mounted correctly, the weight capacity is 550 lbs. Hardware pieces are 100% stainless steel, shipped in pre-assembled components for easy assembly with simple instructions. Include 4 wood pieces, 4 chains, 2 springs, and nuts and bolts.
Kilmer Creek 4-Feet Natural Cedar Porch Swing is ready for staining, clear finish or simply leave it natural. An oil or clear finish with UV light protection will bring out the beauty of the grain and few red tinges in the wood. A traditional rustic look can be attained using polyurethane with UV light protection. If the cedar is left natural, it will weather to a gentle gray.
Stains don't chip or peel as can happen with paint – you can learn more about porch staining here. You should consider applying a finish that will waterproof the wood, and prevent water spots and stains from ruining the look of the wood. Before you proceed, ALWAYS consult a local paint expert. Some additional sanding may be required, depending on your tastes and the finish that you wish to apply.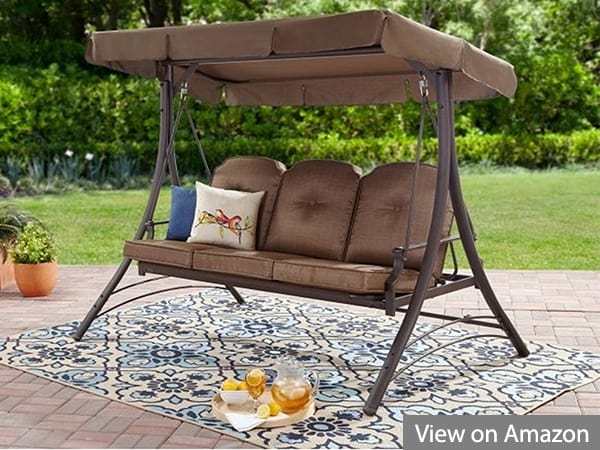 Product Specifications:
Manufacturer: Mainstays (a trademark and brand of WalMart Stores, Inc)
Material: Stainless steel and polyester
Color: Havana Brown tonal stripe
Dimensions: 66-1/3" H x 82-3/4" W x 52-3/4" D
Max Capacity: 750 pounds
Weight: aprox. 100 pounds
When looking for seating solutions for outdoor usage, the Mainstays Wentworth Hammock Porch Swing For 3-Person is a cozy addition to any backyard oasis and pairs well with dining, chat or bistro set so you will have a complete set for relaxing and entertaining. This Mainstays 3 person outdoor swing porch is a matter of fact a multi-function piece of furniture. The fact that you can go from a swing with a back to a full solid hammock for a nap is what makes this swing such a great addition to any outdoor space.
It has extremely comfortable cushions made of plush that offer a contemporary look and feature button-tufted back detailing. This durable swing is designed with an adjustable canopy covered in Havana Brown stria tonal stripe that will complement a variety of outdoor decor with ease. The canopy will be adjustable to keep up with the moving sun.
The frame is constructed using powder-coated steel to resist rusting, offering long-lasting strength you can count on. A simple latch system on the support bar for the back section on the seat will allow the seatback to be lowered for a bed without too much work. The bed portion is a little under 72 inches long, so if you are taller than this, you may be uncomfortable laying on this swing bed.
This pleasing swing bed is tested to hold up to 750 pounds and is finished with a bold matte French Roast finish. The canopy is UV rated, so it's protected from discoloration. The fabric on the outside of the cushions is also outdoor safe and UV rated to provide lasting style.
Mainstays Wentworth will take about two hours with two people to put it together. You will have to supply a Phillips screwdriver, all other tools are supplied. Care of your swing will take a simple mild soap and water solution. Do not use any harsh chemicals, it will damage your painted surfaces. The Mainstays Wentworth 3-Person Hammock Swing will give your yard an elegant touch, offering a harmonious and comfortable place to relax and refresh.
| | | |
| --- | --- | --- |
| | #4 | |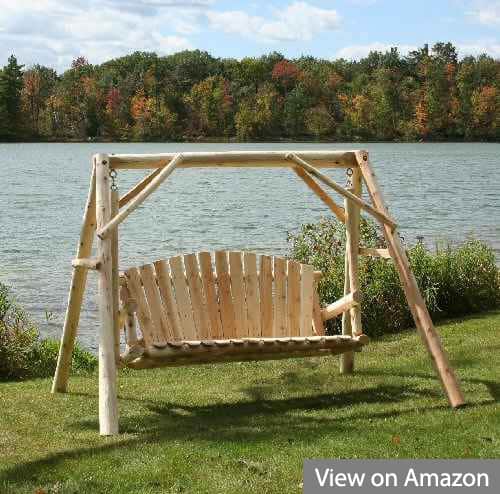 Product Specifications:
Manufacturer: Lakeland Mills – Edmore, MI
Material: Northern white cedar wood
Color: Natural white cedar, unfinished
Dimensions: 66" H x 87" W x 70" D
Max Capacity: 750 pounds
Weight: 145 pounds
If you need to escape from the day's stress, discover Lakeland Mills Cedar Log Outdoor Porch Swing. Perfect for a house with rustic architecture, any porch, lakeside cottage, but not only. Constructed of solid cedar and built in a sturdy, rustic design, this swing chair will quickly become your new favorite outdoor spot.
Sturdy and comfortable, it is made of Northern White Cedar, a wood type that is naturally resistant to weathering, aging, rot, and insects. And of course, it smells great because it's cedar! Traditional styling and a smooth-sanded surface make this swing chair a favorite. The swing has seating space for three people.
This 5-feet country yard porch swing comes with an A-frame, or you can hang it from an existing support beam or the branch of a tree. It is designed with contoured seat slats and two hand rests for maximum comfort and support, while the scalloped backrest creates a charming and pastoral style. The hanging chain and coated hardware are included for easy installation.
Lakeland Mills makes this heavy-duty swing, it weighs 145 pounds because lightweight isn't always the best. The swing chair can be finished with a quality penetrating the outdoor finish, or left alone to weather to a silvery gray color. Also note that the swing product will come in two boxes, had all the necessary parts in it, including the S-hooks. Assembling instructions are enclosed with each product.
The Lakeland Mills Porch Swing is part of the company's Country Collection and it's the perfect companion for a relaxing summer evening, offering you and yours unbelievable comfort and relaxation. If you want to be cool, you can wrap white or color lights around it for a fun nighttime look!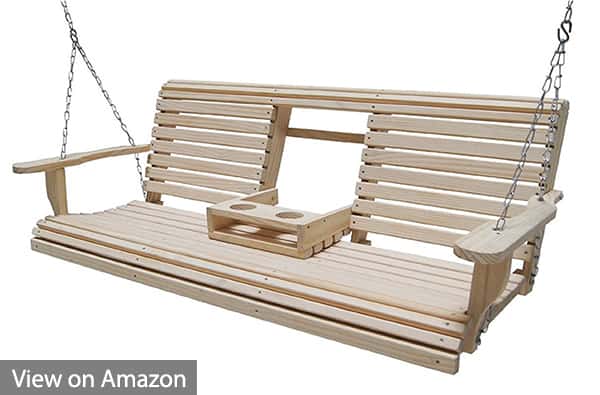 Product Specifications:
Manufacturer: Ecommersify Inc – Sugar Land, TX
Material: Cypress wood
Color: Natural cypress
Dimensions: 21" H x 61" W x 21" D
Max Capacity: 500 pounds
Weight: 50 pounds
Wooden swings are always a comfortable source of relaxing and Ecommersify Cypress Roll Back Porch Swing with Flip Cup Holder Console is another great option. Handmade from Louisiana Cypress wood, these swing chairs are naturally beautiful and will become a focal point on any front porch.
Cypress has a strong tolerance to environmental elements and a few kinds of wood match his properties when it comes to sturdiness and strength. In addition, cypress has little tendency to warp, twist, or cup. This porch swing comes unfinished and may be left unfinished to weather to a beautiful barn wood grey, or decorate (stain) as you choose.
Slats that are 1 inch thick and 1 3/4 inches wide routered (no sharp edges). Each slat is finish sanded on all sides and ends for your safety and comfort. In addition, these swings have four supports across the back and four across the bottom. Few porch swings are built with this kind of quality support system. The slats are screwed to the frame, not stapled, and the frame is bolted together with 5/16 inch bolts. The seat of the swing is beautifully contoured for your sitting pleasure.
The Ecommersify porch swing incorporates a cup holder into the middle of the swing as opposed to the sides. Well, we believe this is pretty cool because you can flip the holder area up and out of the way when you're not using it. The downside is the amount of space the flipping mechanism takes up when in use.
It comes 90% assembled, all of the slats are already screwed to the back and seat. The rust-resistant hardware will increase the lifetime of your swing. You only need to connect the back and seat and securing the arms. Each purchase includes all necessary hardware for a standard porch installation: S-hooks, chains, bolts, and eyebolts.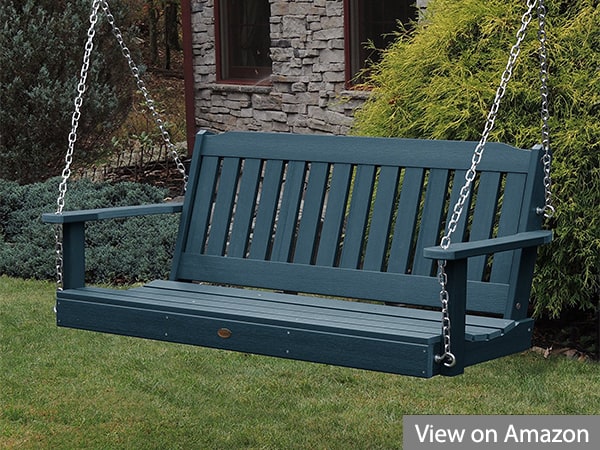 Product Specifications:
Manufacturer: Highwood – Hometown, PN
Material: Eco-friendly recycled plastic
Color: multiple colors available
Dimensions: 22" H x 64" W x 24" D
Max Capacity: 500 pounds
Weight: 44 pounds
The design of the Highwood Lehigh 5-Feet Porch Swing might seem a little less modern and pretty standard than other models but is quite warm and approachable. It will certainly deliver moments of relaxation in the evenings for years to come. Highwood USA has been manufacturing their unique eco-friendly synthetic wood since 2003. This material has been used extensively in outdoor applications where the look of real-wood is required with ultra-low maintenance.
It is made of HDPE recycled plastic and is finished to a very high-quality wood-look with a natural wood grain. Even in the hot sun, this porch swing does not typically get hot to the touch. The plastic is maintenance-free, is warp-resistant, rot proof, crack-proof, and does not need painting or staining.
The hardware is zinc-plated steel, and should not rust or degrade in all climates. There are no cushions on this porch swing bench, but they really aren't necessary, as the porch swing is quite comfortable. The 4-feet porch chair is great for two people to lounge on, and the 5-feet model is perfect for up to three people. With several colors to choose from, the Highwood Lehigh porch swing collection is an excellent investment,
Assembly is required but it can be done pretty easy, as the panels are already assembled, and you're just attaching them together. This model typically takes about 15-20 minutes to put together. Included in the package are chains to mount this bench swing to whatever ceiling material you choose. Two of the chains are 24 inches, and two are 83 inches. You can adjust the angle and position of the porch swing easily with these chains. It comes with no hooks, you need to buy a hanging kit from here
Highwood 5-Feet Porch Swing can be left outside year-round and the real wood in colors that blend with nature will look great season after season if you just wash it in spring with warm, soapy water. Highwood products come with a 12-year residential use warranty and 1-year commercial use warranty.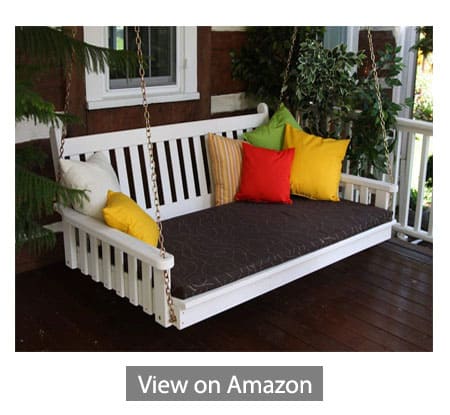 Looking for something a little more decorative and relaxing than a traditional swing?
Check the graceful of Traditional English Swing Bed which will add an exquisite touch to your home porch.
Material: Natural Pine Wood
Finely crafted by the Pennsylvania Amish
Dimensions inside: 68W x 38D (inches)
Back 24 H (inches)
Dimensions outside: 75W x 47D x 28H (inches)
Shipping weight: 189 lbs
Basic assembly required
| | | |
| --- | --- | --- |
| | #7 | |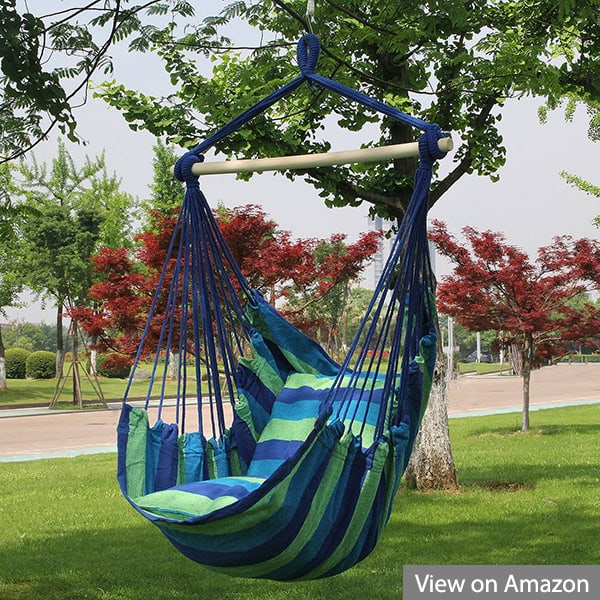 Product Specifications:
Manufacturer: Sorbus – Passaic, NJ
Material: Acrylic coated cotton
Color: multiple colors available
Max Capacity: 265 pounds
Weight: 5 pounds
Let's face it, not everyone is owning a garden, patio, or porch that will provide enough space for a swing chair. If that's your case and you still want to enjoy the pleasures a swing can give you, a hanging hammock is a great alternative. It can provide you with the necessary kind of relaxation you often want and crave.
All you need is to swing into summer using the Sorbus Hanging Rope Hammock Chair Porch Swing Seat. This super comfy and trendy hammock swing chair is the perfect addition to any indoor or outdoor space – is a generous looking model that will definitely bring you much pleasure.
Sorbus Hammock Chair is well built considering the price range. The wooden bar offers additional strength and it can hold 265 pounds. The ropes are solid and hold up really well. The sturdy cotton and polyester fabric are used to make the "seat and back" of the hammock chair. The combination of these two fabrics gives it great resistance and the possibility of airing.
This hanging hammock resembles not only a comfortable regular armchair you might have in your home, but it also feels like it. The design and materials used for seat cushions give good back and bottom support, making the hammock more like an armchair than anything else. The way ropes hold the hanging chair is not randomly designed. The suspension occurs on important points on the seat, so the hammock feeling doesn't get interrupted by shabby rope interfere.
If you're looking for a hammock chair that gives you the best of comfort and durability than Sorbus hammock chair can be a valuable option. Quality hanging seats, well-built spreader bar, the high-grade fabric makes it long-lasting. Suitable for all ages, can be used in any indoor or outdoor space. It is machine washable and lasts for several years without any wear and tear.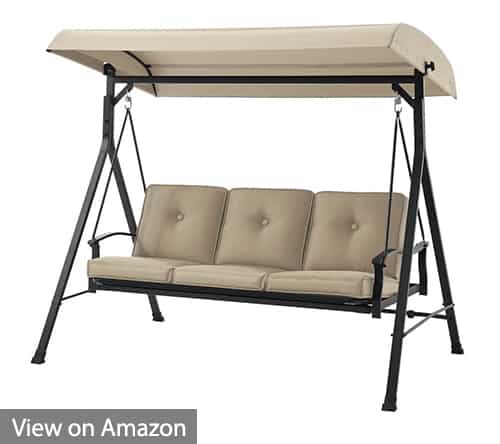 Product Specifications:
Manufacturer: Mainstays (a trademark and brand of WalMart Stores, Inc)
Material: Stainless steel and polyester
Color: Tan (also available in Blue, Green, Red, Red Stripe, Teal)
Dimensions: 23" H x 50" W x 27" D (52" by 77" and 64" high without the canopy)
Max Capacity: 750 pounds
Weight: 102 pounds
Make an exceptionally peaceful and a great place to lie down after a long day using the Mainstays 3 Seat Porch and Patio Swing. This amazing porch chair is designed to work as either a three-person swing or as a bed when you lay the seats down.
It is made of a highly durable steel metal for the frame. The powder-coated finish helps to make it stylish while still offering resistance to rust. An adjustable canopy offers protection from the sun on hot days. The three large cushions featuring button-tufted back give comfort and support. Polyester upholstery and fill lends optimal support and resists fading and discoloration in all weather.
Tufting and piped edges provide a tailored, sophisticated look. This swing patio comes with a neutral tan color (more available) that not only makes it attractive but also allows you to pair it with a wide range of home decor and other furnishings. Mainstays Patio Swing is easy to assemble (2 adults can assemble it in approximately one hour). Besides, you can easily remove the cushions for washing.
Make your home outdoor area outstanding with this modern style porch swing chair. It offers very comfortable seating for relaxing in the yard or on your porch.
Protect your treasured patio swing with the Porch Swing Glider Canopy Cover. This outdoor swing cover is large enough to cover the entire swing. Designed with high-quality material, this canopy swing cover provides protection from outdoor elements in all seasons. It fits most standard-size patio swings and comes with metal grommets to anchor it down to the swing and has zippers on either side to hold it in place. This outdoor swing cover is suitable for all seasons and can be cleaned easily with a damp cloth. Available at an inexpensive price, this cover is a cost-effective choice to protect your swing well from sun and rain.
Fits most standard patio swing chairs
Metal grommets and zipper closure
All-weather protection
Cleans easily with damp cloth
Dimensions (L x W x H): 84 x 63 x 60 inches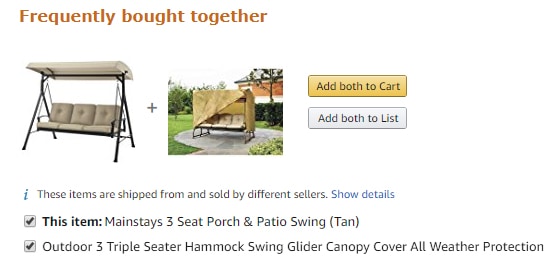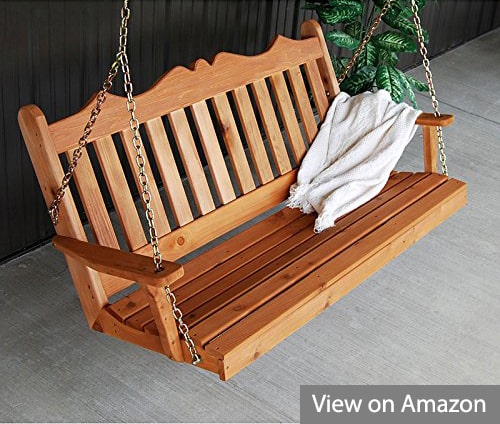 Product Specifications:
Manufacturer: A & L Furniture & Paint Co – Rebersburg, PA
Material: Western red cedar wood
Dimensions: 27" H x 62" W x 27" D (seat dimensions 55" W x 18" D)
Max Capacity: 500 pounds
Weight: 43 pounds
The 5-Feet Royal English Red Cedar Stain Porch Swing by A & L Furniture is another classic and stylish swing made with Western Red Cedar, the most preferred and superior quality of the cedars. It will offer you, your friends and family an ideal and well worth it relaxing spot. Lie down, read, or take a real nap on this awesome swing chair.
With a decorative scroll on the seatback, graceful curves, and contoured seat for comfort, this porch chair will satisfy all those fans of the conventional style. Amish craftsmen pay great attention to each detail, while they select each piece of wood for its grain and other individual characteristics.
It can be left untreated to age to a silver-gray patina, stained for a deeper color, or sealed with a clear finish. The 5-Feet Royal English Porch Swing is available in beautiful stains. All models are stained with Natural-Kote, a soy-based wood stain that will rejuvenate, preserve and protect your chosen furniture. The stain is LEED compliant (Leadership in Energy and Environmental Design – it means it's non-hazardous, non-flammable, has low emitting materials, made using renewable resources and recycled content), is virtually odorless, fast-drying, and UV resistant.
Also available unfinished just in case you would like to finish it yourself. Unfinished has no protective coating giving you the option to stain or treat as you prefer. It's hand-crafted with Amish techniques and high-quality untreated, knot-free wood. Zinc-plated hardware used on these swing chairs won't rust. Hanging chains are included, hanging hardware is not included. Swing comes with enough chain to hang from a standard 8-foot ceiling. It can be hung with chain or rope.
Built-in three size options, ships partially assembled, very easy to assemble, detailed instructions included. The weight capacity is 500 lbs. Quality made in the USA by Amish craftsmen.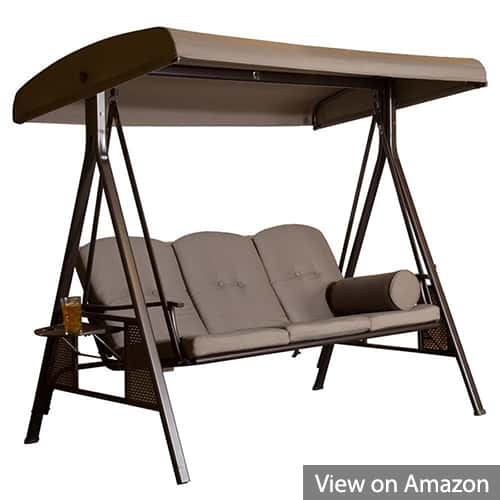 Product Specifications:
Manufacturer: Abba Patio – Farmington Hills, MI
Material: powder-coated steel frame and polyester fabric
Color: Taupe
Package dimensions: 11.2" H x 82" W x 22.5" D
Max Capacity: 600 pounds
Weight: 132 pounds
The structure is crafted with durable powder-coated steel and supports three average-sized people to swing and relax. A durable frame arms bar provides extra support. Abba Patio 3 Seat Outdoor Porch Swing Hammock with Adjustable Canopy brings a blend of functionality and beauty to your home outdoor.
Contained three cushions and one pillow to offer you comfortable seating. The cushions are water-resistant but we always suggest to take them in when it rains. The cushions are also easily removable for storage. They have velcro straps so that they can be attached to the frame to prevent slipping. There are two attached side tables, one on each side – let you put down a cup of coffee, tea, or juice to increase the joy of your recreation time.

The canopy is made from UV and sunlight protection polyester fabric that will maintain color and appearance for many years. Due to its adjustable-tilt function, the angle of the canopy can be adjusted to different directions to block the sun, keeping you cool on the hottest sunny days.
Overall dimensions are 78.7 D x 50 W x 70.9 H inches. Seat length is 5.6 inches; back cushion size 1.9 x 1.8 inches; chair height is 5.9 inches. Assembly takes around 60 minutes. The company advertises this as a hammock, but it does not recline or lay flat into a bed. It is just a very comfortable chair with a frame that swings.
Use Abba Patio Outdoor Triple Seater Hammock Swing Glider Canopy Cover for storage when do not use. Guaranteed to fit canopy swings of 80 inches long, 57 inches wide, and 72 inches high. Brown Polyethylene material protects against sun, rain, snow and dirt year round; PU coated and scratch-resistant, water, and fire-resistant. Double-stitched seams will add strength and show you a stylish accent. Adjustable elastic hem cord around bottom for a snug fit against wind. Easy to fold and store with a box which is quite space-saving. It can be wiped up with water and mild detergent.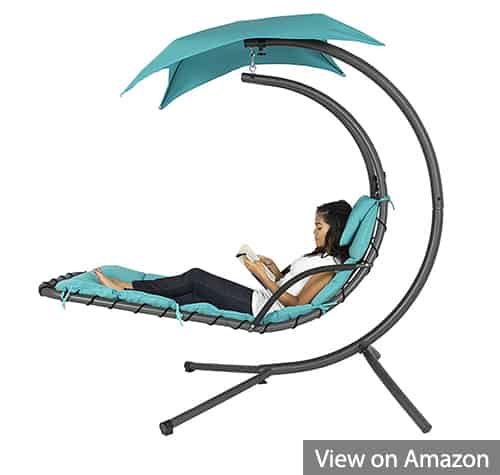 Available color options:


Product Specifications:
Seller: Best Choice Products – Ontario, CA (Origin China)
Material: powder-coated metal frame and all weather-resist fabric
Color: Green, Teal, Red/Orange
Dimensions: 78" H x 46" W x 73" D
Max Capacity: 265 pounds
Weight: 79 pounds
In terms of modern ways to relax, swinging chairs with stands have become the standard nowadays because of the simplicity and easy setup they provide to the people. Swinging chairs are a great add-on to porches, pools, patios, or gardens, and combine the very best of two worlds: hammocks and armchairs. Best Choice Products Stand Air Porch Swing Hammock Chair with Canopy in Teal is a dazzling swinging chair that overthrown every other model in its category. With its state-of-the-art lines, this porch chair lounger is an eye-catcher.
The unique, modern frame silhouette adds a touch of fun and style to any space. Its heavy-duty powder-coated metal frame will provide a durable chair for years. This model supports 265 pounds, and considering the frame, it is a heavy model in the swinging chair branch. The base is very proportional to the whole structure which gives it great stability. Anyhow, this swing porch chair is NOT designed for two people, and that's something that should be noticed right from the start.
You can relax on 2 inches foam-filled removable cushions available in green, teal, red/orange, plus, it has included a pillow on the top to fully enjoy the ergonomic, curved lounge design. The fabric is water-resistant, made of PVC-coated polyester and is built to last outdoors. Like we advise to other models, you have to take care of the cushions. If it starts to rain, you should remove them in order to preserve it for many years to come. A good thing is that you can purchase separate parts for this model like replacement cushions. The Dream Cushion is made of spun polyester, over 2 inches thick and comes in lots of colors to make your backyard new again. Fade-resistant for up to 500 hours of outdoor use.
Another feature is the canopy which will prevent you from burning in the hot sun. The built-in 46 inches canopy cannot be closed, but it can be removed. With all these, the canopy is rather small. Over the course of the day, you need to change your position and follow the sun if you want protection. An exercise not for everybody because the chair is pretty heavy, so moving it requires a lot of energy. Not good for a chair lounge that is supposed to help you relax!
Best Choice Products Stand Air Porch Swing Hammock Chair with Canopy Teal model is perfect to kick off the season with. It is the most high-quality lounger chair possible while having a price anyone can afford. With the customer in mind, this company developed a lounge porch chair that will cater to comfort and relaxation and will go nicely with every space you could put it in.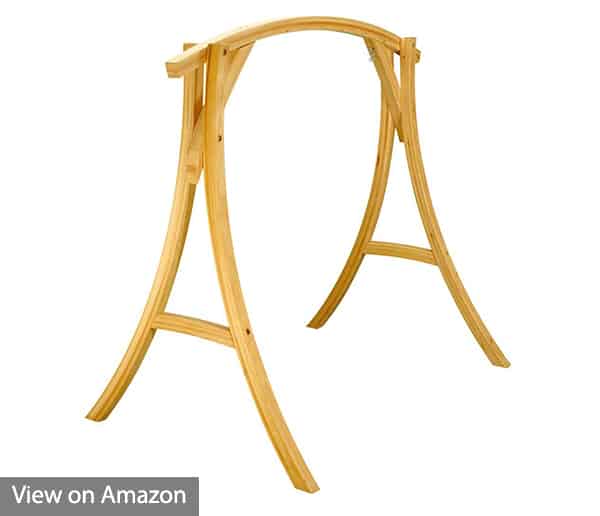 Product Specifications:
Manufacturer: Hatteras Hammocks – Greenville, NC
Material: Cypress wood (ages to a light silver)
Color: Natural cypress-wood color
Dimensions: 84" H x 65" W x 84" D
Max Capacity: 450 pounds
Weight: 101 pounds
The eye-catching Hatteras Hammocks Cypress Swing Stand will surprise you with a modern design due to its double swing Roman Arc construction, and as you can see for yourself, it looks phenomenal.
Crafted from Southern cypress, the stand is steam-bend and then radio-frequency-glue four slats to form a single beam, magnifying the uniqueness and strength of this type of wood.
Cypress also looks tremendous when coated with a good high-gloss varnish, and maintaining this swing stand's lustrous original sheen is simple. Just use some light-grit sandpaper on the wood before applying a stain (use the Olympic brand's Maximum Water Proofing Sealant and Penetrating Oil, the Honey Gold Formula, available at most hardware stores). You can also use linseed oil.
Stand hardware is from Zinc-plated steel, for advanced rust protection. Conveniently boxed for shipping.
REMEMBER: in order to have a fully functional porch swing chair, you need to attach to this wooden arch stand a Cushion Swing, which is sold separately!
We highly recommend using Hatteras Hammocks Deluxe Double Cushion Swing, which is made from Sunbrella fabric and a neutral-colored bottom layer made from quick-drying Duracord fabric. These two synthetics sandwich a lavish center of resilient, nonabsorbent polyester hollow-fill fiber manufactured from recycled plastic drink bottles.
The swing frame is made of toasted almond-brown Brazilian Teak Cumaru that's been sanded to a soft finish. Cumaru is one of the strongest wooden materials around and looks great as well.
Porch Swing Buyer's Guide 2019 – A Comprehensive Tutorial on How To Save Your Budget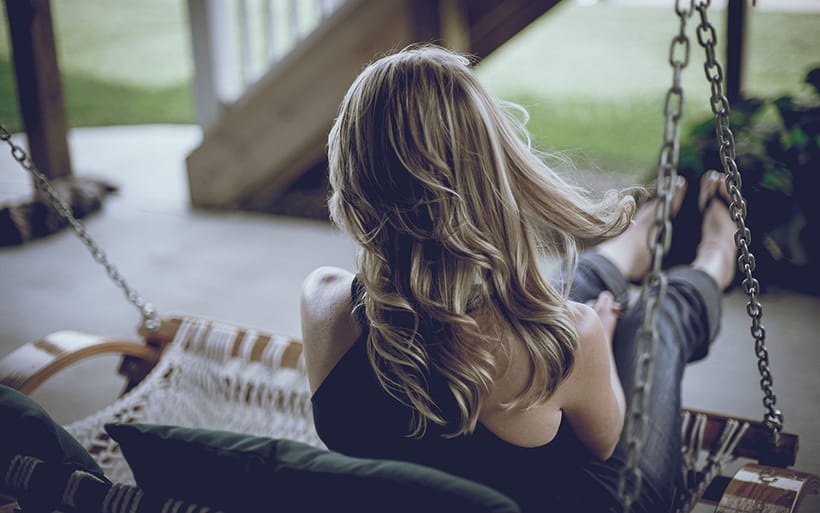 This section will help you to know in detail all about porch swings, various material styles, and how to choose the
best swing chair for your porch
.
What Is A Porch Swing?
Porch swings come in different shapes, sizes, colors, and materials. In general, considering the seating, porch swing chairs are made of top quality horizontal slats, and the back differs from each type.
You can choose to buy porch swing chairs with vertical slats and a stylish back with a straight top to bottom (the traditional and classic genre), or prefer the other style with the backward at the top and straight at the bottom. Other styles include different carvings or supports that look decorative and increase functionality.
What Are The Main Types Of Porch Swings?
Tire swings are the primitive forms of swings. Took a new or used tire and hanging it from a tree on a rope. Provide a lot of fun and easy to make.
Rope swings are created by tying a rope to a tree branch or other upright structure. If incorporating a short-board in which the rider stands, we have a so-called swing boarding.
Baby swings have a bucket shape with holes for the child's legs, or a half-bucket shape and a safety belt, that is intended to the possibility of a child to fall out.
Porch swings are conventionally bench-like seats. The swing's suspension (ropes, chains, or a combination of both) is permanently mounted to the porch ceiling beams – read Hanging A Porch Swing In 6 Easy Steps below. Porch swings are a dynamic and funnier alternative to using rocking chairs or gliders outdoor.
Canopy swings are very similar to porch swing chairs, but it is hung on a separate frame, provides a cover to protect against sun and is portable. You can easily move them on a porch, backyard, patio space, or close to the swimming pool. Most of them are made of metal and UV fabric.
Freestanding swings are porch chairs with no option for hanging on the ceiling, in that case, you can make use of an A-Frame stand. The advantage is that you can relocate it anywhere. They are a combination of porch swing and canopy but made preponderantly of wood.
Hammock swings are made of lightweight materials, suspended between two points (on ceilings, beams, and branches) or attached to a freestanding frame. An added pillow for your seat will provide extra comfort. Offer premium outdoor relaxing as you'll get a kick out of the summer breeze.
Swing beds are designed for an ultimate relaxing experience. They are usually porch swings with a much larger dimension. It has to be sturdy and secure but not too heavy. You can find hanging swing beds in a variety of styles, from rustic to contemporary.
Porch Swing or Swing Bed? The Classic Style vs Luxury Debate
Are swing beds better than traditional porch swing chairs? Hard to find a simple answer! That's because there are some important differences between these two. What you'll choose to buy depends on what and where you'll plan to use it in the first place, and how you'll use it.
To give you the best bits of advice, let's analyze the slight differences between porch swings and swing beds.
We think of porch swings as a piece of chosen furniture with classic style in mind. It's that cliche where you're sitting on the porch swing chairs with wife/husband, parents, grandparents, kids, or your soul mate. Porch swings are constructed with the idea of covering a smaller space on your home (outdoor or indoor) but make no sacrifices to quality and functionality. Like sleeper sofa beds, they're gorgeous in a large space. Albeit, it can also accommodate smoothly to smaller areas, making them a perfect solution for homes with less space, where you're still looking for an intimate atmosphere.
Designed mainly to fit two persons, porch swing chairs can host sometimes three people or more (depending on the supported weight). This feature transforms them into popular conscience as the perfect places for starting a conversation, relaxing, sharing memories, or reading a good book. It's about creating momentum with your beloved ones.
In terms of money, porch swings are a cost-effective option compared to swing beds. At last, notice that some porch swings might not come with hardware and accessories like cushions.
Think swing beds and imagine relaxation taken to a premium level of luxury. Since they are literally beds suspended in any place you choose, these swings require a lot of space compared to a standard porch swing. The preeminent difference it's on the purpose and use of both of them.
Swing beds are made for superior comfort and social engagement. As opposed to classic porch chairs, you can layout as if it were an actual bed. Or simply stay and chat with your friends about how do you save the world a few years ago. They do swing but in a more gentle away (due to large dimensions and four points suspension), which can be extremely relaxing for a siesta.
Available in a variety of different styles, swing beds are easily customizable (depending on your personal taste) with cushions, bolster pillows, throw pillows, or blankets. Even more, manufacturers offer pretty much of them on the whole package, with the option to choose your colors, sizes, etcetera.
Lastly, consider the cost. Swing beds are more expensive than porch swings, but they offer tons of more functions, premium style, and luxury. How about that?
Deciding Between a Porch Swing and a Swing Bed
Ultimately, we do not want to intimidate, yet the decision to purchase a porch swing or a swing bed is it up to your personal preferences. Just keep in mind the importance of space and what's the purpose of this piece of furniture. When looking at the style and comfort, both are extremely nice, but they have two completely different purposes.
How To Choose The Best Porch Swing:
A Step-By-Step Guide
In our quest for the perfect chair, we found that not all swings are the same and what is best for one person might not be perfect for another. There is a large choice of sizes, designs, materials, colors, and choosing the right one takes a bit of research. The porch swing has to fulfill ALL your needs. Here are a few criteria that will help you to decide before buying a porch swing glider.
Comfort to reflect your personality
When we were doing our research we found that comfort is the first criterion to apply before buying a porch swing chair. No one wants to have a porch swing if it's useless, uncomfortable and does not allow you to relax in style. Whatever type of porch chair you select, comfort is an absolute must. Great porch swings are invariably made of comfortable fabric and long-lasting wood or metal. So pay close attention to the material quality and type before you make a purchase.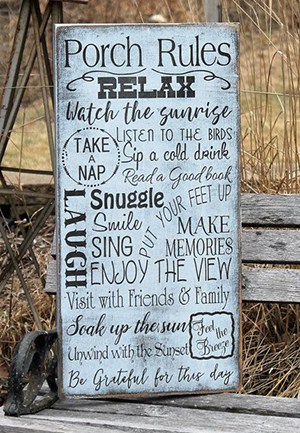 When we were doing our research we found that comfort is the first criterion to apply before buying a porch swing chair. No one wants to have a porch swing is useless, uncomfortable and does not allow you to relax in style. Whatever type of porch chair you select, comfort is an absolute must. Great porch swings are invariably made of comfortable fabric and long-lasting wood or metal. So pay close attention to the material quality and type before you make a purchase.
As with other pieces of chosen furniture – for example, like bean bag chairs – your porch swing has to be a close reflection of your personal style and taste. There are different styles; you can choose straight-lined swings with different lath types, a model with a curved back, high or low back wide armrests, fan back or Adirondack (rugged finish and outstanding craftsmanship) style.
Back slats can run horizontally or vertically. A popular design is a rollback which features a rolled seat and backrest rail to place the appropriate contour on the pressure points in your body.
You can choose any color or no color at all. You might even want to add some cushions. Seat cushions made of durable outdoor fabrics offer a superior decorating style, and also make the swing more comfortable.
Whether you are looking, here is an overview of different types of porch swings that you wanted to know about them.
Classic Porch Swings: if you are a traditionalist, buying a porch swing made of wood can be an excellent investment. These porch swing gliders have an average size of four foot to six foot (width), with a capacity to hold more than 500 lbs. Some are made of unfinished wood, providing a distinctly beautiful aspect. Often, wooden porch swings are made of cypress, western red cedar, or kiln-dried pine which resists pretty well to rot, decay and destruction from insects. Sure, they are a little more expensive, though, will last a lifetime with proper care and maintenance. If you wish you can opt-in to add your own finish to these wooden swing chairs.
Wicker Porch Swings will bring passion to your doors. They are highly attractive and last longer because are made of wicker that is resistant to all conditions. They do not fade, crack, warp and turn out to be maintenance-free. Common finishes are black, brown, or white. Add some colorful cushions for a chic and trendy appeal.
Outdoor Porch Swings with Canopy: can fit with any home, patio or backyard. With its durable frame and comfortable cushioned seating, these porch swings will provide any family with a great place to relax. The cover provides protection from sun or rain, some include a cup holder on each side so you can enjoy your favorite drink. This steel frame is designed to hold a weight of around 600 to 700 lbs and reinforces the swinging seat so that you can forget your worries as the wind pushes the swing.
The Right Material
Your porch swing glider should last a long period of time, so it paramount to be made of high-quality wear and tear-resistant materials to withstand any climatic changes. Sure, the materials used for your swing chair has to be also a matter of taste; after all, it will be your favorite piece of chosen furniture for years to come.
Wood will always remain the most popular material for porch swings. It is usual to see wooden swings on porches, gardens, and patios, whether they are made of cedar, cypress, pine, teak, maple or oak. But the choice of materials for your favorite porch swing does not end in wood (same case as with kitchen islands and carts). You can find beautiful swings made of wicker, wrought iron, aluminum, metal or plastic lumber (recycled plastic).
Cedar is the most attractive wood for porch swing chairs because it is very beautiful, resistant to rot, mold, mildew, decay, and insect aggressions. When new, the cedar is red in color. One downside is that aging, cedar's red color turns brown and eventually into monotonous gray, surprisingly quickly. Once it has turned gray, there is no going back, except by toning the wood. It is lightweight, stable, and resists cracking. Cedarwood porch swings are built to last indoors and outdoors. There are two types of cedar used: Western Red Cedar and Northern White Cedar.
Western Red Cedar (scientific name: Thuja plicata) is a uniform, fine-grained texture wood often with random streaks and bands of darker red or brown areas. Has a very strong, aromatic scent when being worked, does not warp, won't dull from the sun, and holds its appearance over time. Cedar may undergo some checking but thin won't affect the structural performance or integrity of the porch chair. Red cedar is environmentally friendly and naturally biodegradable.
Northern White Cedar (scientific name: Thuja occidentalis) heartwood is light gold or tan. Numerous small knots are common in the wood. The grain is usually straight, with a fine, even texture. It absorbs and loses moisture slowly, which diminishes dry cracking, splintering and swelling. White Cedar develops a silver-gray patina in one year for most climates. Water-based or oil stains will delay the weathering process. The white cedar odor is a mild insect repellent.
When treating cedar, the question is how much of the real wood color do you want to cover up. The more finishing in your treatment, the longer your cedar will last. Our best advice is to buy a porch swing chair with cedar treatment already made by manufacturer, thought-out, you can do it yourself after installation. After installing, you have about two week grace period until the cedar starts to discolor. Finishing includes bleaching oil, semi-transparent or solid color stains, primer plus painting (if painting, wood's natural color, and grain will be covered).
Cypress is the next wood option. Cypress (scientific name: Taxodium distichum) color tends to be a light, yellowish-brown (like pale honey) and is very durable. It ages into gray and it is known as "Eternal Wood" which means it will last and age with you. Cypress is the only wood species that contains cypressine, a chemical substance that naturally protects it from decay and insects. Cypress is a medium-density, straight-grained wood that is resistant to warping. works easily and accepts paints and stains exceptionally well.
To enhance the longevity of your cypress porch swing, it is recommended to apply a natural oil-based stain or wood sealer each year. It will accept all types of paint. If painting, use an oil-based primer followed by an exterior oil-based paint, although neither paint nor stain is required when using cypress wood. Refrain from using anything but stainless steel or hot-dipped galvanized fasteners with cypress porch chairs. Other metals corrode and leave stain marks on cypress.
Pine is also popular. With a light brown to pale yellow color, pine (scientific name: Pinus genus) is the least expensive of all quality woods. It is light-weight, resists to rot, shrinking and swelling over time. It looks very attractive with slight defects, such as knots and shakes (small cracks in the surface of the wood). These natural irregularities enhance its uniqueness. Pinewood is great if you desire a more rustic look. On the downside, pinewood continues to "breathe" based upon changes in the local humidity and temperature and is not the most durable of all woods.
That's why we suggest going after porch swings made of kiln-dried pine. Kiln drying is an industrial operation used to accelerate the drying of wood. Natural air-drying can take weeks, while the pine drying kiln process takes less than a day. The benefit of kiln-dried pine is that it is dried in a controlled environment, giving a higher quality product. Therefore kiln-dried pine is unlikely to have distortions, stainings, warpings or bowings. Bugs and insects are also killed during the process.
Pine also requires regular maintenance to prolong the life of your porch swing. Do not place hot or chilled items directly on to pine surface, or marking will occur. Pine accepts paint and stain very well. If used outdoor, pine should be sealed. We also recommend a sealer be applied every 12-18 months. To maintain the characteristic finish on pine, do not use aerosol sprays or any polish containing Silicon.
Tectona grandis or Teak is an extraordinary wood. Tends to be golden or amber, with color darkening to silver-gray with age. Raw, unfinished teak surfaces have a slightly greasy feel due to natural oils. It has been considered by many to be the standard wood for decay resistance, and it is rated as very durable. Teak is also resistant to water, mildew, fungus, termites and most wood-eating insects. It is eco-friendly due to its hardness and long-time endurance. Teak is much more scratch-resistant than other woods such as pine or cedar. Another benefit of teak wood is that it will not hold temperature.
Teak porch swings can be left outside and endure years of rain, snow, wind, heat, and cold. If it was skillfully crafted it will last for generations. The color change over the years is only cosmetic and does not affect the strength of the wood. Treating teak with oil cutback the wood's natural oil effects, and the wood becomes dependent on a periodic external oil treatment. Treatment with teak sealer is only needed once a year in order to effectively protect it from color fade.
The original teak color fades when the natural oils in the surface would evaporate. If your teak has already faded in color, it is possible to restore the color by scrubbing the surface using a teak cleaner. If the color largely faded, or the wood has profound stains, then a light sanding will expose a fresh layer below the surface. After cleaning, you can apply a teak sealer to prevent the color from fading any further.
Teak and Ipe (a South American wood as exotic as its name) are exotic woods that perform extremely well outdoor, although they are very expensive. Maple or oak porch swings will not weather as well as cedar or cypress but can be painted to extend their life.
Wood types to avoid: untreated pine, poplar, and certain species of oak – all have a tendency to decay when exposed to weather elements. Unless you are purchasing your swing chair for indoor use, it would be best to avoid these species!
Wicker is an old technique, dating back to Ancient Egypt, that involves weaving materials in complex patterns. Organic and natural materials are used for indoor furniture, commonly use synthetic vinyl and resins for outdoor furniture. Outdoor wicker needs to withstand elements such as moisture, sun, and extreme dryness, depending on the climate. There are four major types of organic materials used for swing chairs: rattan, reed, willow, and bamboo (rattan being the most popular). Porch swings made from these natural materials should not be used outdoors. Synthetic fibers will last longer outdoors, despite sunlight and moisture.
The wicker used for outdoor porch swings is made from polyethylene resin fibers in order to create sturdy furniture, being able to withstand the harsh outdoor weather. It's mainly known as all-weather wicker. For those who live in areas where the weather changes are drastic, all-weather wicker swing chairs can be left outside all year long. Some choose to cover or move it during the snowy and rainy seasons, however, it is not necessary. When all-weather wicker is used for porch swings, the resin is typically woven over an aluminum frame. Moreover, due to the sturdy structure, it doesn't warp or change shape if it's used correctly.
As with all materials, all-weather wicker is not always made the same way. Cheaper wicker porch swings are often not as quality as it could be, thus before making a purchase, make sure to test it. Does it stand stable? Is it comfortable? Are the fibers woven tightly? As with wicker, high-quality swing gliders should be a mix of comfort and sustainability.
Wrought iron it is a strong, durable material. Wrought iron is softer to forge, bend, or weld. Porch swings made of this material have a design that ranges from traditional to contemporary. It does require some care to prevent rust and increase corrosion resistance. Use paint to create a different look and improve its resistance to corrosion.
On the other hand, it is very heavy and will not tip over or blow away easily during high winds or storms. Wrought iron is shaped into anything that the mind can imagine. This is why this material is so visually enticing. Some disadvantages of wrought iron include its capacity to heat up and burn when left in direct sunlight, or it can be very cold on cooler days. Without cushions or a mattress, wrought iron swing gliders are not the most comfortable.
Stainless steel is a durable material but it is also the heaviest and also more expensive. In direct sunlight, steel becomes hot to the touch. Comfort is also reduced in cold weather. You may want to purchase a mattress or cushions made of fade-resistant all-weather fabric. Used to create durable frames and seatings. If you're looking for a modern steel porch swing, be sure the product is either stainless or powder-coated and that any hardware used is also rust-resistant.
Aluminum will not fade or rust, sometimes been coated with a powder-coat finish. This metal is used in contemporary, streamlined porch swing designs. With all the aesthetic appeal of wrought iron and wood, but without the heavyweight and biodegradability, aluminum is used mainly for porch swing frames. It requires less maintenance than steel or wrought iron and is significantly lighter and easier to move.
It also remains cooler in the sun. Unfortunately, this is a more expensive material. Aluminum can survive outside for extended periods of time. Powder-coated aluminum comes in a variety of colors. Look for UV-resistant finishes and rust-proof hardware. If you're buying aluminum with vinyl webbing or straps, look for vinyl that has been processed with mildew inhibitors and ultraviolet stabilizers.
Recycled plastic is the least expensive material. Recycled plastic is durable, water-resistant, it won't rot, splinter or crack, doesn't require painting, staining, or sealing, and is basically resistant to all types of weather. It is also highly portable, can be made from recycled materials, making them an eco-friendly solution. Unfortunately, plastic is not always the best looking option and may not last as long as other materials. In certain cases, you need to store plastic porch chairs inside to prevent pitting and fading.
It can be cleaned with soapy water and a scrubbing brush if needed, making it easy to care. Plastic can be shaped, molded, and colored using UV stabilizers into just about any design, making it a good choice for those who want something really different. Recycled plastic offers an eco alternative to wood, has all of the style and comfort of the wood products, but without the look and feel of natural wood!
Fabrics used are two types, based on the location where you put your porch swing chair: outdoor and indoor. Both fabrics use modern textures with a wide range of patterns and colors, which are stain-repellent or weather-resistant must be easy to clean and resist to wear. The primary difference between these fabrics lies in the manufacturing process and the fibers that they are made from.
Porch swing frames are usually made of wood or metal, with polyester covered cushions that form a seat. If there is no cushion, you'll discover a fabric "seat". The polyester fabric can come in different colors and styles. Outdoor fabrics are made to be more durable, and they bear a chemical treatment process that ensures they will resist better. Here are some typical outdoor fabric features that should be also listed directly on the tag of the material:
The verdict? I hate to leave you on the fence, but the final decision is ultimately up to you…
Size Actually Matter
Know your product size before choosing the porch swing is common sense. Houses come in all different spaces and sizes and you don't want to buy something that's too big to take up your whole space, but you also don't want something too small.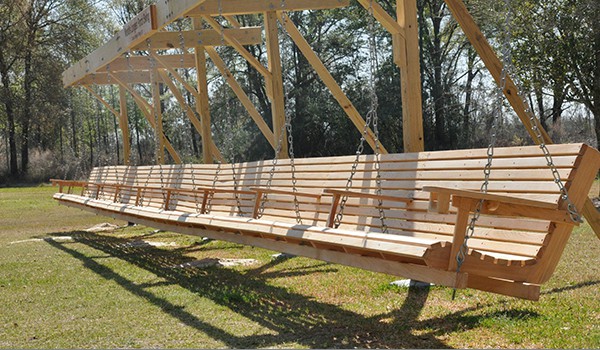 Here are some thoughts to consider:
Seat depths vary from 20 to 40 inches (50-100 cm). No expert can tell you the right depth – it's a matter of personal comfort.
Chair backs should have some curve for an extra relaxation.
There should be a minimum of one-inch space between slats to allow air to circulate.
Wooden joints should always be bolted or screwed together, not nailed.
Allow at least 4 foot (1.2 m) arc for the swing to move freely.
Make sure that the size is right – it shouldn't overpower the space or stop the flow of traffic. Scale and proportion are both important. Interior Designer, Jodie Kingman from the Coco Republic, advises buyers to keep it in proportion: "Take into consideration how it looks from all angles – the length, depth and back height", she says.
Finishes
When you go and buy a new piece of furniture, there's an impulse to choose the piece that is most attractive to your eyes. Before choosing a finish for a porch swing chair you could consider: how much protection the piece needs, how durable the finish should be, how comfortable you are with the tools and method of application (if appoint to apply it yourself), and what aesthetic look you're trying to achieve. Choosing the best one is sophisticated because there are two categories of finishes: penetrating finishes and surface finishes.
Most of them are easy to apply and leave a natural look. Surface finishes do not offer a distinct look and become sticky in humid weather, but they're durable and offer solid protection against wear and tear. For DIY porch swing projects, whatever finish you choose, it's critical to know exactly what you're working with. Some finishes can be mixed and some cannot.
Each finish has individual application techniques, requires different tools and materials. Before you buy and apply a finish, always read the ingredient and application information. And always follow the manufacturer's instructions!
The Right Price
A good deal when buying our porch swing does not mean the lowest price. As you know, high-quality materials cost more but last much longer. Products made of wood are a great example – a pine swing is affordable, but you will have to replace it in a few years. On the other hand, porch swing gliders made of cedar or teak are more expensive but will last a lifetime.
Retail stores and corporations make use of fixed and promotional prices – plus a few more tricks. Many of us even assume that the price should be the cost of parts and labor, plus something more. The truth is there's no objective "correct" price – only what someone is willing to pay. There is a concept named "willingness to pay". Put simply, it's the highest amount a person is willing to pay for a product. Most furniture stores set price tags on their items. Never trust anyone who exposed tags like "We got our product at 65% off" because that's not true. It probably means the price tags are too high, to begin with. Discounts are always distracting.
Look around and get an honest sense of the real price for your porch swing, then just make sure you pay a fair price. The price of delivery should be also be taken into consideration.
Strength And Durability
You certainly do not want to use a porch swing which isn't safe and reliable. That's why it is fundamental to choose strong materials for the swing, frame, or supporting elements. The materials have to be UV, moisture, and insect resistant and easy to maintain. Extremely durable materials (teak, ipe or polywood), even if it will last a lifetime, will cost much more than traditional wood or metal.
When you buy your swing glider check the length of guarantee the manufacturer will offer. And if you get clear instructions about how to install and care, you get many years of pleasure swinging into your porch glider.
Other Porch Swing Chairs Features To Consider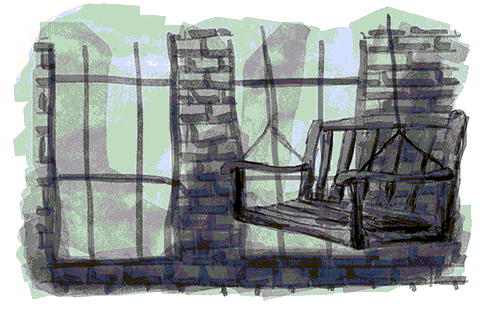 Climate: before you get a porch swing, you'll certainly want to think about the weather in your area. If you choose a wooden swing chair but live in a wet climate, you can use waterproof sealants to make them more weather-resistant. Another advantage of wood porches is that it does not hold the sun's heat like plastic and metal do. Plastic porch swings can be used in areas with a lot of rain or snow – should store inside to prevent pitting and fading. Synthetic wicker swing chairs works in any situation, are designed to last outdoors – just clean them more often.
Manufacturer: out of thousands, pick only a manufacturer with many years of experience and a solid reputation. They always care about the quality of materials and craftsmanship.
Brand name matters: try to go after manufactures which became household names in the world of porch swings. They built the brand reputation for outstanding customer service, innovative production methods, and superior quality control.
Environmental protection: protecting the environment means to select sustainable materials to preserve harvested forests. A good start would be to avoid exotic woods such as Teak or Ipe that come from tropical forests. Choosing swing chairs made of recycled plastic and synthetic wicker is a more environmentally responsible choice. In such cases, your porch swing does not require any trees to be cut and reduce the amount of plastic waste in our junkyard. If your porch swing is sealed, oiled or painted, make sure that the product is environmentally friendly.
Where is it made: imported products are usually of high quality and are oftentimes affordably priced. With one single exception, all porch swings we review are made in the USA. American furniture is usually made by companies throughout the country, many with a unique story to tell. These companies symbolize American entrepreneurship which is the backbone of this great land. We should not forget that purchasing these products do in fact support the lives and families of fellow Americans.
You can find quality porch swings from 200 to 800 dollars. The cost of your swing chair depends mostly on the type of materials you are choosing, how strong and sturdy the construction is and the extra decorations added (if any). Teak and Western Red Cedar are the most beautiful and also the most expensive. Cypress and pine swing chairs are more budget-friendly options. Some swings come with a canopy, and these are more expensive.
Finding the perfect balance between price and quality should be your first consideration when looking for a new porch swing.
How to Protect and Maintain Porch Swings?
Porch swings are a beautiful piece of outdoor chosen furniture, but maintaining them is not always an easy task. Ensuring your porch swing will stay functional and looking good is possible with little knowledge. If your porch swing chair will be used indoors, no special maintenance is required other than routine cleaning. If using outdoor, that's where care and cleaning become important.
Once you know the type of materials used in the construction of your porch chair, you need to figure out the optimal way to maintain them. Wood, metal, fabric – all stay in good shape with a little bit of routine care.
Ensure Proper Installation
One of the first steps is to check for proper installation. When done improperly, porch swings could bend and pose danger. Even after proper installation, owners should check periodically to make sure the bolts/screws remain tight and that the frame (wood or metal) is not rotting or rusting too much.
Keep it Dry
For outdoor use, the main enemy is moisture and water. After a long period of exposure to water, all types of wood and metal can be damaged. Wood that has not been treated with a water-resistant coat is susceptible to rot, dent or splintering. If the porch swing is painted, the paint sooner or later will start to peel. The chains on the swing will rust after a period, causing intermittent movement and instability. Negative aspects are also triggered on wood without UV protection from sunlight. The easiest way to protect a swing is to keep it covered. Covered porches offer satisfactory protection for your swing, but you still need to clean it periodically. You need to oil swing chains to last longer and not to creak when you swing.
The Hardware
To keep the hardware clean and in good working conditions, lubricate them every couple of months with metal lubrication or grease. This will prevent the parts from rusting when exposed to moisture and water. A practical solution to prevent corrosion would be to wash the hardware with soap and water. Use a soft bristle brush to scrub the corroding areas. Another step in prevention would be to spray the exposed hardware with an oil and water-displacing spray. Breaking the corrosion on a recalcitrant nut is an ego-rattling job that requires not a lubricant but a penetrating fluid.
One of the most common problems of porch swings is the evolution of a wobble or tilt. If we want a porch swing to operate properly, the parts need to be tightly bonded. A wobble or tilt indicates that the fasteners are shabby or in need of tightening. Always carefully examine the porch swing, tightening and replacing bolts or other hook parts as needed.
Porch swings can often develop rusty chains and aging ropes. Damaged chains and ropes will cause intermittent movement and instability, but it can weaken them as well. Replacement chains or ropes can be found at most hardware stores. Remember to measure them and make a note of any additional supplies that may be needed. You need to count the number of links in the chain in order to get the best fit and avoid cutting. If the chain measurement is done correctly, the chain can be cut to exact length in the store, without the need for a hacksaw when you get home.
If you use springs that have seen better days, they should be replaced rapidly along with the chain or rope. When preparing to replace the chain/rope or springs, be sure to determine how they are attached to the swing, and which tools will be needed to replace them.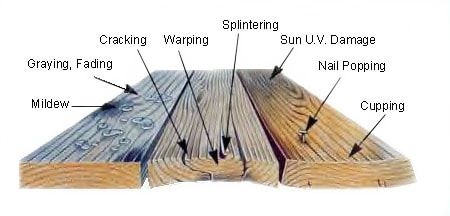 Protective Coating
A protective coating or finish helps to keep the swing in top shape by protecting it from sun, wind, and moisture. Although staining porch swings are optional, applying a finish is essential to protect the wood's surface. Without a finish, wood can deteriorate.
A good finish prevents swelling and cracking, protects against stains and enhances the appearance of the wood. Different finishes offer varying degrees of protection, durability, ease of application, reparability, and aesthetics. Unfortunately, no single finish excels in all of these categories – a finish that excels in one may fail in another.
There is a dozen of brands of finish available, all can be divided into two categories: penetrating finishes (those that dry inside the wood) and surface finishes (those that dry on the surface of the wood). Penetrating finishes are easier to apply and leave a more natural look. Surface finishes are more durable but don't look as natural.
In the case of metal swing chairs, manufacturers offer coatings frames with anti-corrosive properties to ensure metal components have the longest possible lifespan. Some also use Aluminum, so there are no corrosion issues in the long run.
Storage
If you live in areas with extreme weather conditions, storage your porch chair is a good option when it is not in use. The ideas are endless when it comes to porch swing storage. Before starting to store, give each swing chair item a thorough clean. Wipe down from dust your pieces with a cloth, then use an appropriate cleaner for the type of material (wood, metal). Disassemble into pieces for easy transport. Group, wrap and label these pieces together to stay organized.
Now it's time to protect it with the right materials. Wood is an organic material, which means it needs to breathe. Plastic can lead to condensation or unpleasant smells in your unit. If you want to use bubble wrap as an extra line of defense, place a layer of drop cloths or covers, sheets or blankets beneath it so that the plastic does not come in direct contact with the wood. To keep your porch chair on safe, raise it up off the ground.
If possible, choose a storage unit with a controlled climate. If the wood gets too dry, cracks or gaps may result. If the wood gets too moist, it may result in cupped or curved surfaces or warpage. Additionally, remember that not all pieces will have the same needs for proper protection (chains, ropes, hardware), so it's recommended you conduct necessary research prior to storage a porch chair.
Wood Porch Chairs Maintenance
Seeing that the majority of porch swings are wood construction, the type of wood used varies, so the maintenance guidance. The wood used makes a very big regarding the durability of any swing chairs. For example, some types of wood resist rot and mildew, while others need special treatment to become water or UV-resistant.
Type of Woods / Benefits
Kiln-dried Pine: Resists rot and insects, can experience dents and scratches
Cypress: Resists rot and insect decay
Cedar: Durable, but needs additional treatment to maintain its color
Oak: Resists water and decay
Teak: Resists termites and insects, rot and decay
With woods, always consider the weather and elements exposed to. In northern climates, during the winter season, storage should be considered. A wet climate requires the application of a mold inhibitor. A sunny dry climate stands in need of a good UV protection. Always follow manufacturers' directions when applying these types of products! Woodcare and cleaning are often based on the climate where you live.
So the wood will need maintenance and repair from time to time. It is critical to perform preventive maintenance to keep it like new. A protective surface coating, such as paint or a quality stain, along with a yearly application of a penetrating sealer, will do wonders for the wood. If the swing chair is kept in a sunny place, or if the wood has a dark color, it is a good idea to apply a varnish with built-in UV protection to prevent damage and fading.
Wood is highly durable and very attractive, but it can also develop splinters, cracks, and it is important that those problems should be fixed before they have a chance to spread. Splinters should be carefully sanded out, and the wood repainted to match the rest of the swing.
Cracks and other wood damage can also be sanded down and carefully repaired. If roughness occurs, smooth the surface by sanding with sandpaper. Once sanded, then re-oil with a light coat. You will then just need to clean and re-oil year after year.
Plan on cleaning your porch swings at least once a year using a soft brush or sponge and a good wood cleaner. Rinse well and allow to dry. The more dense woods may take several days to dry thoroughly.
Should I Paint, Stain, Oil or Seal My Wood Porch Chair?
Painting is the first option. Paints are similar to stains in terms that the paint produces one or multiple coats that sits on top of the wood and offer simple protection. With wood, you'll get a better result if you'll use first a primer. The main advantage is that wood primer fills and levels the wood grain, and, most of all, stop the paint from soaking in. Before applying the primer, make sure the wood is dry, plus, make sure you choose the right one and follow the manufacturer's instructions carefully! If you rush, it is better to use a quick-drying primer – you can paint over some of these in just an hour. Even more, if you want something that's odor-free and doesn't harm the environment, try a water-based primer.
As you probably know, paints are made up of pigment and a binder. Water-based (latex or acrylic) paints use water for a binder, solvent-based paints use mineral spirit, and some paints use thinner. Natural wood finishes are water or oil-based. If you are using a mineral spirit or a thinner-based product (also sold as solvent-based), plan how you will dispose of excess paint.
More natural or eco-friendly paint alternatives are available and include alkyds. They are made of renewable materials such as plant oils, contain fewer preservatives, and their manufacture is less polluting.
Paints come in a variety of finishes including flat, eggshell, semigloss (satin) and high gloss. Flat paint hides flaws well, but it doesn't stand up well when washing. High-gloss paint is washable and easier to maintain, but it reveals surface imperfections and painting errors.
So, in order to get the job well done, prime bare wood with alkyd paint, then paint it with two or more coats of the eggshell (or one or two coats of a suitable shade of first coat), and lastly, finish with a semi-gloss finish coat.
Staining wood has both aesthetic and functional benefits, and sit on top of the wood to provide color and protection. Wood stain forms a favorable barrier over the surface of the wood that is waterproof. This causes water to flow away without affecting the wood. Wood stain protects your wood from termites, mildew, mold, and various other pests that can cause rot. Furthermore, wood stain prevents the wood from being discolored. For the purpose of aesthetics, the wood stain comes in two varieties – dye and pigment. The pigment-based stain will color wood with large pores, whereas dye-based stain will color wood with smaller ones. The dye is best for adding intense color to dense wood, whether for grain enhancement or simple color change, but the pigment does a better job of bringing out the grain pattern in large pore woods.
Water-based stains are non-toxic and clean up easily with water but they can cause streaking. Oil-based stains (liquid or gel form) are more user-friendly, however, they produce heavy fumes and are harder to clean up. Keep in mind that stain only provides color, not a finish – always apply a finish on top of stained wood!
Now companies are offering tinted finishes in both oil and water-based modes. A similar material, colored Danish oil, has been around for years. The idea is that you can apply both stains and finish in one step. Most work great on the first coat. Do it again and you have double staining, but the real advantage is that unlike stain, you can add as many coats of tinted topcoat as you like. Hence, you can make the wood color more intense or more opaque. That means if you do not apply it uniformly, you will get uneven coloration. A good tip is to use these tinted materials for one or two coats until the color is just right, then switch to the clear version of the same finish for the remaining coats.
After the stain is dry, always apply a finish to protect the wood and stain. Several finishing options are available, as stated above. Because of its durability, polyurethane is probably the most commonly used finish today.
Oiling wood still one of the most popular ways to finish, protecting it from problems like cracking, splitting, and warping. Certainly, it helps to repel rain and moisture. At this moment, the level of protection delivered by oil isn't as effective as modern wood finishing products like varnishes. On the plus side, oils tend better to bring out the character of the wood fiber, they're made of natural products and are easy to apply and maintain.
Due to the fact that oil is a natural product it slowly penetrates into the surface of the wood. It can be applied in multiple coatings until the wood is unable to absorb any more. The varnish is a synthetic product made from cooking natural oil like linseed oil, tung oil or even soybean oil with a resin-like polyurethane. It's best used if you want to build up layer after layer on the surface of the wood to create a plastic-like coating.
We recommend using a dedicated oil depending on your porch swing wood type, as these contain a specially formulated blend of oils and resins, which provide additional wood durability and wear resistance. On the downside, when oiled finishes are old or dried, expect to see the wood look dull, which means you need to re-oiled to maintain porch swing appearance.
What to look for when choosing an oil? Water-resistance (look for the terms "water repellent" or "waterproof" – these products can be water or oil-based), Ultraviolet (UV) radiation protection (helps the wood withstand the destructive effects of sunlight), mildew and fungal protection (label states "resists mildew" or "wood preservative" – special ingredients have been added for this purposes), clarity (have the word "clear" on the label – terms like "natural wood tone", "color tint", or "pinewood tone" indicate that a pigment has been added, which will affect the wood's color).
Another option is to preserve the wood by applying a sealer. Sealer is a combination of resins and oils, but with a lower viscosity than varnish. Sealers will not affect the durability or longevity of the wood but will help to preserve the color by slowing down the patina process. A proper sealer will protect the wood from the sun's UV rays, and restrain the growth of mildew.
If you choose to seal, be sure that you use a sealer that is environmentally friendly and designed specifically for the wood your swing chair is made. Before sealing, clean the surface with a cleaning agent. Apply the sealer with a soft cloth – using a brush is not recommended!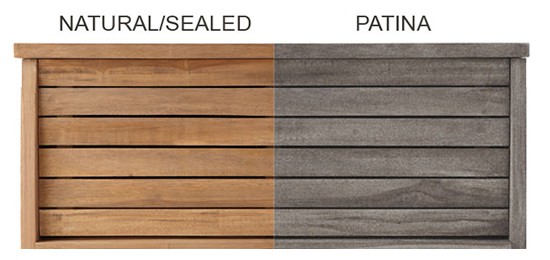 It is essential to apply three coats of sealer to wood surfaces. The first coat penetrates the wood into deep, nourishing and revitalizing the wood, the second coat penetrates and bonds with the first forming a seal, and the third provides a surface that is hard, scratch, alcohol and heat-resistant, and easy to maintain. Never apply too much or too little – always wait for the first coat to dry completely before applying the second coat. If you have never done this before, practice on a scrap piece of wood before you start to seal a porch swing chair!
Plastic Porch Chairs Maintenance
Plastic swing chairs are broadly made from High-Density Polyethylene (HDPE), a recyclable plastic that will never need to be painted or stained. HDPE plastic derived from recycled plastic bottles that have been purified and UV protected to resist fading.
The advantage of having recycled plastic porch swings is there is virtually no maintenance. It is cleaned with soap and warm water. For certain stains and additional cleaning power, a 1/3 bleach and 2/3 water solution can be used without affecting the color. A popular method of cleaning is to use high-pressure power wash (do not exceed 1,500 psi, which is the equivalent of a car wash).
The surface of the porch chair may require the use of a soft bristle brush to get into the creases. Be sure to keep it free of debris to prevent mold and mildew. Do not place hot items directly on swings in order to avoid melting. All hardware is stainless steel and virtually maintenance-free under normal conditions. Anyhow, hardware should be rinsed regularly with fresh water, vinegar, baking soda or commercial rust removal products to avoid rusting.
Properly maintained, plastic swing chairs will allow you to relax for many years.
Wicker Porch Chairs Maintenance
Synthetic wicker porch chairs do not require much care or cleaning, making it a user-friendly choice in any environment. Wicker is meant for outdoor use and is manufactured to be quite hardy. It can be left outdoors for long periods of time without fear of deterioration.
Cleaning is really easy – vacuum your wicker porch chair from time to time to reach the dust in the crevices. If vacuuming is not enough, use a sponge with mild detergent and warm water to remove soil. Rinse and allow to dry completely before you use the wicker porch again. Hosing off the porch chair can work too, but don't use very high pressure. After hosing off, make sure to inspect the weave to see that the pressure from water has not moved it from its place.
Stay away from using a foam cleaner because the foam could lodge into the areas between the woven strands and collect there, ultimately causing damage.
A simple solution for extending wicker porch chairs lifespan could be to cover it up or move it to a more protected spot when the temperature is too hot, cold, or raining heavily. It is a good idea to inspect the weave from time to time, and if there has been any shifting, simply move the weave back into place with your fingers or a wooden stick.
Keeping the porch swing well maintained and in good shape will help to ensure that it is there when you want it. A porch swing is a wonderful extension of any home and will help to enhance the whole family's enjoyment of this wonderful piece of chosen furniture.
DIY or Buy A Porch Swing – What's Better For You?
Man or women, we all DIY-ing around our house. Heh, using a little Internet searching for projects or information, it becomes a trend to create things by yourself, however, people have been doing things for centuries out of necessity.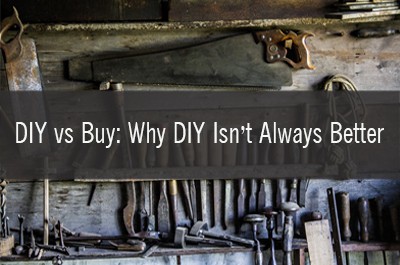 Finding the right plans and creating something from start to finish has become popular for many people.
Yet, one question remains: Should we DIY everything?
Obviously, since we are talking about porch swings chairs here, let's rephrase this question:

Which is a better solution – purchasing
or building your porch swing?
Whenever you face the "DIY or buy" debate, it's worth asking yourself a few questions. While there are also other smaller details you'll find along the way, these are the big and most important concerns you'll fall into when it comes to your porch swing. So, let's go through each one.
How much will it cost me?
The relative expense of a porch swing varies greatly by whether it's built or bought. Purchasing materials to DIY a porch swing will be the biggest factor in your overall cost. Next, consider if you already have or not all the proper tools to build a swing chair from scratch. Sadly, it takes more than a hammer and a few nails to put together a swing chair.
Does the make option require a lot of tools I don't have?
Some processes include cutting, drilling, welding, polishing, gluing, painting of wood and metal (just to name only a few). For example, if you're thinking of welding your own frame but don't own a welding machine (or can't borrow one), this might be a better buy project. Professional tools are very expensive, so they will astronomically raise the costs of a DIY porch swing.
Will the project be time-consuming?
If so, will you enjoy the work? If the project is a hobby, it may be well worth doing. But if it's tedious, there is a time cost to making even something very inexpensive. With detailed plans and a lot of hard work, it's going to likely be a challenge without the help of someone who knows to work with wood and metal, and it will likely take some time. Starting a building process that could be frustrating and stressing down the road might take away some of the pleasures that are supposed to go along with a porch swing chair.
Do I have the expertise in DIY?
The DIY or buy question MUST take into account your technical building skills. Can you handle a hammer and nails? A saw? A drill? Or do you have a group of friends who can help? Can you do these operations without hurting yourself? You'll need to evaluate yourself of how much you can do. Could you do it? It's possible to learn as you go, of course. Just be sure to factor in the learning curve versus your time available.
Will the porch swing be better/sturdier? Is it safe to use it?
The safety and quality of your swing chair go hand-in-hand. While porch swings can be made out of a variety of different materials, it's important to choose how sturdy the material is, and what the climate is like where you live. Can you make a better swing chair? That ultimately depends on your technical skills.
Studies reveal that one in three women are nervous about their partner doing DIY. Here are the most common DIY arguments between couples: missed bits painting, drilled holes in the wrong place, spilling paint on the carpet, bought the wrong tools for the job, failed to follow instructions or to finish the job. Still, want to continue your project?
Where is the warranty?
All the products we review come with warranties and customer support. Some have the option to return the swing chair if you don't like it. When you DIY, that's a one-way road to the end. Whatever you like it or not, the money and time you spent on this project are gone forever.
Which version is cheaper?
From an economic standpoint, this is a key question. Can you make it cheaper on your own, or does mass production make the store version a better deal? Bulk production creates some economies of scale, but the real advantage is quality, not cost-effectiveness.
Do all these arguments mean you shouldn't ever consider DIY building? Absolutely not – we don't want to discourage anyone from trying. Using good judgment related to cost, time, safety, and quality is fundamental to determine when you should be buying and when you would truly benefit from a custom build. Feel free to take a look at our different selections to choose the porch swing that's best for you!
Hanging A Porch Swing In 6 Easy Steps
To become the focal point of your porch, a swing chair must be hanging properly. All you need is to arm yourself with the right hardware, do the correct measuring and follow the proper installation instructions. Having a proper porch swing installment will ensure years of safe enjoyment for you and your family.
Before you get started, make sure your ceiling framing, support beam or joist is strong enough to support the porch swing and those sitting on it. A typical two-person swing can be supported by a single 2 x 8 joist, two 2 x 6 joists, or three 2 x 4 joists.
DO NOT hang the swing directly from the ceiling covering (like plywood or beadboard). If you aren't sure, please ask a professional to check it out for you!
Step 1: Choose Your Placement
Choosing the right place for a swing chair is important. First, you need to find a place where you have enough height available to support the chair and the chains, then enough wide to be able to swing without bumping into walls or whatsoever. As previously explained, you need to be 100% sure that the swing will have enough support above to sustain the weight of the swing and those who will swing on it. Double measure to be sure as you are finding the best spot where to place the swing chair.
Step 2: Buy a Porch Swing Hanging Kit
You can find a swing hanging kit at almost any hardware supply store. You can get these very cheap, although make sure you never set price over safety. The components in the kit could be made of lasting steel and the chains need to be heavy-duty as well (if those are not supplied by manufacturer). If you think to save a few dollars on these items and buy cheap models, the end results are that it may not support the weight of the swing and could cause damage to your home porch and injuries to those who use it.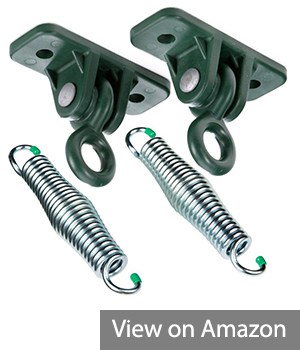 The comfort springs from this Porch Swing Hanging Kit are made with a high-strength chrome steel, which is zinc-plated and clear-coated to provide protection. The springs are tightly coiled together for effective shock absorption, enhancing the comfort of your porch swing with every movement. Smoothing out the swinging motion and allowing a wide range of suspension are the main functions of these springs. Each spring has a 600 lb weight capacity.
Crafted from durable metal, the two swing hanging hooks are meant to withstand the wear and tear of indoor or outdoor use. The hangers are made of glass and reinforced nylon plastic around the metal. They are covered in ABS plastic, a high-impact, rust-resistant plastic that ensures the longevity of the piece. And, they're extra versatile, because they function as accessories to all the porch swings sold on this site.
Please note that you will need four 2.5-inch wood screws or lag screws/bolts to mount the hangers-on your porch. Anchoring hardware and connectors must be suitable for outdoor exposure and offer a working load rating of 500 pounds or more.
Just in case you don't use a hanger kit, use heavy-duty screw eyes, screw hooks or eye bolts, each of which has an enclosed ring or hook on one end where you can attach your rope or chain. Whichever you choose, make sure all your hardware is galvanized or stainless steel for corrosion resistance.
New swings usually come with hanging chains or ropes, but if you need to buy them, make sure they're rated for at least 500 pounds of working load. Chains must be galvanized or stainless steel. Ropes should be marine-grade, made of nylon or polyester to resist at outdoor exposure. The chair will swing better if you add an S-hook or quick link between the hanging hook/eye and the rope.
Step 3: Prepare the Beams
Next, you need to select two beams/joists that have at least an 8-foot clearance. This allows you plenty of space to install and have a smooth swinging. Using a power drill, drill necessary pilot holes. These holes will be where you end up placing the hooks that will support the swing. With the pilot holes in place, you can place the hooks in the beam.
Step 4: Hang the Chains or Ropes
The best option is to place two chains or ropes on each hook. One chain/rope will hook to the front part of the swing, and the other on the back. This method offers support for a swing chair that needs to operate safely. Make sure you are hanging your chains with enough clearance to swing without destroying anything and at a height that is comfortable and easy for anyone to get in and out of. Since they are bigger in size, swing beds are hanging on four points using four chains or ropes, or a combination of chains or ropes.
Step 5: Secure the Hardware
Now is time to start and secure all the hardware to the wood. Be sure to use chain connectors to integrate multiple components into one single mooring line and for extra security. Make sure all the components are in place and are tight according to mounting instructions.
Step 6: Hang Your Porch Swing
The final step requires help from your friends or family. You need to lift the swing chair and attach it to the chains/ropes. Of course, get a ladder to perform this action. Place the chains/ropes on the hooks, and make sure they are even with each other so you can get a proper swing. At last, try it and have a moment of relaxation after your hard work!
A-Frame Option for Hanging Your Swing Chair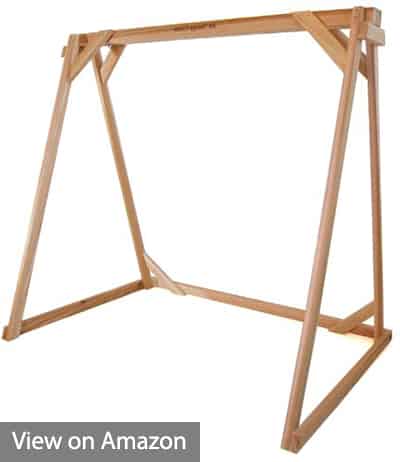 If you discover that your ceiling can't sustain the weight of your porch swing and you don't have a sturdy tree arm, you can hang a porch swing easily from an A-frame.
You can use the A-frame on your porch or in your yard as well. This stand-alone wooden swing A-Frame:
Is made of Western Red Cedar
Handcrafted design ensures snugly-fitting parts
Has mounting hardware included
Pre-drilled holes for easy installation
A-Frame weight: 42 pounds
Available in your choice of size (70 in or 92 inches)
This triple beam header A-Frame is designed to be used with swings up to 60 inches wide. When ordered with optional PS48U cedar porch swing you get all hanging hardware including chain, quick links and eyebolts to have you up and swinging in no time.
These stands are made of wood but you can also find stands like these in metal here.
If you follow these steps, you won't fear anymore that your swing chair will crash to the ground because of faulty installation. Hanging things from the ceiling that need to take a lot of weight can be a daunting task. If you feel uncomfortable doing this by yourself, don't be ashamed and search for professional mounting services.
Now that it's secure, you can start to enjoy using your new porch swing!
Porch Swing Chairs – Frequently Asked Questions
Got some questions? We've got answers! Below you'll find answers to the questions we get asked the most about the best porch swing chairs.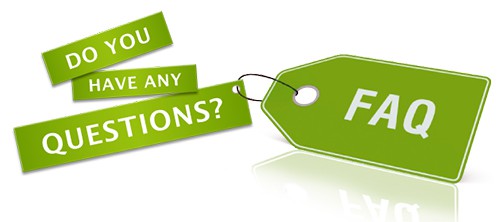 What makes up a porch swing chair?
A classic porch swing is made of three parts: the main chair, hanging elements (chains or ropes) and catching pieces, referred here as hardware or hanging kits. Some products also include an A-Frame to support the swing. Swing chairs with metal frames have in addition a canopy and cushions made of resistance UV and water fabric. Hammock swing chairs are designed for indoor and outdoor use, and might include 1 or 2 pillows and hanging rope.
Which porch swing is right for me?
All swing chairs we review are made to satisfy exigent customers. The larger size chairs are ideal for stretching out and smaller size, with the narrower seat, are more suited to sitting up. The best porch swing chair is the one that completes your personality, your house and ultimately, makes you happy.
The swings are designed to keep you securely tucked inside, provide maximum support and absolute comfort when sitting and leaning back. View our Top 10 Best Porch Swing Chairs list and pick the one that best suits your needs.
How much weight will a porch swing chair support?
This is depending on the model you choose. For each swing chair we review, you'll find weight capacity into our Best Top 10 table below.
What's the difference between bed swings and porch swing?
The difference is made by the deep of the swing. A bed swing is designed to accommodate a standard mattress measuring around 75 inches, more or less. A porch swing has a hard bottom in it and is around 30 inches deep, more or less. For more, check our classic style vs luxury debate above.
Porch swings come with assembly instructions?
Absolutely. When your swing arrives, it is already mostly put together. However, depending on the above models you choose, it needs a few bolts and screws before it is complete. Each model includes easy to follow instructions that show you step-by-step how to do this.
Can a porch swing chair be stored inside or outside?
We recommend storing a porch swing under a cover for maximum protection. If you choose to hang your porch swing in the open, we recommend that you treat the wooden frame with a sealant to protect it from direct exposure of sun and rain. Some models can be easily disassembled and moved to a basement for storage.
How do I hang a porch swing?
Swing chair manufacturers have created easy to follow instructions for hanging your porch swing. Follow them precisely. You can check this video to give you a glimpse of how to install a porch swing chair.
What kind of wood is best for swing chairs?
Each model is made of different types of wood. Depending on your location, climate and too many other factors, it is hard to point to a single direction. Read Choose The Right Material to give you the best ideas.
Why use an exterior finish for wood?
According to the U.S.D.A. Wood Handbook, an exterior finish is preferred for outdoor (hardwood) swing chairs. Good exterior finishes protect the wood from harsh conditions like sun, moisture in the forms of dew, rain or snow, high temperatures, freezing cold, or fungal attacks. Remember to choose an exterior that does not cover up the wood, it's easy to maintain, and last three to five years between recoats.
Which is better for hanging swings, chains or ropes?
It's a matter of preference. Some prefer chains for swing chairs and rope for swing beds; sometimes a combination of both is a little more elegant (see Best Luxury Porch Swing). Rope seems to work better if you are using four points of hanging, case scenario for swing beds. Simple swing chairs are typically hung from two hanging points, making chains a better option.
Do swing chairs come with chains or ropes? Are hardware included?
Yes and no. Some items include all necessary hardware for a standard porch installation and some don't. We highly suggest you read carefully each order page before placing an order.
How do I maintain and clean my porch swing?
We recommend to periodically wipe your swing chair with a damp sponge. Also, it is recommended to clean and dry your porch swing or hammock swing before packing it away for the season. For more information, read How To Protect And Maintain Porch Swings.
Will the porch swing fabric fade or mildew?
In general, fabrics have a 5-year guarantee against fading and is mildew resistant. While any fabric exposed to the elements may mildew, periodic cleaning of your swing will keep it looking beautiful.
How will my porch swing be shipped?
Depending on the manufacturer, there are a few options, unless you have made arrangements to pick your porch swing up directly from manufacturing location. Please review the shipping details before ordering online.
Can swings ship to any location? How does international shipping work?
Manufacturers or sellers have different policies. Some do not ship PO boxes, PMB's, or APO/FPO addresses. Others cannot ship to US Protectorates or international. Once again, read shipping details before ordering online!
Do swing chairs come with a warranty?
Yes, all items reviewed here come with a warranty. When these systems are properly installed and used for their intended purposes, it is very rare for a malfunction to occur.
How long will it take to receive my order after placing it?
This is depending on each manufacturer and seller. After placing the order, you'll receive information regarding ship times/arrival of your order.

Our Top Recommendations
Conclusion
We were trying hard to provide you with the best information about all-around porch swing chairs. Besides our swing chair reviews, we hope we serve you better in your quest to buy the best product which is right for you and your family. Most people shopping for a porch swing prefer one made of solid wood, which has a warm, natural look and feels that aligns well with nature.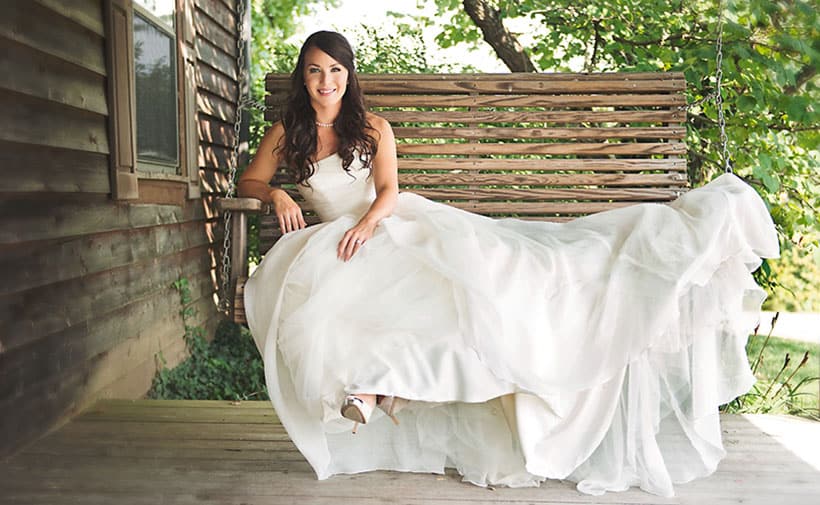 So let's recap when buying a porch swing chair you need to:
Select a comfortable porch swing: your porch glider has to reflect your personal style and taste. Classic, wicker, or outdoor porch swings with canopy are invariably made of comfortable fabric and lifelong wood or metal. Whatever type of porch chair you select, comfort is fundamental.
Choose the right materials: you need to note whether the porch swing is made of high-grade premium materials and another important thing is that they should be weather-resistant to withstand any climatic changes. Other than that, you can choose any materials namely wood, wicker, wrought iron or plastic.
Protect with finishes: ask questions like how much protection the porch swing chair needs, how durable the finish should be, how comfortable you are with the tools and method of application, and what aesthetic look you're trying to achieve?
Pay the right price: look around and get a straightforward sense of the real price for your porch swing, then just make sure you pay the justifiable price. The price of delivery should be also be taken into consideration.
Consider durability: go after great design, craftsmanship, and fabrics. Don't look over cheap models which easily lose durability and comfort. The best of the porch chairs are capable of enduring wear and tear for many years.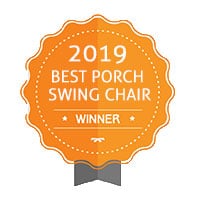 Having so many choices, finding the right swinging porch chair that suits your type and level of activity can be a tricky task.
We review different models made of different materials, in a dozen styles in hopes of helping you come to an informed choice. With a streamlined look, a super-affordable price, and a high-quality craftsmanship, the 5-Feet Amish Heavy Duty Roll Back Porch Swing With Cupholders, Cedar Stain is our top pick for 2019.
There is a pure joy to swing together with your family. A dream porch swing chair is made of wood, wide enough to comfortably seat, with an armrest at each end. Porch swing gliders are the foolproof solution for people who like to have the freedom to place their furniture wherever they like.
In the end, with all the choices available on the market, the only way to find your best porch swing chair is to read our reviews, the buying guide and make use of a little bit of common sense. Do this with one thing in mind: you are not buying just one piece of comfortable furniture, you are also buying an aggregate in which you will create inestimable memories.