Porch swings to spend more time outside
Do you want to revolutionize your way of relaxing? Then I challenge you to dig deeper and feel more passionately about your comfort. Listen – if you can't fall in love with your porch swing chair, you're in the wrong place, don't appreciate your home, or don't appreciate your worth. So, to help you choose the best product for your sweet home, we researched dozens of moderately priced porch swing chairs, balancing the pros and cons of various models.
Porch swing chairs will always play the same role: to give us moments of peace and relaxation with the people we love.
The main attribute of a porch is to swing – this is where all the fun starts. They also take up little space and offer additional seating. Most swing chairs have seats made of horizontal slats. However, the traditional model has a straight top-to-bottom back with vertical slats. Some have straight seats and backs at the top or bottom and then roll backward at the bottom or top. Swing chairs have decorative carvings or improvements like cup holders, flip cups, or canopies.
Whether you're seeking a champion all-around swing chair, the best value, or a model that will last for long years, we help you narrow down the options for your perfect fit. Read a book… take a nap… stay with the gang – the possibilities are endless with these comfy pieces of furniture!
Our Top Picks
Best Rated Porch Swing Chairs and Beds:
Reviews and Features
We review below the best porch swing chairs and beds on the market. If you need other exceptional pieces of furniture, read our Top 10 Best Sleeper Sofas and Sofa Beds, buyers guide for the Top 10 Kitchen Islands and Carts and Top 10 Best Bean Bag Chairs, or choose any impressive lightning appliances from our selected Best Sputnik Chandeliers.
The classic, eco-friendly or modern style you choose is a matter of personal preference. Classic porch swings are made of wood, while eco-friendly porch chairs are built of recycled materials. Stylish patio swings include metal and UV, and water-resistant fabrics. Most porch swings are painted in white, green, or black, but lately, you can select from a broad selection of colors. If you are a traditionalist and stick with classic models, you can decorate your porch swing with colorful cushions and mattresses.
Our reviews will cover all the necessary information you need to know before purchasing the best porch swing chair. We count all the features that matter and have come up with this top 10 list (plus more…).
Editor's Choice – Best of the Best
Best Choice Products 3-Seat Porch Swing Canopy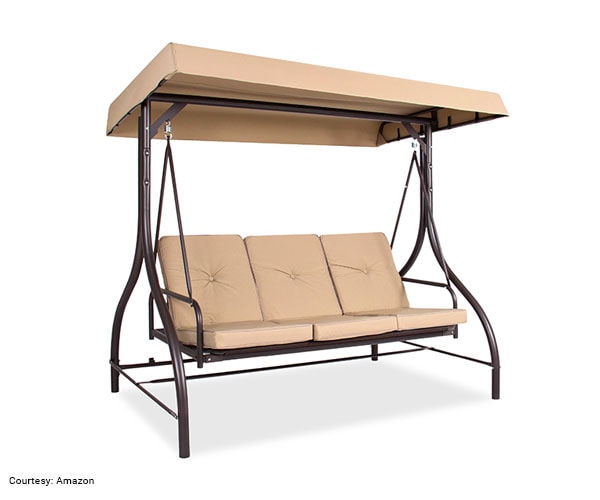 When looking for seating solutions for outdoor usage, the Best Choice Products 3-Seat Porch Swing Canopy is a cozy addition to any backyard oasis and pairs well with dining, chat, or bistro set so you will have a complete set for relaxing and entertaining. This BCP 3-person outdoor swing porch is a multi-function piece of furniture. You can go from a swing with a back to an entire solid hammock for a nap, which makes this a great addition to any outdoor space.
It has extremely comfortable cushions that are stain and weather-resistant, offering a contemporary look and featuring button-tufted detailing. This durable swing is designed with an adjustable canopy that will easily complement various outdoor decor, and the canopy will be adjustable to keep up with the moving sun.
The frame is constructed using powder-coated steel to resist rusting, offering long-lasting strength you can count on. A simple latch system on the support bar for the back section of the seat will allow the seatback to be lowered for a bed without too much work. The bed portion is a little under 73 inches long, so if you are taller than this, you may be uncomfortable lying on it.
This pleasing swing bed is tested to hold up to 750 pounds and is finished with a bold matte French Roast finish. The canopy is UV-rated, so it's protected from discoloration. The fabric outside the cushions is also safe outdoors and UV-rated to provide lasting style.
BCP porch swing canopy will take two hours for two people to put together. You will have to supply a Phillips screwdriver, and all other tools are provided. Care of your swing will take a simple mild soap and water solution. Do not use harsh chemicals, as they will damage your painted surfaces. The BCP Converting Outdoor Porch Swing Canopy will give your yard an elegant touch, offering a pleasant and comfortable place to relax and refresh.
Best Modern
Mistana Anner Porch Swing Hanging Chair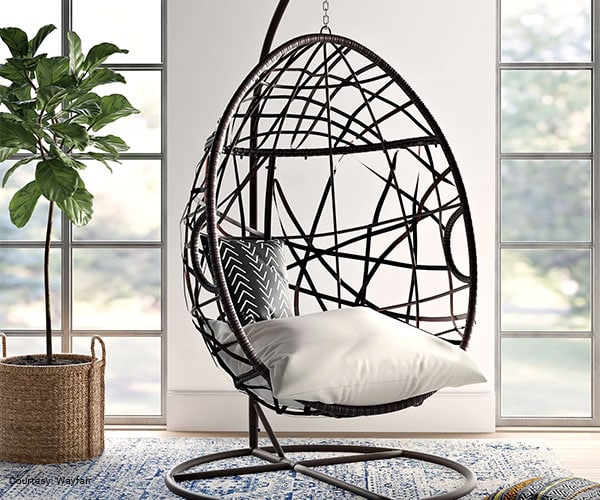 Install cozy sitting in your backyard or patio space. Mistana Anner Porch Swing Hanging Chair, crafted from aluminum and iron, will have you cradled and dangling in comfort while you take in the energizing fresh air of the great outdoors. Take a seat and allow yourself to be transported to a more tranquil setting as the music plays. Perfect for use in contemporary living rooms, poolside patios, and resort balconies.
A robust frame is the swing chair's primary support point. The basket is fastened with a chain of solid strength that can be adjusted to provide a range of seat heights so that you can choose the most comfortable. We suggest bringing the cushions inside or covering them if you want to use them outside to protect the colors.
You can easily lean back in the chair and get out of it thanks to the handles on the side of the basket. In addition, a polyester cushion and a square cushion are offered to provide additional support for both the back and the seat; button tufting enriches the overall aesthetic.
The Mistana Anner egg chair is offered in three colors. It may be utilized indoors or outdoors, and its basic yet elegant design ensures that it will blend in seamlessly with the decor of any space. The components, hardware, and tools required to put it together are all included, allowing you to enjoy the outdoors more with this contemporary-style furniture.
Best Traditional
Amish Heavy Duty Roll Back Porch Swing With Cupholders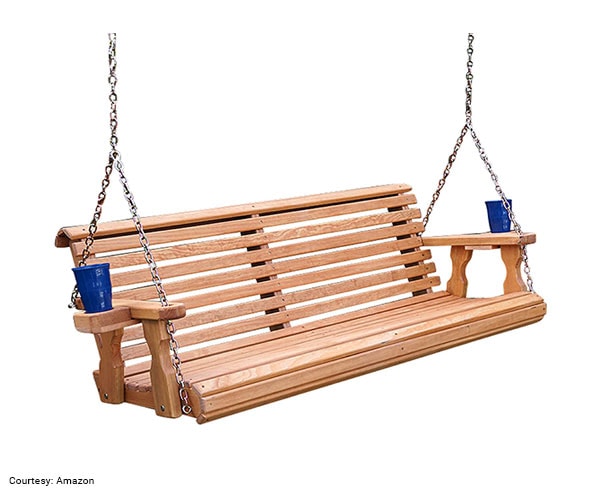 The 5-Feet Amish Heavy Duty Roll Back Porch Swing With Cupholders by CAF is made from kiln-dried pressure-treated pine and finished in an eco-friendly soy-based cedar tone stain. This authentic Amish handmade craftsmanship has a rollback design that contours your body and is considered the most comfortable layout available for swinging.
Two side armrests provide free use of the cupholders – you can enjoy your drinks while swinging. Please note that the cupholders add a total of 9 inches to the span of the swing at the widest point. Slats, all sides, and ends are routered (no sharp edges) for your safety and supreme comfort. Moreover, the one-inch thick slats are screwed to the frame, not stapled. The frame is bolted together with 5/16-inch bolts.
This swing porch chair has enough chains to hang from a standard 8-foot ceiling. Yet, if you need some extra chains, you can order quickly. Or, you can add some hangers and comfort springs to improve your safety. The seat dimension is 58 W x 19 D x 19 H inches, and the seatback height is about 19 inches.
It comes 90% assembled, with detailed instructions included. All slats are already screwed to the back and seat; the only assembly required is connecting the back and seat and securing the arms. Mounting hardware is included – nuts, bolts, and chains. It assembled easily and quickly. Its versatile design makes it ideal for a favorite fun spot and a rejuvenating retreat. It can also be used outside; however, you need to apply light sanding and refinish it with polyurethane at least once a year.
The Amish Heavy Duty Roll Back Porch Swing makes a beautiful and comfortable addition to any porch or backyard space, where you can enjoy several hours of swinging and relaxation. This porch swing is proudly handmade in the USA.
Best Value
Otteridge Porch Swing with Canopy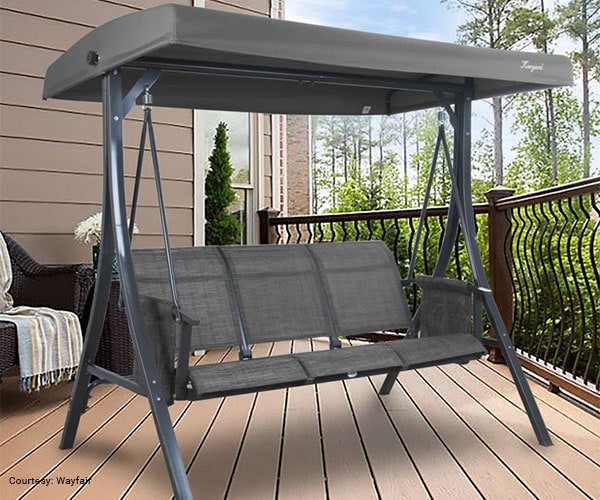 The Otteridge Porch Swing with Canopy is a great way to enjoy a sunny summer day with loved ones. Made for relaxation and good looks, it lets you sway to the tune of passing lawnmowers and bird songs. It makes a lovely addition to public spaces like restaurants and hotels while also being at home in private backyards and flowerbeds. The vibrant and exciting striped pattern is perfect for sprucing up your outside areas.
The three seats of this patio swing chair with an adjustable canopy are upholstered in smooth mesh fabric for breathability and easy cleaning. This bench is ideal for use on hot, sunny days due to its movable canopy top. If you'd rather bask in the sun with your hair blowing in the breeze, it's easy to take off. Comfort and security may be relied on because of the sturdy build quality. It's a swing chair perfect for relaxing with friends and family in the sun.
With its weather- and UV-resistant fabric and an adjustable top canopy cover, this porch is ideal for outdoor use all year round. Comfortable for you and your loved ones, the chair's three roomy seats are crafted from PVC-coated polyester mesh sling fabric that allows air to circulate. You may store books and food in the two side pockets. Non-slip feet are included in the swing's design to keep it stable during other activities.
The frame is attached to the swing through thick springs, creating a gently rocking action, and built to last for many years of use and enjoyment thanks to a sturdy steel frame. This classic-designed patio porch swing chair has a windproof, watertight, and dustproof canopy that provides cover from the sun and light rain or snow.
Best Eco Friendly
Highwood Lehigh 5-Feet Porch Swing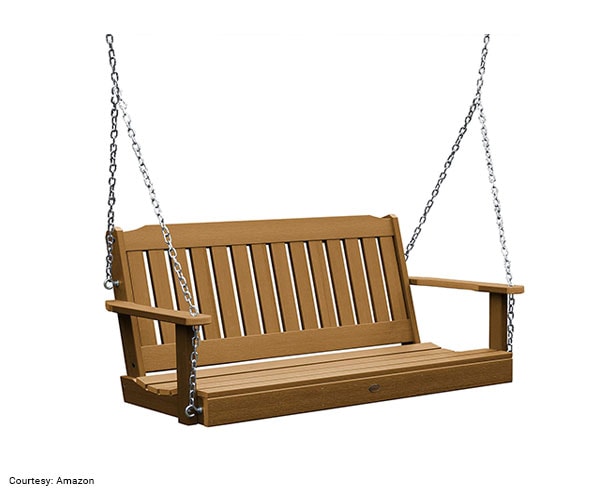 The design of the Highwood Lehigh 5-Feet Porch Swing might seem a little less modern and pretty standard than other models, but it is quite warm and approachable. It will undoubtedly deliver moments of relaxation in the evenings for years to come. Highwood USA has been manufacturing its unique eco-friendly synthetic wood since 2003. This material has been used extensively in outdoor applications where the look of natural wood is required with ultra-low maintenance.
It is made of high-grade poly lumber and is finished in 10+ colors. Even in the hot sun, this porch swing does not typically get hot to the touch. The plastic is maintenance-free, warp-resistant, rot-proof, and crack-proof and does not need painting or staining.
The zinc-plated steel hardware should not rust or degrade in all climates. There are no cushions on this porch swing bench, but they aren't necessary, as the porch swing is quite comfortable. The 4-feet porch chair is good for two people to lounge on, and the 5-feet model is perfect for up to three people. The Highwood Lehigh porch swing collection is an excellent investment with several finishes.
Assembly is required, but it can be done pretty quickly, as the panels are already assembled, and you're just attaching them. This model typically takes about 15-20 minutes to put together. Highwood 5-Feet Porch Swing can be left outside year-round, and the natural wood in colors that blend with nature will look great season after season if you wash it in spring with warm, soapy water.
Best for Capacity
POLYWOOD Vineyard Porch Swing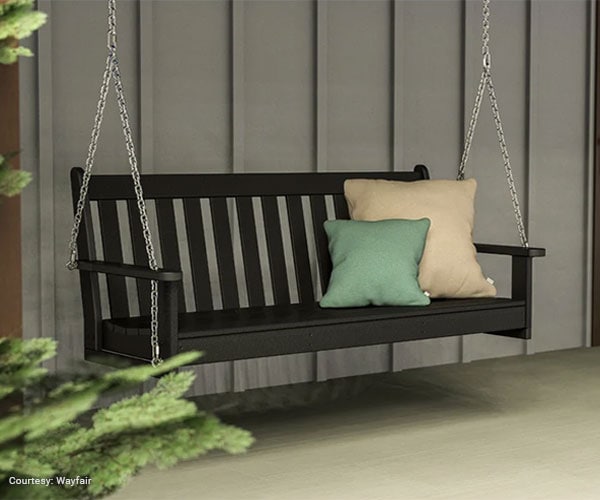 The POLYWOOD Vineyard Porch Swing will make any leisure activity more relaxing, whether you're swinging while viewing the sunset or reading an afternoon away. This swing has ample space for several people to sit comfortably, and it will provide hours of peaceful relaxation in your yard, patio, or veranda.
With its frame and hanging hardware in place, this porch swing will complement various decor styles, especially those with a more modern or contemporary layout. You may pick from a wide array of colors that will look great in your setting. Prepare for a night of stargazing by tossing in your favorite throw pillows and wrapping yourself in a warm blanket.
Polywood is made from a unique formula of recovered plastics like milk jugs and detergent bottles. Instead of having to paint, stain, or use regular waterproof wood, you can use polywood instead. Solid and durable, it can survive the test of time outside. It is also resistant to corrosive chemicals like oil, salt spray, and other environmental pressures, and it does not splinter, fracture, chip, peel, or decay.
Incorporating this chic swing into your outdoor area is a simple and easy way to experience the ultimate relaxation. They are made to contour your body for maximum relaxation, and tools for complete assembly are provided. The swing has been load-tested and has an impressive 1,200-pound weight capacity.
Best Full Metal
BCP 2-Person Metal Outdoor Porch Swing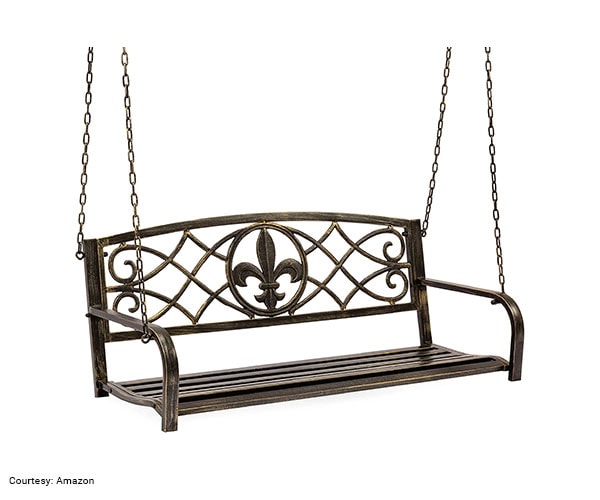 Embrace the moment with the calming feeling of swaying on a porch swing. If you need to escape the day's stress, discover Best Choice Products 2-Person Metal Outdoor Porch Swing. Perfect for a house with contemporary architecture, any porch, lakeside cottage, but not only. Constructed of iron and built in a sturdy, industrial design, this swing chair will quickly become your new favorite outdoor spot. And will complement any outdoor furniture setting.
Sturdy and comfortable, the powder-coated finish and rust-resistant iron will undoubtedly make this porch swing last for many years. Industrial styling and a smooth surface make this swing chair a favorite. The swing has seating space for two people, with a curved seat and armrests for comfortable sitting and space to add cushions for extra comfort. It comes with four chains, so you can easily hang it the same day you receive it.
It is weighted right from the design project, so it will not blow away or move around a lot during windy days. Even better, you can wash it with a hose or washcloth when it gets dirty. It is very comfortable, and you can adjust the chains to make it most comfortable.
The 2-Person Metal Outdoor Porch Swing from BCP it's the perfect companion for a relaxing summer evening, offering you and your unbelievable comfort and relaxation. Assembly is required with hardware and instructions on the whole package. To add a personal touch and extra comfort, use decorative cushions and pillows for the perfect outdoor relaxation.
Best Combo
Dovecove Etowah 2 Person Porch Swing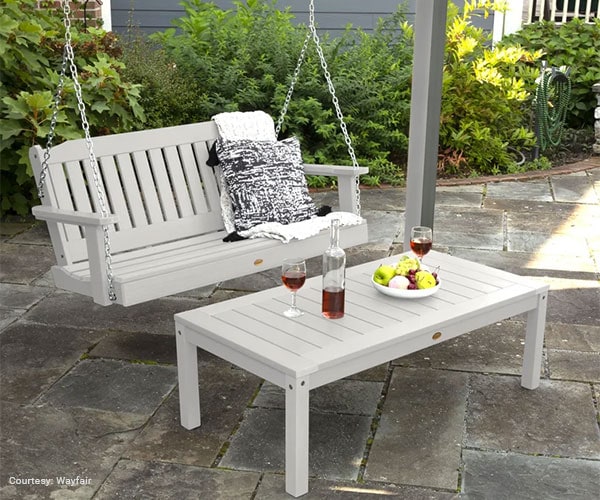 Let's face it; not everyone owns a garden, patio, or porch that will provide enough space for a giant swing chair. If that's your case and you still want to enjoy the pleasures a swing can give you, Dovecove Etowah 2-Person Porch Swing is a compact alternative, and it can provide you with the relaxation you often want and crave.
This porch swing and coffee table combination has a refined air thanks to its high-end design. The complementary coffee table offers the ideal surface to set your cup of coffee in the morning or a glass of wine in the evening. Put some of your favorite throw cushions and a warm blanket in the swing, and let yourself swing your problems away.
The swing comes with a free chain made of zinc-plated steel, making it "ready-to-hang" on the solid support of your choosing. You will need to provide your sturdy hooks to suspend the chain and support the weight of the laden swing. In response to your request, other chains are available for purchase.
This porch swing uses a unique high-grade poly lumber that, when installed, replicates the look of genuine wood as closely as possible but does so without the hassles of having to maintain it or replace it every few seasons. You can quickly remove any filth or grime on your furniture by washing it properly.
Best Canopy
Esright Patio Swing Chair with Removable Cushion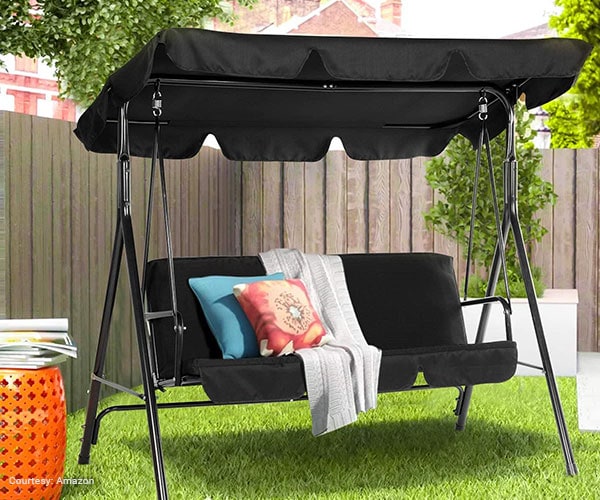 Esright Patio Swing Chair with Removable Cushion is perfect for a porch, garden, yard, poolside, and other outdoor living spaces. Consumers appreciate the sturdy and simple design. It features a powder-coated steel frame and handles up to three people, and it won't sag, bend, or break. On top of this, the sturdy tear-resistant fabric will put up with the weight of users.
It has a nice finish and won't irritate or feel uncomfortable on the skin. The swing has an adjustable canopy, which can be tilted in various directions for the best satisfaction. Heavy springs connect the swing to the frame, ensuring a smooth, gentle rocking motion. The canopy is designed for sunshade and rain protection against the wind and rain and dust protection against UV; the adjustable canopy provides ample shade coverage against the sun all day.
The spacious and textile fiber seats give you more comfortable ventilation and an excellent seating experience during hot days. It is assembled easily and quickly, and there are pre-drilled holes to make it easy for you to fit the pieces together. Its versatile design makes it ideal for a favorite fun spot and a rejuvenating retreat.
This patio swing chair makes a beautiful and comfortable addition to any porch or backyard space, where you can enjoy several hours of swinging and relaxation. Easy to clean, it gives the comfort you need without worrying about keeping it great-looking for a long time. Enjoyable and quiet – no squeaking.
Best Splurge
Otterburn Porch Swing with Canopy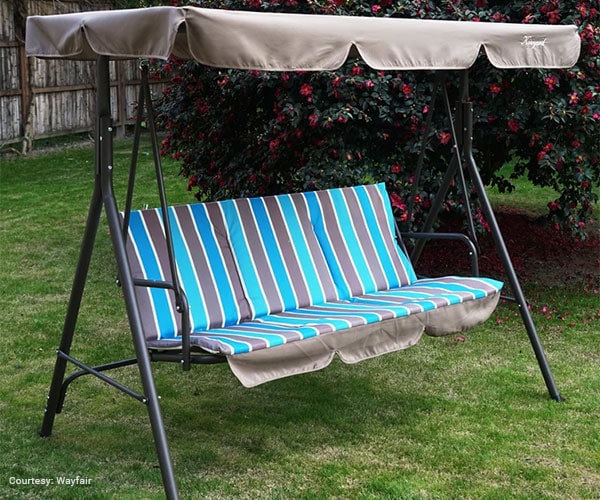 If you want to enjoy the pleasures a swing can give you, Otterburn Porch Swing with Canopy is a compact alternative, and it can provide you with the relaxation you often want and crave. The swing is fashionable and practical at the same time. It has a comfortable design and moves quietly and smoothly to ensure a fantastic time. It will fit any patio, deck, yard, garden, and other places.
This swing is a super-quality product made from a weather-resistant steel frame that gives you a smooth and gentle back-and-forth rocking movement. And to improve durability, the connections are given extra support using heavy springs that connect to the mainframe, allowing the seat to move quietly and smoothly.
The canopy is made from polyester, making it easy to clean and maintain. The colors give the ideal combination within the environment to provide an aesthetic blend. The longevity of the seat cushion is ensured thanks to the use of thick cotton as the filling and a fabric cover that is resistant to water and fading.
Structurally, it is sturdy, and the triangular base with smooth handrails makes it stable even on windy days. Otterburn Porch Swing is a fantastic family courtyard product. It sure is your ideal choice if you need a perfect lounging experience or engage in long chats with your friends. You'll want to spend hours rocking in these textile fiber seats.
Porch Swing Buyers Guide – A Comprehensive Tutorial
This section will help you know in detail about porch swings, various material styles, and how to choose the best swing chair for your porch.
Porch swings are a great addition to any garden since they allow you to sit back, relax, and enjoy the sights. 🥱 Some porch swings can change into a bed, making them ideal for snoozing or taking a nap.
Click To Tweet
What Is A Porch Swing?
Porch swings are swinging, conventionally painted wood, bench-like seats intended primarily for adults. The swing's suspension chains are permanently mounted to the porch ceiling. The seat is typically large enough to seat about three people, with an armrest at each end. (Source:
Wikipedia
)
Porch swings come in different shapes, sizes, colors, and materials. Regarding the seating, porch swing chairs are made of top-quality horizontal slats, and the back differs from each type.
You can buy porch swing chairs with vertical slats and a stylish back with a straight top to bottom (the traditional and classic genre), or prefer the other style with the backward at the top and straight at the bottom. Other types include different carvings or supports that look decorative and increase functionality.
What Are The Main Types Of Patio Swings?
Tire swings are primitive forms of swings. Took a new or used tire and hung it from a tree on a rope. Provide a lot of fun and is easy to make.
Rope swings are created by tying a rope to a tree branch or other upright structure. We have a so-called swing boarding incorporating a shortboard where the rider stands.
Baby swings have a bucket shape with holes for the child's legs or a half-bucket form and a safety belt that is intended for the possibility of a child falling out.
Porch swings are conventionally bench-like seats. The swing's suspension (ropes, chains, or a combination of both) is permanently mounted to the porch ceiling beams. Porch swings are a dynamic and funnier alternative to using rocking chairs or gliders outdoors.
Canopy swings are very similar to porch swing chairs, but they are hung on a separate frame, provide a cover to protect against the sun, and are portable. You can quickly move them onto a porch, backyard, patio space, or close to the swimming pool. Most of them are made of metal and UV fabric.
Freestanding swings are porch chairs with no option for hanging on the ceiling. In that case, you can use an A-Frame stand, and the advantage is that you can relocate it anywhere. They are a combination of porch swing and canopy but made preponderantly of wood.
Hammock swings are lightweight pieces suspended between two points (on ceilings, beams, and branches) or attached to a freestanding frame. An added pillow for your seat will provide extra comfort. Offer premium outdoor relaxing as you get a kick out of the summer breeze.
Swing beds are designed for an ultimate relaxing experience. They are usually products with a much larger dimension, and it has to be sturdy and secure but not too heavy. You can find hanging swing beds in various styles, from rustic to contemporary.
Porch Swing Chairs – Frequently Asked Questions
Got some questions? We've got answers! Below you'll find answers to the questions we get asked the most about the best porch swing chairs.
What is the most comfortable porch swing?
Purchasing either a porch swing or a swing bed is up to personal preference. We found that Best Choice Products 3-Seat Porch Swing Canopy fulfills all of our requirements. It's important to keep space in mind and the overall purpose of the piece of furniture. When looking at style and comfort, you want to be sure you choose what suits you.
Are porch swings comfortable?
With a mattress, thick cushions, bolster pillows, throw pillows, blankets, and other textiles, a swing chair or a swing bed becomes a more comfortable and relaxing piece of furniture. They will both provide that beautiful oasis feels to your outdoor area.
Which porch swing is right for me?
All swing chairs we review are made to satisfy serious customers. The more oversized chairs are ideal for stretching out and the smaller ones, with the narrower seat, are more suited to sitting up. The best porch swing chair is the one that completes your personality and your house and, ultimately, makes you happy. The swings are designed to keep you securely tucked inside and provide maximum support and comfort when sitting and leaning back.
What makes a porch swing chair?
A classic porch swing comprises three parts: the main chair, hanging elements (chains or ropes), and catching pieces, referred to as hardware or hanging kits. Some products also include an A-Frame to support the swing. Swing chairs with metal frames also have a canopy and resistant UV and water fabric cushions.
How much weight will a porch swing chair support?
This depends on the model you choose. And it is directly dependent on the frame material and strength of the chains. For each swing chair we review, you'll find weight capacity in the short feature below images. Most porch swings have a maximum weight capacity of 550 lbs.
Conclusion
We tried hard to provide you with the best information about all-around porch swing chairs. Besides our swing chair reviews, we hope we serve you better in your quest to buy the best product right for you and your family. Most people shopping for a porch swing prefer one made of solid wood, which has a warm, natural look and feels that aligns well with nature.
Having so many choices, finding the right swinging porch chair that suits your type and level of activity can be tricky. We review different models made of several materials in a dozen styles in hopes of helping you come to an informed choice. With a streamlined look, a super-affordable price, and high-quality craftsmanship, the Best Choice Products 3-Seat Porch Swing Canopy is our top pick for 2023.
There is pure joy in swinging together with your family. A dream porch swing chair is made of wood, wide enough to sit, with an armrest at each end comfortably. Porch swing gliders are a foolproof solution for people who like to have the freedom to place their furniture wherever they want.
In the end, with all the choices available on the market, the only way to find your best porch swing chair is to read our reviews and the buying guide and make use of a little bit of common sense. Do this with one thing in mind: you are not buying just one piece of comfortable furniture; you are also purchasing a piece of furniture in which you will create priceless memories.