When you purchase through our links, we may earn a commission. As an Amazon affiliate, we earn from qualifying purchases.
Handcrafted designs inspired by rural living and natural beauty
Article by
Dan S. Morris
Dan S. Morris is the Chief Content Editor and founder of ChosenFurniture. He covers high-quality furniture products designed to last, so he is the best contact for house goods advice.
| Updated on August 27, 2023
What Is Country Style Furniture?
Country style furniture draws inspiration from rural life and combines elements of rustic charm in furniture pieces. This style often leans towards distressed wood, shabby chic accents, and weathered finishes to give it an authentic country look.
Country furniture creates a cozy atmosphere where you can decompress from everyday hustle and bustle. The colors used in country design are muted, such as beiges and creams, giving a sense of tranquility to any room. Antique pieces are often incorporated into this design, adding rustic charm and a touch of character.
RELATED: 27+ Timeless Style of Furniture That Never Goes Out of Fashion
Key Takeaways
These pieces of furniture were made to help any residence seem more like a home.
Wood, rattan, leather, and metal are just some of the most prominent examples of natural materials utilized.
Bold patterns, bright colors, and cozy textures are all vital elements of country furniture.
Pieces such as armchairs, dining sets, and sideboards can create a cohesive look in any room.
Country furniture includes ample storage options, providing practicality and functionality.
Characteristics of Country Furniture
Furniture in the country's style has been popular since the early American colonial period. It has a homey, homemade look and a straightforward yet charming design. The furnishings are frequently made from sturdy woods like oak, pine, and cherry.
Country furniture often incorporates traditional craftsmanship techniques such as dovetail jointing or mortise-and-tenon joinery, adding uniqueness to each piece. The wood is usually unfinished, so it can develop a natural patina over time, giving off a sense of age and character. The pieces are also generally large in scale with sturdy construction, making them perfect for everyday use while still giving off the classic country aesthetic.
Country furniture often features carved detailing, turned legs, and knobs, which add to its traditional look. Pieces like farmhouse tables and Windsor chairs are timeless classics that fit well in country-style homes. To create the desired effect, these pieces come in various finishes, including stained, painted, or waxed.
The design's simplicity makes country furniture appealing, allowing for plenty of creative expressions in decorating around them. You can dress up the pieces with colorful throws or cushions or leave them as they are for a more minimalist look. Mixing different textures and fabrics with plants and artwork allows you to easily create a cozy atmosphere that embodies the casual charm of country furniture.
Last but not least, people on a tighter budget may appreciate country furniture's low price tag. Solid wood construction ensures the furniture retains its looks and usefulness for decades. Whether you're after traditional pieces or updated takes on time-honored designs, outfitting your home with high-quality country furniture is a sure way to make your house a home.
Furniture made in the country style adds an undeniable charm to any room with its rustic, natural appeal. Its simple lines and sturdy construction have made it a popular choice among homeowners since colonial times, while its timeless design ensures that it remains stylish and relevant even today.
🏡 Experience the charm of country furniture! Cozy ✨, rustic 🌾, and uniquely stylish 🎨. Elevate your space with timeless classics. #CountryFurniture #FarmhouseStyle #RusticDecor #FurnitureStyles 👨‍🌾
Click To Tweet
Pros of Country Furniture
Handcrafted by experienced artisans, each piece of country furniture is unique.
It can last for generations and looks better with age as it develops a patina over time.
Feature intricate carvings and ornate detailing that create visual interest in any space.
Its robust structure ensures it won't break under everyday use.
A delightful option for individuals seeking to infuse their interiors with a sense of rustic elegance.
Many pieces of furniture are also sustainable, making them environmentally beneficial.
Cons of Country Furniture
Expensive to purchase and maintain due to its handmade nature.
Often lack the range of options that mass-produced furniture offers.
Not suitable for those who prefer modern designs.
Finding a particular piece or replacement part can often be tricky.
They may require professional help setting up, moving, or reupholstering furniture.
Expert Opinion
"One of the easiest ways to create a country look is by using natural materials. Wood floors, walls and furniture can all be given a rustic finish with a little bit of paint and elbow grease." –
Displate.com
Country vs. Cottage vs. Farmhouse Furniture: What's the Difference?
The three main types of rustic furniture are country, cottage, and farmhouse. Unique characteristics distinguish one category from another.
Clean lines, light colors, and a traditional or colonial feel characterize country-style furniture. Some common elements include wicker chairs, wooden tables, gingham patterned fabric upholstery, and distressed finishes. Country furniture often uses traditional shapes and materials like pine wood and rattan. This furniture type is perfect for those who like a classic visually pleasing without sacrificing modern comforts.
Cottage-style furniture typically features bright colors and lighter woods like maple or ash with weathered finishes, giving it a more carefree and laid-back feel. This type of furniture often has a homey and comfortable aesthetic that evokes feelings of a cozy retreat in the countryside. Its light and airy design works well in smaller spaces, helping them appear larger than they are.
Farmhouse furniture is known for its weathered finishes, distressed detailing, and slightly more rustic look than other styles. It typically features heavier woods such as oak or walnut with intricate carvings, bringing a sense of sophistication to any space while maintaining its relaxed vibe. Common elements include armoires, cabinets, chests of drawers, farm tables and chairs, canopy beds, and glider rockers. Farmhouse furniture also often includes decorative pieces like quilts, baskets, and table runners to add a touch of personality.
Whatever type of rustic furniture you choose will bring your home a unique touch of country charm. Whether you go for the traditional look of country-style furniture or the more relaxed feel of cottage and farmhouse pieces, rustic furniture will surely be a beautiful addition to any space.
Where to Buy Country Style Furniture
When buying country-style furniture, there are some places you can shop. One popular option is to check out antique stores or flea markets. These shops often have unique and exciting pieces that fit right in with a country home design. Furnishing may be the most cost-effective choice if you're trying to save costs.
Another great place to look for country furniture is online. There are tons of websites explicitly dedicated to supplying customers with quality pieces at an affordable price point. Whether you're looking for kitchen tables and chairs or bedroom sets, chances are there's something available that fits your tastes perfectly. Many online retailers offer free shipping and returns, making it simple to get the lowest price – search on Amazon and Wayfair. Kincaid Furniture, Liberty Furniture, Magnolia Home, and 1stdibs are trusted American-made furniture brands that offer quality country furniture for the home.
For one-of-a-kind furnishings, try antique stores. These stores typically specialize in items from previous eras, making them ideal for creating a rustic aesthetic in your home. Everything from armoires to dressers could be up for grabs, so it's worth exploring what's available.
Finally, don't forget about thrift stores! You may find distinctive products there without spending too much money. Finding the ideal thing could be worth the effort it takes to seek it.
No matter where you shop for country-style furniture, keeping your budget in mind and taking measurements before purchasing is essential. You can put together the home of your dreams with some planning and perseverance.
Popular Country Furniture Pieces
Cabinets are essential when creating the ultimate country-style look in any room. Look for cabinets made from reclaimed wood or sturdy pine with panels and carvings inspired by traditional country designs. Many cabinets have glass doors to show fine china or other decorative items.
When it comes to old-world style, nothing beats a farmhouse table. An extensive choice of table sizes and styles is available, mostly made from recycled materials. Look for a table with a distressed finish or one that features intricate carvings or decorations. Round or oval tables can create the perfect centerpiece in any room.
You don't need traditional wooden chairs to create your country look. Look for chairs made from wicker, iron, or even leather: many feature detailed carvings, colorful paintwork, or upholstered seats for extra comfort and luxury.
Since beds tend to draw the most attention in a space, it makes sense to go for a more classic and striking design. Look for country-style beds made from solid wood in various shapes and sizes. Many come equipped with headboards featuring intricate carvings or country motifs. Consider a four-poster bed with tall posts on each corner for a more subtle look for an added touch of elegance.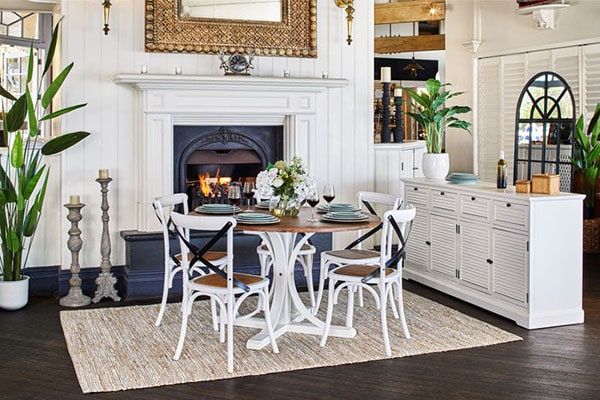 Sideboards provide extra storage space while adding to the overall appeal of any room. Look for sideboards made from reclaimed wood, built with panels and carvings inspired by traditional country designs. These pieces display family heirlooms, antiques, china sets, or other delicate items.
Desks can be both functional and stylish when done in the country style. Look for desks made from solid wood and featuring distressed finishes or intricate carvings. Many come with drawers and cubbies on either side for extra storage space.
Country-style furniture is timeless and often features natural materials, intricate carvings, and distressed finishes that add to its charm. From cabinets to beds, plenty of pieces are available to help create a cozy, inviting atmosphere in any room. Choose the perfect pieces to make your house feel like home!
Incorporate Country Furniture into Your Home
Start by choosing key pieces, such as your sofa and dining table. Look for items with simple lines and natural colors, such as beige and gray, or earth tones, like brown and green. You'll also want to consider whether you prefer distressed wood or painted furniture — both can fit into the country-style aesthetic. Add character to these pieces by selecting unique details like tufted seating, distressed finishes, and carved legs.
Once you've established the foundation of your country furniture style, it's time to add interest with smaller pieces. Accent chairs provide additional seating without overfilling the space and look great in classic plaids or stripes for a timeless appeal. End tables offer a place for lamps and drinks beside the sofa, while accent chests are perfect for storing linens and living room essentials. Ottomans can also be used as footstools or extra seating around the coffee table.
When it comes to accessories like pillows and throws, don't go overboard — instead, opt for items with simple patterns such as florals or gingham checks that complement your furniture. Finally, complete the look with a few rustic touches like woven baskets or wicker pieces.
When shopping for country furniture, choose pieces that complement the decor of your space and make you feel comfortable the moment you walk in. With these tips, you can easily incorporate country-style furniture into any living room or kitchen for a timeless yet charming look.
Following these guidelines, you can combine a classic country-style décor that suits your taste and lifestyle perfectly. Whether it's inviting armchairs for curling up with your favorite book or modern storage pieces with farmhouse charm — there are plenty of ways to make your home warm and welcoming while still keeping.
Expert Opinion
"Country style interior design is simple at heart – more depth is added as you modernize it, but it still maintains that simplicity that is a hallmark of the design style. Neutral colors, such as whites, creams, browns, and beiges make perfect, simple base colors in country style interior design." –
DecorAid.com
What Are the Alternatives to Country Furniture Style?
Contemporary: furniture with updated, cutting-edge styles.
Transitional: a blend of modern and traditional elements for a timeless look.
Coastal or Beachy: airy furniture with weathered finishes to create an inviting atmosphere.
Mid-Century Modern: retro furnishings with tapered legs and geometric shapes.
Frequently Asked Questions
What is country style furniture?
Country style furniture refers to a design aesthetic that embodies a rustic and traditional charm. Using natural materials like wood and incorporating handmade elements that inspire nostalgia and simplicity are hallmarks of this style.
What are the characteristics of country furniture?
Country furniture typically features distressed finishes, intricate carvings, turned legs, and traditional patterns like checks and florals. It embraces a cozy and comfortable ambiance with plush cushions, upholstered seats, and a color palette that includes earthy tones. Ample storage options and durability are also key characteristics.
What time period is country furniture?
Country furniture does not belong to a specific period, as it draws inspiration from traditional and rustic designs passed down through generations. It reflects a timeless and enduring aesthetic, incorporating elements from various historical periods while maintaining a classic and nostalgic appeal.
🌵 Y'all want that down-home, rustic charm in your home? Get yo self some country furniture! 🐴🌾 With its cozy vibes and woodsy feel, it'll make you feel like you're livin' on the farm. #furniturestyles 🌄
Click To Tweet
Conclusion
Country style furniture is an excellent option for anything unique and timeless. It has a classic charm that can fit into any home's decor. It's visually appealing and lasts for years while providing exceptional comfort and a unique personality. Country furniture will enhance any space, from dining tables to chairs, sofas, and more.
With its variety of styles and colors, there is something for everyone in the world of Country furniture. Country furniture provides everything you want, from sturdy pieces to charming accents. So get shopping and give your home a unique and timeless look with Country furniture today.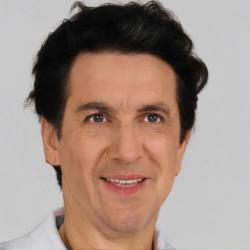 Dan S. Morris is a longtime furniture and design enthusiast with a passion for beautiful and functional arrangements and a human-centered approach to home decor that integrates the needs of people. He is the founder of Chosen Furniture. Dan and his team are faithful to serving you with savvy client-focused information and furniture reviews, with uncompromising integrity as the hallmarks of their service.