When you purchase through our links, we may earn a commission. As an Amazon affiliate, we earn from qualifying purchases.
Add some Parisian flair to your home decor
Article by
Sarah Morris
Sarah Morris is an avid writer specializing in home decor and product reviews. She covers furniture products and more for Chosen Furniture.
| Updated on August 27, 2023
What Is French Style Furniture?
The history of French style furniture goes back to Louis XIV's reign in the 17th century. The Rococo and Baroque eras served as inspiration for their rich, intricate designs, and French furniture is characterized by its curved lines, cabriole legs, intricate carvings, and gilded finishes.
Mahogany, cherry, and walnut are three examples of high-quality hardwoods almost exclusively used in French furniture construction. Other materials like gold, brass, and marble can be used. The level of craftsmanship that goes into French furniture is also typically very high.
RELATED: 27+ Timeless Style of Furniture That Never Goes Out of Fashion
Key Takeaways
Elegant, ornate designs and high craftsmanship characterize it.
Mahogany, cherry, and walnut are only some of the high-quality woods that went into its construction.
It can create a casual and relaxed atmosphere.
Authentic French-style furniture can be expensive.
Characteristics of French Furniture
One of the most distinctive features of French furniture is its use of curves. French furniture is known for its delicate curves and flowing lines, often inspired by nature. These curves can be found in everything from chair legs to table tops, giving French furniture a sense of grace and fluidity.
Another hallmark of French furniture is its attention to detail. The unique quality and use of traditional woodworking methods, such as hand carving and marquetry, have earned French furniture makers an international reputation for excellence. Many French pieces feature intricate carvings and ornate details, such as floral motifs and other decorative elements. This level of detail makes French furniture beautiful but also durable and long-lasting.
Besides, using high-quality materials is a hallmark of French furniture. Solid woods like mahogany, cherry, and walnut are often utilized in the construction of French furniture due to the durability and elegance of these woods. These types of wood are often mixed with gilded, brass, and marble to produce practical and aesthetically pleasing works.
In terms of style, French furniture is incredibly versatile. While many people associate French furniture with formal and exquisite interiors, it can create a more casual and relaxed atmosphere. The versatility of French furniture allows it to be used in an assortment of interior design projects from the classical to the ultra-contemporary. This versatility makes French furniture a timeless choice that can adapt to changing design trends.
The French are known for their diverse and exciting furniture designs. Rococo originated in early 18th-century France and is a trendy style. Rococo furniture is known for its ornate designs, delicate curves, and playful motifs such as shells, flowers, and cherubs. This style is often associated with luxury and opulence and was popular among French aristocrats.
Another famous French furniture style is Louis XV, which emerged in the mid-18th century. Louis XV's furniture is characterized by its graceful lines, floral motifs, and asymmetrical designs. This style is known for its attention to detail and has a softer and more feminine aesthetic than Rococo.
The Louis XVI style emerged in the late 18th century, known for its clean lines and classical motifs. The neoclassical movement influenced this style and featured more understated and restrained designs than the earlier Rococo and Louis XV styles.
In a nutshell, French furniture is esteemed for its refined style and meticulous artistry. Its use of curves, high-quality materials, and intricate details make it a timeless choice that can adapt to changing design trends over time. With various styles, French furniture is versatile and can create multiple interior types, from traditional to modern and everything in between.
🕰️ French furniture is totally chic and elegant! From regal Louis XIV chairs to charming antique armoires, there's something for everyone.🛋️ #FrenchFurniture #VintageVibes #InteriorDesign 😍
Click To Tweet
Pros of French Furniture
Those who have seen it praise its elegance, refinement, and precision.
They are often constructed using high-quality materials like marble, solid wood, and brass, guaranteeing their durability and lifespan.
It is versatile and can be incorporated into different interior styles, from traditional to modern and eclectic.
French furniture is an excellent investment as it holds its value over time and can even appreciate.
Cons of French Furniture
It can be expensive due to the high craftsmanship and materials used in its construction.
Rococo furniture style can be seen as overly ornate and may not appeal to those who prefer a more minimalist design.
Not as easy to maintain as others; keeping it looking great often takes more work.
It may not be suitable for those with young children or pets, as delicate designs and materials may be easily damaged.
Types of French Style Furniture
French-style furniture encompasses mixed designs and styles from Louis XIV to Louis XVI. Some of the most popular types of French furniture include:
French Provincial Furniture: This style is known for its rustic and straightforward designs, featuring natural wood finishes and minimal ornamentation.
Louis XIV furniture: This style is characterized by ornate and grand designs featuring gilded finishes, carved details, and heavy use of marble and stone.
Louis XV furniture (also known as Rococo or Late Baroque furniture): This style is known for its curves and asymmetrical designs featuring intricate carvings, ormolu mounts, and pastel-colored finishes.
Louis XVI furniture: This style is characterized by its neoclassical influences and simpler designs, featuring straight lines, geometric shapes, and naturalistic motifs.
Directoire Furniture: A transitional style in France during the late 18th century. This style is characterized by its straight lines, simple designs, and a more straightforward approach to decoration.
Empire Furniture: This style emerged during the Napoleonic era in France. It is characterized by its grandeur, with large, imposing pieces featuring ornate carvings, rich materials, and strong geometric forms.
Expert Opinion
"Louis XV furniture combines usefulness with elegance. Chairs have curved legs, floral decorations, and comfortably padded seats and backs. The full range of richness in decorative techniques is represented in this period." –
Britannica.com
Where to Buy French Style Furniture
Online retailers such as Amazon, Etsy, Wayfair, offer French-style furniture at multiple price points. Best furniture brands and stores such as Ballard Designs, 1stdibs, Restoration Hardware, The French Bedroom Company, Arhaus, Pottery Barn, Horchow, Ethan Allen, Caracole, One Kings Lane, Gabby, Z Gallerie, Bassett Furniture, Kathy Kuo Home also carry a selection of French furniture.
You may sometimes discover exceptional pieces of French furniture at independent furniture shops. Auction houses and estate sales can also be good places to find these furnishings at a discount. Antique markets are a great place to find authentic French-style furniture, including antique and vintage pieces with historical value and character.
It's crucial to consider your home's design and layout while shopping for French furniture. French-style furniture can be quite ornate, so ensuring it will not overwhelm the room is essential. The furnishings, therefore, should be of high quality. French furniture can be expensive, so buy a quality piece that will last many years.
What Materials Are Used to Create French Furniture?
French furniture manufacturers often use high-quality solid woods like mahogany, cherry, and walnut. These woods are prized for their durability and beauty and provide a strong foundation for intricate carvings and decorative details.
Gilt is a decorative technique that involves applying a layer of gold leaf or gold paint to a surface. French furniture often uses gilt to highlight intricate carvings and decorative details, giving pieces a luxurious and opulent feel.
Handles, hinges, and other ornamental hardware are often made of brass in French furniture. Brass is prized for its durability and ability to take on a rich patina over time.
Marble is a natural stone often used in French furniture for table tops and decorative elements. Marble is prized for its beauty and durability and can be found in various colors and patterns.
French furniture often incorporates high-quality upholstery fabrics like silk, velvet, and damask. These fabrics are chosen for their beauty and durability, and they can add texture and color to French furniture pieces.
Inlay is a decorative technique that embeds small pieces of contrasting material into a surface to create a pattern or design. French furniture often uses an inlay to create intricate designs on table tops, cabinets, and other surfaces.
French furniture's craftsmanship and attention to detail are unmatched. French furniture incorporates beautiful and durable materials from solid wood to gilt and marble, making it a timeless investment for any interior.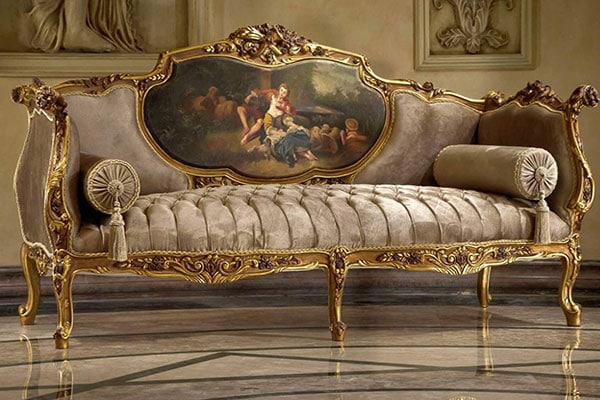 Iconic Pieces of French Style Furniture
The Louis XVI Armchair is a staple of French neoclassical furniture due to its timeless beauty and understated refinement. The chair features a carved wooden frame, upholstered in various luxurious fabrics, and often decorated with gilt accents. The Louis XVI armchair is a timeless piece that can add a touch of sophistication to any room.
The Bergère Chair is an armchair that originated in France in the 18th century. It features an upholstered seat, back, and arms, with a wooden frame often adorned with carvings and gilt accents. The Bergère chair is known for its comfort and elegance and has been a popular choice for living rooms and bedrooms for centuries.
Louis XV Commode is a type of chest of drawers that originated in France mid-18th century. It features a curvy shape with ornate carvings and gilt accents. The Louis XV commode is a classic piece of French-style furniture that can add a touch of opulence to any room.
Chaise Longue is a lounge chair that originated in France in the 18th century. It has an elongated, slanted seat back and armrests. The chaise longue is often upholstered in luxurious fabrics and can be a statement piece in any room.
Although not technically considered furniture, the crystal chandelier has become a universal symbol of French style and taste. French crystal chandeliers have adorned formal dining halls, ballrooms, and other venues for their elaborate patterns and brilliant brilliance for generations.
These are just a small selection of the numerous popular pieces of French furniture. Each item has a remarkable narrative to tell and a distinct design that is aesthetically pleasing, and they will all make any room seem more opulent and refined.
How to Incorporate French Style Furniture into Your Home
Starting with a few essential pieces of French-style furniture is one of the simplest ways to embrace the look. For example, a Louis XVI armchair or a Bergère chair can add a touch of grace to any living room or bedroom. A Louis XV commode can be a dining room or entryway statement piece. And a crystal chandelier can add sparkle and beauty to any room.
When choosing French furniture, look for pieces made with high-quality materials such as solid woods, gilt accents, and luxurious upholstery fabrics. French furniture is known for its attention to detail and craftsmanship, so choose pieces with intricate carvings and decorative elements.
Combining pieces from different periods and styles is another option for bringing French furniture design into your home. For example, a Louis XV-style commode can look stunning when paired with a more modern or industrial-style lamp or rug. A French country-style dining table can be paired with sleek, modern dining chairs for a chic and unexpected look.
French furniture can also be incorporated into your home through accessories and decor. Look for French-inspired mirrors, candle holders, and picture frames to add a touch of elegance to your walls. Soft furnishings like cushions, tablecloths, and drapes can help a residence seem more like a home.
Finally, don't be afraid to experiment with color and pattern when incorporating French-style furniture into your home. French interiors often feature soft, muted colors such as blush pink, pale blue, and cream and classic patterns such as toile and floral prints.
Expert Opinion
"Those who follow French taste search until they find their dream décor. The pieces are of a high quality and have already lasted for generations. Classic pieces such as gilded mirrors, antique commodes and Louis armchairs bring pleasure for years and work well in all styles of interiors." –
Susannah Cameron, home decor writer at Chez Pluie
What Are the Alternatives to French Furniture Style?
Shabby Chic: combines vintage and distressed furniture with soft, pastel colors and feminine accents. This style is characterized by its romantic, whimsical aesthetic and focuses on comfort and relaxation.
Art Deco: a sleek and modern design style that emerged in the 1920s and 1930s. Its geometric shapes, bold colors, and luxurious materials like chrome and glass characterize this style.
Vintage: refers to furnishings made at least 20 years old, often with a nostalgic or retro feel. This style is famous for its unique character and charm.
Antique: often with historical significance or valuable materials such as rare woods or precious metals. Because of their age and value, antiques fetch a premium price.
Frequently Asked Questions
What are French furniture styles?
French furniture styles originated in France throughout the centuries, including Rococo, Louis XV, Louis XVI, Directoire, Empire, and French country. These styles are characterized by elegance, taste, and attention to detail.
What is French design style?
French design style refers to French art and culture's aesthetic and design principles. This style is characterized by elegance, class, and attention to detail, emphasizing luxury materials and ornate decoration.
What is Louis XIV furniture style?
Louis XIV furniture style is a lavish and opulent style that emerged during the reign of King Louis XIV in France from 1661 to 1715. Ornate carvings, gilt finishes, and rich materials such as marble and velvet characterize this style.
What are the characteristics of French provincial furniture?
French provincial furniture is a rustic and charming style that originated in the French countryside during the 18th century. Its simple, comfortable designs, natural materials such as wood and stone, and soft, muted colors characterize this style.
✨Discover the timeless charm of French Style Furniture! Be transported to a chic Parisian retreat in your own home. 🛋️ Sophistication, elegance and romance all wrapped in one. #frenchfurniture #furniturestyles 🗼
Click To Tweet
Conclusion
French furniture is a diverse and luxurious design style that originated in France and has significantly influenced design trends worldwide. This style encompasses a variety of design periods, including Rococo, Louis XV, Louis XVI, Directoire, Empire, and French country, among others. Elegant and refined, French furniture is known for using high-end materials like marble, velvet, and gold.
Ornate carvings, intricate details, and luxurious fabrics are standard features of French furniture, often associated with opulence and grandeur. However, rustic and charming styles such as French provincial furniture also emerged from the French countryside, focusing on simplicity, comfort, and natural materials such as wood and stone. French-style furniture inspires and influences design trends today with its timeless beauty and enduring appeal.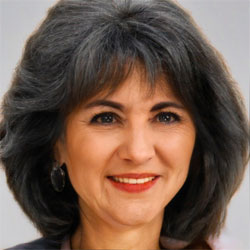 Sarah Morris is a passionate home decor expert, a how-to reviewer of furniture products, and a fact checker for Chosen Furniture. She is passionate about all types of design and prefers traditional, rustic, and modern. She has over ten years of writing and editing experience, covering the kitchen, living room, outdoor decor choices, and more.