When you purchase through our links, we may earn a commission. As an Amazon affiliate, we earn from qualifying purchases.
Article by
Dan S. Morris
Dan S. Morris is the Chief Content Editor and founder of ChosenFurniture. He covers high-quality furniture products designed to last, so he is the best contact for house goods advice.
| Updated on June 27, 2023
What is a Kitchen Island?
A kitchen island is a freestanding or built-in counter typically located in the center of a kitchen. It can serve various purposes, from providing extra counter space for food preparation to offering a place for family and friends to gather while meals are prepared. Kitchen islands have become a must-have in modern kitchens due to their versatility and functionality.
The extra counter space given by a kitchen island is a huge advantage, especially for those passionate about cooking who require more room to cut, mix, and prepare ingredients. Kitchen islands can also be used as a dining area, which makes them the perfect choice for those with restricted areas. Additionally, kitchen islands can store appliances, cookbooks, and other essentials, making them a great way to keep your kitchen organized.
Kitchen islands have evolved from simple tables with a few drawers to elaborate structures with built-in sinks, stovetops, and seating areas. Nowadays, there are numerous design and customization options for kitchen islands, ensuring you can easily find one that suits your specific needs and style.
Which One is Right for You?
Regarding kitchen islands, you have two primary options: freestanding and built-in. Freestanding islands allow you to position them wherever suits your kitchen best, while built-in islands offer a sturdy, permanent fixture. Each type presents advantages and disadvantages, demanding a thoughtful evaluation of your requirements before making a definitive choice.
Style is Another factor to consider when choosing a kitchen island. Traditional kitchen islands have a more classic look, ornate details, and decorative elements. On the other hand, modern kitchen islands are sleek and minimalist, with clean lines and simple designs. The style you choose will depend on your taste and the overall aesthetic of your kitchen.
Size and shape are important considerations when choosing a kitchen island. The size of your island will depend on your kitchen size and the counter space you need. The shape of your island will depend on your kitchen layout and the traffic flow you want to accommodate.
Designing Your Island: Tips and Tricks
When designing your kitchen island, it's crucial to consider your kitchen layout and how the island will integrate into the space. Ensure ample room for people to move around without feeling crowded. Also, consider the positioning of appliances and fixtures, like sinks and stovetops, to ensure convenient accessibility.
Choosing a suitable countertop material is also essential when designing your kitchen island. Popular options include granite, marble, and quartz, each with pros and cons. You'll want to choose a material that is durable, easy to clean, and fits your budget and lifestyle.
Incorporating appliances and fixtures into your kitchen island can also be a great way to maximize its functionality. For example, a built-in sink can make food preparation and cleanup more accessible, while a stovetop allows you to cook and entertain simultaneously.
🍳 A kitchen island is a freestanding counter area typically placed in the center of a kitchen. 🍴 It provides extra counter space and storage and often features amenities such as a sink or stovetop. #KitchenIsland #Furniture…
Click To Tweet
Choosing the Right Materials
Several options exist When choosing a material for your kitchen island. Granite is durable and visually appealing but often has a higher price tag. Marble is another popular option but is more prone to staining and scratching. Quartz is an excellent choice for those who want the look of natural stone without maintenance, but it can also be expensive.
If you're looking for a more affordable option, butcher block and concrete are great choices. Butcher block is a durable and affordable option that adds warmth and texture to your kitchen, while concrete is a modern and industrial option that can be customized to fit your specific needs and style.
When choosing a material for your kitchen island, it's essential to consider your budget and lifestyle. Choosing a material that exhibits durability, ease of cleaning, and aligns with your individual requirements and aesthetic preferences is recommended.
Adding Storage: Creative Ideas
One of the great things about kitchen islands is their additional storage. You can effectively maintain an organized and tidy kitchen space by customizing your kitchen island with cabinets, drawers, and shelves. Adding storage solutions such as wine racks and spice drawers further enhances the island's functionality.
For smaller kitchens, a compact island with built-in storage presents an excellent opportunity to maximize the available space. Alternatively, a freestanding island with wheels offers the flexibility to move it around as required.
How Many Seats Do You Need?
Regarding seating for your kitchen island, several factors must be considered. You'll want a comfortable seating option that fits your needs and style. Popular options include bar stools and benches, but you can choose chairs or a built-in banquette.
The required number of seats will be contingent upon the dimensions of your island and the available space within your kitchen. You'll want to ensure enough room for people to move around the island without feeling cramped.
The Importance of Proper Illumination
Proper lighting is crucial for a functional and stylish island. Pendant lights are a popular choice for kitchen islands, as they provide focused light and can be customized to fit your specific needs and style. Under-cabinet lighting is another excellent option, as it allows for additional task lighting and can be used to highlight the beauty of your countertop material.
Selecting appropriate lighting fixtures for your kitchen island necessitates careful consideration of your kitchen's overall aesthetic and lighting requirements. Opting for functional and visually appealing fixtures that align with your needs and style is paramount.
Cleaning and Care Tips
Keeping your island looking like new is essential for both its functionality and aesthetic appeal. Different kitchen countertop materials require different cleaning and maintenance techniques, so choosing a material that fits your lifestyle and budget is vital.
Granite and marble require regular sealing to prevent staining and scratching, while quartz is more resistant to stains and scratches. Butcher block requires regular oiling to prevent drying and cracking, while concrete requires regular sealing to avoid staining and cracking.
Preventing damage and prolonging the life of your kitchen island is also important. You can use cutting boards and trivets to protect your countertop and avoid harsh chemicals and abrasive cleaners.
Customizing your island with storage solutions and seating options can also be a great way to maximize its functionality. With creativity and basic DIY skills, you can build a kitchen island that fits your needs and style.
More Reads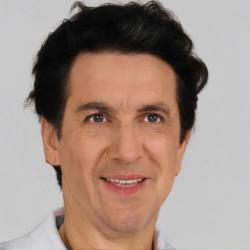 Dan S. Morris is a longtime furniture and design enthusiast with a passion for beautiful and functional arrangements and a human-centered approach to home decor that integrates the needs of people. He is the founder of Chosen Furniture. Dan and his team are faithful to serving you with savvy client-focused information and furniture reviews, with uncompromising integrity as the hallmarks of their service.