When you purchase through our links, we may earn a commission. As an Amazon affiliate, we earn from qualifying purchases.
From cactus motifs to earthy textures, embrace the Southwest spirit
Article by
Dan S. Morris
Dan S. Morris is the Chief Content Editor and founder of ChosenFurniture. He covers high-quality furniture products designed to last, so he is the best contact for house goods advice.
| Updated on June 23, 2023
What Is Southwestern Style Furniture?
Southwest style furniture is a home décor originating from the American Southwest region. It typically features natural materials such as wood, leather, and woven fabrics. This furniture style also utilizes earth tones usually derived from desert plants and animals found in the area.
Additionally, bright colors like turquoise and red accent the décor and create a vibrant atmosphere. Southwest-style furniture is known for its rustic look and intricate details, such as hand-carved designs and hammered metalwork. These pieces range from chairs and tables to cabinets, chests, and armoires, all designed with an eye for detail.
Are you seeking a style that's steeped in history, bursting with color, and infused with the spirit of the American Southwest? Look no further! Southwestern furniture is your perfect partner for creating a warm, welcoming, and wonderfully unique home.
And I will guide you on a vibrant voyage through vintage vibes. So, saddle up, and let's ride into the sunset together!
RELATED: 27+ Timeless Style of Furniture That Never Goes Out of Fashion
Key Takeaways
It often includes intricate patterns and motifs, such as geometric shapes, Native American-inspired designs, and Spanish colonial influences.
It may be used in a residence or commercial setting because of its high quality and longevity.
Its adaptability makes it suitable for many rooms, from living to sleeping to eating.
The price points for Southwestern furniture vary depending on the style and materials used.
Characteristics of Southwestern Furniture
Southwestern furniture has something to offer everyone. Whether you're looking for a rustic feel or something more contemporary, this furniture style can create the perfect atmosphere in your home.
Rich, Earthy Tones: A Palette to Make Mother Nature Proud
Regarding Southwestern style, the color palette is all about embracing the beauty and richness of the natural world. Think deep reds, burnt oranges, and warm browns that mimic the hues of sunsets and desert landscapes. These earthy tones set the stage for a cozy, inviting space where friends and family will feel right at home.
Rustic Wood: The Backbone of Southwestern Style
What would Southwestern-style furniture be without the charm of rustic wood? Sturdy, solid, and full of character, wooden pieces are the backbone of this design trend. From chunky dining tables to hand-carved armoires, incorporating rustic wood furniture is essential for capturing that authentic Southwestern look. And don't forget those beautifully distressed finishes – they add depth and history to each piece.
Woven Textiles: A Tapestry of Tradition
Do you hear that? It's the sound of looms working their magic, weaving together the rich tapestry of Southwestern style. Woven textiles are starring in this design trend, with colorful patterns inspired by Native American art and culture. Add a vibrant area rug, a cozy throw blanket, or even reupholster a vintage chair with a bold Southwestern print – the possibilities are endless!
Leather and Suede: The Dynamic Duo of Comfort and Class
Is there anything more luxurious than sinking into a buttery-soft leather sofa? We think not! In Southwestern furniture, leather and suede frequently appear, adding refined comfort to any space. Keep an eye out for pieces with nailhead trim or fringe accents – they'll add an extra dose of Southwestern flair to your home.
Artisan Accents: It's All in the Details
Last but certainly not least, let's talk about the little touches that make the Southwestern style genuinely shine. Hand-forged iron hardware, intricate carvings, and hand-painted pottery are just a few examples of the artisan accents that bring this design trend to life. Don't be afraid to mix and match different styles and materials – the more eclectic, the better!
So, are you ready to embrace the spirit of the Southwest and transform your home into a vibrant, vintage haven? With these essential elements in mind, you're well on your way to creating a space that's equal parts stylish, cozy, and unmistakably Southwestern.
😊 Southwestern furniture has a warm and welcoming vibe that can really transform a room. 🌵 From hand-carved details to vibrant colors and patterns, this style is perfect for adding character to your home. #SouthwesternFurniture…
Click To Tweet
Pros of Southwestern Furniture
Beautiful, high-quality furniture pieces crafted from durable materials.
Variety of pieces to choose from to suit any décor preferences.
Worth the price tag because of the high standard of manufacturing.
A wide selection of sizes is available to fit any room.
Environmentally conscious production methods used in the manufacturing process.
Cons of Southwestern Furniture
Expensive relative to other furniture styles.
It has limited color and design options.
It can be challenging to match with existing decor.
Not suitable for smaller spaces.
It may be susceptible to fading when exposed to direct sunlight.
Expert Opinion
"Replete with earth tones, bold patterns, natural accents, and a stray cactus or two, Southwest decor is organic, understated, and a touch luxe. Plus, it pairs perfectly with a cognac leather shacket and cowboy boots." –
Kelsey Clark, home designer and writer at Havenly
Mission vs. Southwestern Furniture: What's the Difference?
Mission furniture and Southwestern furniture bring an iconic look to a room, but the two have many differences.
Mission furniture is characterized by its simplistic lines, wooden construction, and straight edges. Common materials used in Mission pieces include oak, hickory, cherry, and ash woods. This furniture style often features sloping arms on chairs and sofas and exposed hardware, such as latches or hinges initially intended to be decorative and functional. Mission-style furniture's dark colors can fit into traditional and contemporary design schemes, making it a timeless choice for home decor.
Southwestern furniture showcases bright colors, geometric patterns, and bold shapes like circles and crescents. Pine is the most common wood used, and the finished product may be stained or painted depending on what you want. Southwestern furniture often includes intricate carving details such as scrolled arms, curved backs, and rope trim. This style is ideal for creating an inviting space with plenty of character.
No matter which style you choose, mission or southwestern furniture can bring an eye-catching design element to any home interior. Both styles provide a unique look that will stand out in your decor. Whether you prefer simplistic lines of Mission pieces or the bold colors and shapes of Southwestern designs, there are endless ways to incorporate these timeless styles into your home's decor.
Where to Buy Southwestern Style Furniture
There are many places to buy southwestern-style furniture. You may find what you want in online and offline stores.
For those looking for a one-stop shopping experience, various home goods stores offer collections or even pre-made sets of southwestern furniture. These stores typically include widespread names such as Amazon, Target, Wayfair, Pottery Barn, Walmart, Southwest by Santa Fe, Jackson Furniture, and Southwestern Furniture.
The selection at these stores can range from complete bedroom suites to individual accent pieces like chairs, tables, and more. Whether shopping in a physical store or online, reading the product description thoroughly before purchasing is always a good idea.
Consider searching for local artisans specializing in southwestern-style furniture for more unique, handmade options. Several artists offer amazing products if you're seeking something remarkable. Etsy and other online craft marketplaces are a great starting point for finding such artisans; there may also be local markets or shows that feature handcrafted goods.
Finally, antique stores and flea markets can be excellent sources for vintage southwestern-style furniture. From rare Kachina dolls to adobe chairs and tables, these stores often have a wide selection of items with stories behind them. Prices in these shops will range from cheap to expensive based on the rarity and condition of every product.
No matter what type of southwestern-style furniture you're looking for, plenty of yours is available – whether a handmade piece from an artisan or something more mass-produced from a home goods store. With some research, patience, and creativity, you can find the perfect components to complete your southwestern home.
Popular Southwestern Furniture Pieces
Southwest-style furniture pieces are trendy for their classic, timeless look and cozy atmosphere. You may get them in various materials, from wood and metal to leather and stone. From rustic to modern styles, there is something for everyone regarding Southwestern furniture. Popular pieces include chairs, tables, benches, and even large beds.
Chairs in this style often feature wood frames and woven leather fabric seating with intricate patterns. Tables can be constructed of rugged materials like mesquite, juniper, and other woods to bring out the rustic feel of Southwestern decor. A bench's organic look and feel comes from its construction from natural ones like logs, stumps, or limbs. These pieces often feature unique carvings, hand-crafted designs, and intricate details.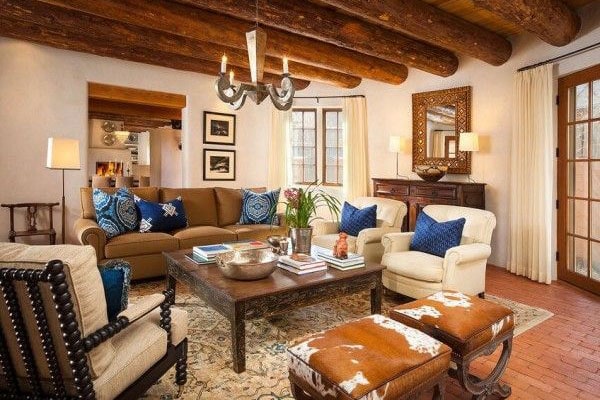 Beds are a great way to make a statement while providing comfort and style. Southwestern beds can be big or small, depending on your needs. Platform beds with wood frames and leather headboards are popular in this style, as are iron beds. With a variety of options to choose from, you can find the perfect bed frame to fit your space and style.
For a more modern take on Southwestern furniture, look for pieces that feature clean lines and minimalistic designs. Sectional couches in leather or fabric with sleek metal bases are excellent choices for living rooms and dens. Dining room tables with glass tops and metal frames can give a space an industrial vibe.
Ultimately, Southwestern furniture pieces are a great way to add character and personality to any home. Whether you're looking for rustic charm or modern accents, there is something for everyone when choosing the perfect Southwest style.
Incorporate Southwestern Furniture into Your Home
Southwestern-style furniture is a popular choice for many homes today. The South look is characterized by its bold and bright colors, creating warmth and vibrancy. It's a beautiful way to personalize any space in your house while keeping its coziness and warmth intact.
Pick pieces that are true to the design aesthetic when incorporating Southwestern-style furniture into your decor. Fabrics with simple geometric patterns or bold hues like turquoise, red, yellow, and green are safe picks. Wood, leather, glass, and metal are all fantastic options; these elements will help create the distinctive southwestern atmosphere you're striving for.
The kind of furniture you choose makes a big difference. Look for pieces with straighter lines, simple silhouettes, and minimal ornamentation. These will provide a modern take on the traditional southwestern style while keeping true to its roots.
In addition, be sure to use natural accents like plants, feathers, rocks, and cowhide rugs throughout your décor. This will help bring the spirit of the Southwestern region into your home without overwhelming it. To further spice up the look, add some artisan crafts such as pottery or baskets, or embrace another popular element from this culture – Navajo prints!
Finally, don't forget about lighting when creating a southwestern atmosphere. Exotic colors and raw materials can lighten a room and give it some edge. You may keep your home's Western design while employing a number of lamps, lanterns, and other light sources to create a cozy and inviting atmosphere.
The traditional Southwestern style may be easily achieved in any area of the home with the right combination of colors, materials, and decorations. With its inviting warmth and bold aesthetic, this style will be a great addition to any home décor!
Expert Opinion
"… the architecture of the house is what can really make or break the atmosphere. Another hallmark is the use of large, visible wooden ceiling beams. And terracotta tile floors can move a room from ordinary to unmistakably Southwestern." –
BoutiqueRugs.com
What Are the Alternatives to Southwestern Furniture Style?
Farmhouse: uses natural materials like wood, stone, and brick to create a comfortable yet rustic look.
Coastal: incorporates light blues and whites for a relaxed beach-inspired atmosphere.
Modern: utilizes sleek lines, bold geometric shapes, and minimalistic décor.
Eclectic: blends different design elements from various eras for an eclectic look.
Frequently Asked Questions
What is Southwest style?
Southwest style refers to a design aesthetic inspired by the cultural and natural elements of the American Southwest region. It combines Native American, Spanish, and Mexican influences with earthy colors, rustic materials, intricate patterns, and a warm, inviting atmosphere.
What is the history of the southwestern design style?
The southwestern design style has its roots in the rich history of Native American tribes, Spanish colonization, and Mexican influences in the American Southwest. It evolved, blending traditional craftsmanship with rusticity and cultural symbolism to create a unique and enduring design aesthetic.
What is southwestern boho?
Southwestern boho refers to a fusion of the Southwest style with bohemian influences. It combines the rustic elements, warm colors, and natural materials of Southwest design with the eclectic, free-spirited vibe of bohemian décor. This style often features layered textures, vibrant patterns, and a mix of vintage and handmade items.
Is Southwestern decor popular?
Yes, Southwestern decor continues to be popular due to its timeless appeal and ability to create a warm, inviting atmosphere. Its unique blend of cultural influences and rustic charm resonates with individuals seeking a connection to nature, a sense of heritage, and a cozy, welcoming home ambiance.
🌵 Spice up your living space with rustic, earthy tones and vibrant pops of color 🎨. Unleash your inner desert dweller 🏜️ and transform your home into an oasis. #southwesternfurniture #interiordesign #furniturestyles 🌄
Click To Tweet
Conclusion
Southwestern-style furniture pays homage to the region's deep cultural roots in the United States. Natural materials, vibrant colors, and detailed patterns give this design its signature rustic and handmade appearance. Southwestern furniture may be used in any space to create a warm and welcoming atmosphere, from the living room to the bedroom. Bringing the Southwest's warmth and brightness into your house is one way to make it your own.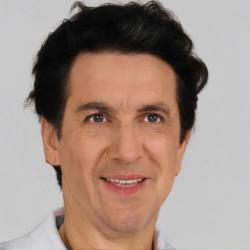 Dan S. Morris is a longtime furniture and design enthusiast with a passion for beautiful and functional arrangements and a human-centered approach to home decor that integrates the needs of people. He is the founder of Chosen Furniture. Dan and his team are faithful to serving you with savvy client-focused information and furniture reviews, with uncompromising integrity as the hallmarks of their service.