When you purchase through our links, we may earn a commission. As an Amazon affiliate, we earn from qualifying purchases.
Article by
Dan S. Morris
Dan S. Morris is the Chief Content Editor and founder of ChosenFurniture. He covers high-quality furniture products designed to last, so he is the best contact for house goods advice.
| Updated on June 21, 2023
What is an End Table?
An end table, also known as a side table, is a small and versatile piece of furniture commonly placed at the end of a sofa, beside a chair, or a bed. Its purpose goes beyond functionality, adding practicality and aesthetic appeal to living rooms, bedrooms, and various areas throughout the home.
The primary function of an end table is to provide a convenient surface for placing items within easy reach. It often features a flat tabletop that can hold items like a lamp, a cup of coffee, a book, a remote control, or decorative objects.
The Unsung Heroes of Home Décor
End tables are often the unsung heroes in your home. They are small but mighty and can impact a room's look and feel. They can hold lamps, books, drinks, and other items as decorative accents. Choosing the right end table for your space is important, as it can help tie together the different furniture elements.
When choosing one, consider the style of your room. Look for end tables with clean lines and simple designs if you have a modern space. Look for side tables with ornate details and classic shapes if you have a more traditional space. The size of your table is also important. Ensure that the end table's height perfectly matches your sofa or chair, and avoid going too big or too small for the available space. Finding that sweet spot is key!
The Evolution: From Functional to Fashionable
End tables have been around for centuries, and they have evolved from purely functional pieces of furniture to fashionable accents. These tables were used primarily for holding lamps and other items in the past, but today they can be used as statement pieces. Have you checked out modern side tables lately? They come in various shapes, sizes, and materials and can spice up a room with a splash of color or texture. It's a fun way to jazz things up!
Some modern designs include reclaimed wood, metal, and glass. These materials can infuse your room with a distinct touch, creating a wide array of styles, from rustic and industrial to contemporary. End tables with interesting shapes, such as those with asymmetrical designs or unusual angles, can also add visual interest to a room.
How to Choose the Perfect One for Your Space
A table can be used as a statement piece in a room, adding personality and style. Consider the color, shape, and material when choosing a statement end table. Look for end tables that complement the other elements in your room, such as your sofa or rug. If you have a neutral color scheme, consider adding a pop of color with a bright end table. If you have a lot of straight lines in your décor, consider an end table with a curved shape. A statement side table should be eye-catching but blend seamlessly with the rest of your furnishings.
Beyond Holding Your Drink
Tables can be used for more than just holding your drink. They can be used as plant stands, bookshelves, and even as seating in a pinch. It can also create a sense of balance in a room. Consider adding two side tables on either side to create symmetry if you have a large sofa. Consider using a narrow-end console table if you have a small space.
The tables can also create a sense of flow in a room. If you have an open-concept space, consider using the same side table design throughout the room to create a cohesive look. These tables can also be used to create zones in a room. For example, you can use an end table to create a reading nook in a living room.
Maximizing Space in Small Rooms
Any table can be used for storage, making them a great option for small rooms. Look for side tables with drawers or shelves to maximize your storage space. End tables with built-in storage can hold books, magazines, and other items, keeping them within easy reach. The one with hidden storage, such as lift-up tops, can store blankets, pillows, and other items you want to keep out of sight. They can be a great option for small spaces, as they can help you maximize your storage space without taking up too much room.
Adding Style and Personality to Your Home
Tables can be used as decorative accents, adding style and personality to your home. Look for side tables with interesting shapes, colors, and textures to add visual interest to your décor. Tables with unique details, such as those with carved legs or intricate patterns, can add a touch of elegance to a room.
Consider the other elements in your room when choosing a decorative table. Look for such tables that complement your décor rather than clash with it. Consider a solid-colored table if you have many patterns. If you have a lot of neutral colors, consider a table with a bold pattern or texture.
Multi-Purpose Furniture for Modern Living
Side tables can be used for work and play, making them a great option for modern living. Look for multi-functional tables with built-in charging stations or enough surface area to hold a laptop. These tables can also be used as game tables, such as when used to hold a chess board or other board game.
If you're dealing with limited space, consider opting for tables with built-in charging stations. These clever additions allow you to optimize your surface area while minimizing their footprint. It's a win-win solution!
🔨 Yay! An end table is the perfect finishing touch to any living space! 🙌🏼 It provides a convenient surface for your drinks and snacks while also adding a stylish element to your decor. #HomeDecor #InteriorDesign #Furniture…
Click To Tweet
Affordable Options for Every Home
End tables can be affordable, making them a great option for every home. Look for end tables that fit your budget and meet your style and functionality needs. Affordable end tables can be found at various retailers, from big-box stores to online retailers.
Consider the materials used to construct the piece when looking for affordable end tables. Look for end tables made from durable materials, such as solid wood or metal, that will last years. You can also look for end tables with simple designs, as these tend to be more affordable than those with ornate details.
Side tables confidently play a vital role in home décor, effortlessly infusing spaces with style, functionality, and personality. When choosing an end table, consider your room's style, the piece's size and scale, and the functionality you need. End tables can be used for various purposes, from holding your drink to creating a sense of intimacy in a room. With so many options available, there is an end table for every home and every budget.
More Reads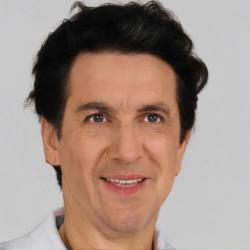 Dan S. Morris is a longtime furniture and design enthusiast with a passion for beautiful and functional arrangements and a human-centered approach to home decor that integrates the needs of people. He is the founder of Chosen Furniture. Dan and his team are faithful to serving you with savvy client-focused information and furniture reviews, with uncompromising integrity as the hallmarks of their service.