When you purchase through our links, we may earn a commission. As an Amazon affiliate, we earn from qualifying purchases.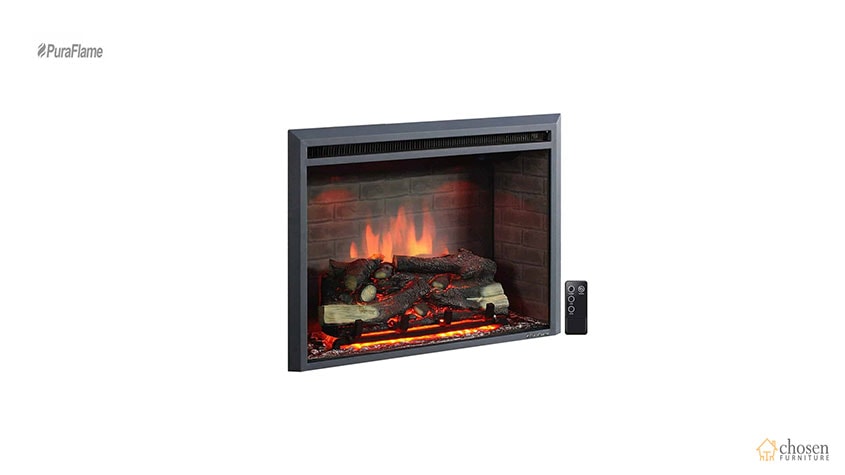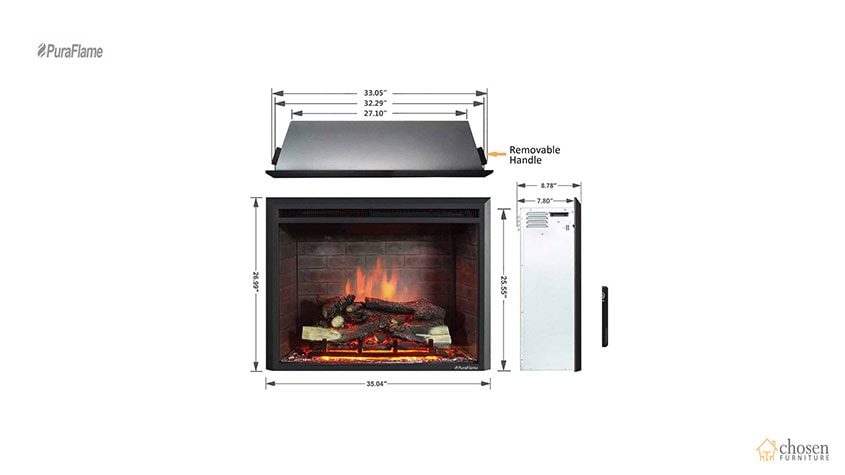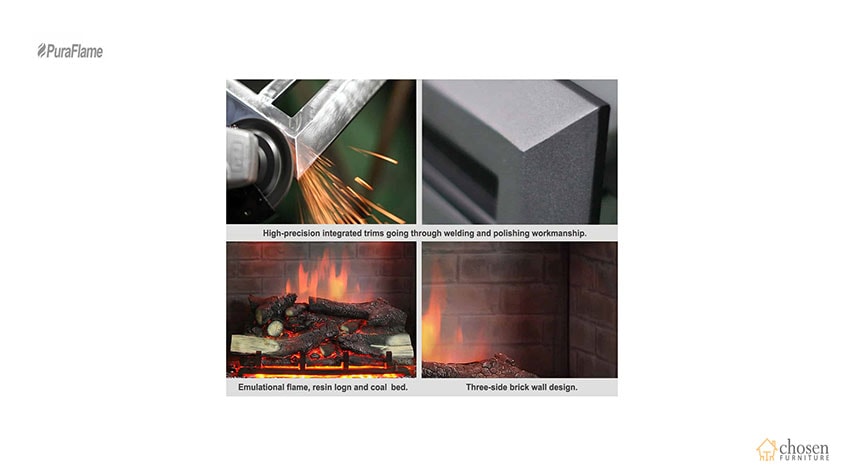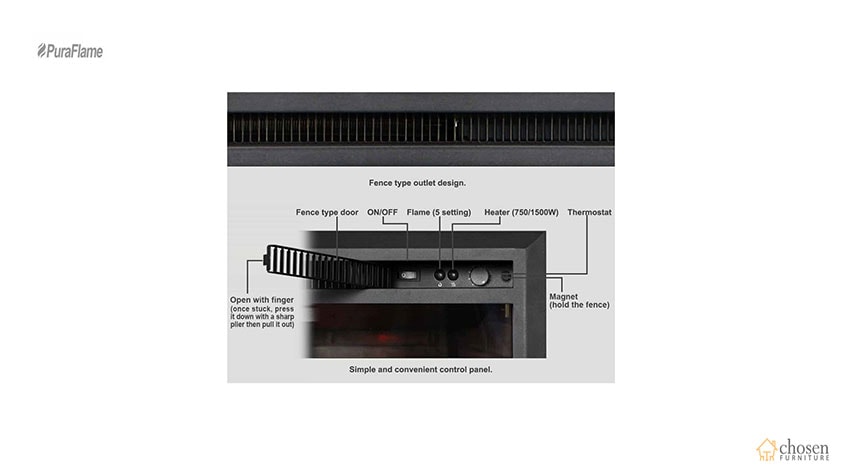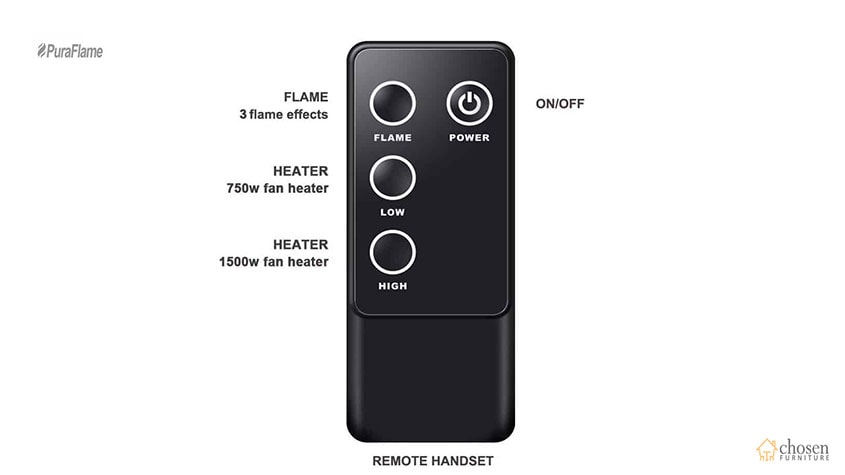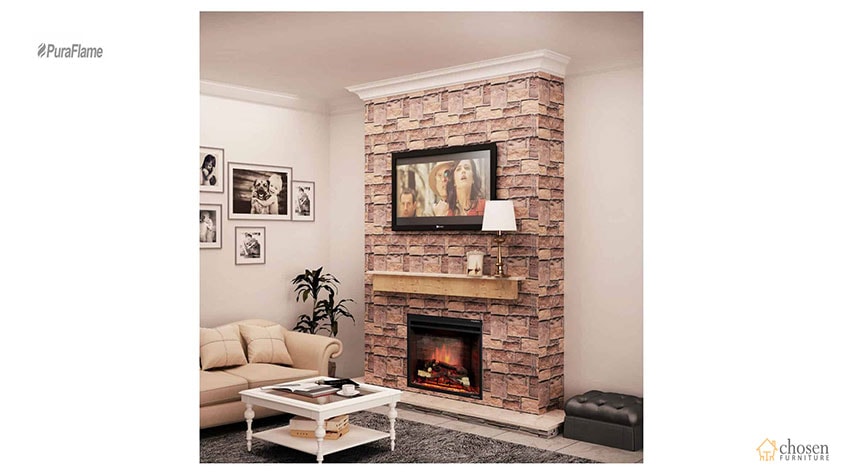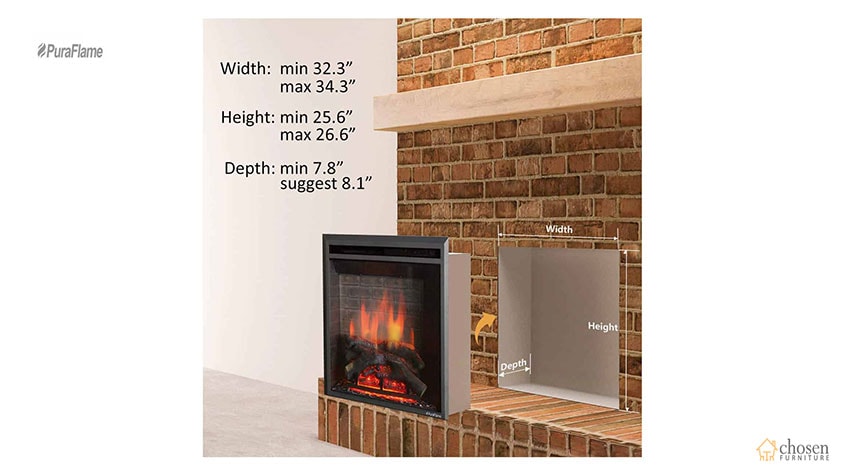 Updated on July 30, 2022
PuraFlame Western 33 Inch Electric Fireplace Insert is an energy-saving LED, beautiful and classic firebox with a slim multi-function remote control. The realistic fire-like feature consists of backlit LED flame with 3 different variations of intensity and brightness, together with life-like resin logs and a glowing ember bed to create a life-like flame feel.
High-precision and integrated workmanship of trim, welding, and polishing make PuraFlame Western 33 Inch Electric Fireplace Insert more valuable. Three-side brick wall design, emulation flame, resin log, and coal bed make the flame effect more realistic. Remote control (and 1 button cell battery) provided for easy operation.
Electronic temperature control gives a more precise temperature. The adjustable thermostat creates a temperature range from 60°F to 84°F. The Control panel gives a more precise temperature making your room more comfortable. 750/1500W fan heater inside. No gas or oil is needed, and no smoke is harmful.
Control panel On/Off switch must be ON to use the remote handset. The power cord is lengthened to 1.8 meters.
This 33-inch electric fireplace insert with remote control has a very nice feature: the flame can be used with or without heat! So no matter what season it is, you'll be able to create a cozy and comfortable atmosphere in your home. This heater can warm up to a 400-square feet room. It also includes overheating protection, so it is completely safe and easy to use.
Overall, PuraFlame Western 33 Inch Electric Fireplace Insert with Remote Control is ideal for use in fireplace surrounds or as a set-in, It will provide glowing warmth and ambiance for a lifetime. Front fix, easy to install, and uninstall.
Please Note: this heater is hot when in use. To avoid burn, do not let bare skin touch hot surfaces. Keep combustible, paper, and fabric materials at least 3 feet away from the heater!
Electric Fireplace FAQ
Do those electric fireplaces really work?
Electric fireplaces are one of the most efficient ways to heat a room, which in turn, reduces energy costs. Electric fireplaces heat rooms faster and more efficiently than real wood-burning fireplaces do. Since heat rises, traditional chimney fireplaces let all the heat out through the chimney.
Is it safe to leave an electric fireplace on all night?
Yes, it is OK to leave an electric fireplace insert on overnight but it's best if you can turn it off when possible. Although electric fireplaces do not produce any fumes, it's best to turn your electric fireplace off when you leave the room for an extended period. This is an electric appliance, so you need to avoid the main hazards of working with electricity like electric shock and burns from contact with live parts. fire from other faulty electrical equipment or installations.
How much does it cost to run an electric fireplace?
Electric fireplaces produce less heat per unit but can be a great way to utilize zone heating since there is little heat lost up the chimney. To compare, electric heaters will cost an average of 8-12 cents per hour to produce heat, making the average about $30 a year.
Do electric fireplaces use a lot of energy?
A typical 1500 Watt unit running on high heat and flame effect will cost about 18 cents per hour. The cost of operation is affected by the cost of electricity in your area. A good average for the cost of electricity is about 12 cents per KW and a standard electric fireplace will use 1.5 KW/ hour, so 1.5 kW x $0.12 = 18 cents/ hour.
Do electric fireplaces put out carbon monoxide?
No smoke or carbon monoxide. Wood-burning fireplaces release cancer-causing agents and dangerous fumes into your homes, such as carbon dioxide and carbon monoxide. Inhalation of these fumes can be dangerous to your family and pets. Electric fireplaces, however, have zero emissions and thus, zero harm to your family and pets.
Are electric fireplaces cost-effective?
Electric fireplaces can heat a room faster and more efficiently than wood-burning or gas fireplaces, and they're very safe to use. These cost-effective heaters are also one of the most efficient ways to heat a room, which reduces energy costs.
How long do electric fireplaces last?
Electric fireplaces can last for 10-20 years depending on how frequently they are used. Many manufacturers offer warranties above 1 year, depending on the model.
Do electric fireplaces need to be vented?
Electric fireplaces are unique in that they do not require venting (chimney). They may be installed or set near an outside or inside wall, upstairs, or in a basement.
FEATURES
Brand: PuraFlame
Model: Western
Color: black
Remote control functions: On/Off
Flame effect: 3 effects
Heat modes: low, high
Energy saving, use LED technology
Includes: (1) fireplace insert, (1) remote control, (1) user's manual
Warranty: 1 year
SPECS
Dimensions: 35 x 8.8 x 27 inches
Weight: 51 lbs
Watts: low mode – 750 W, high mode – 1500 W