When you purchase through our links, we may earn a commission. As an Amazon affiliate, we earn from qualifying purchases.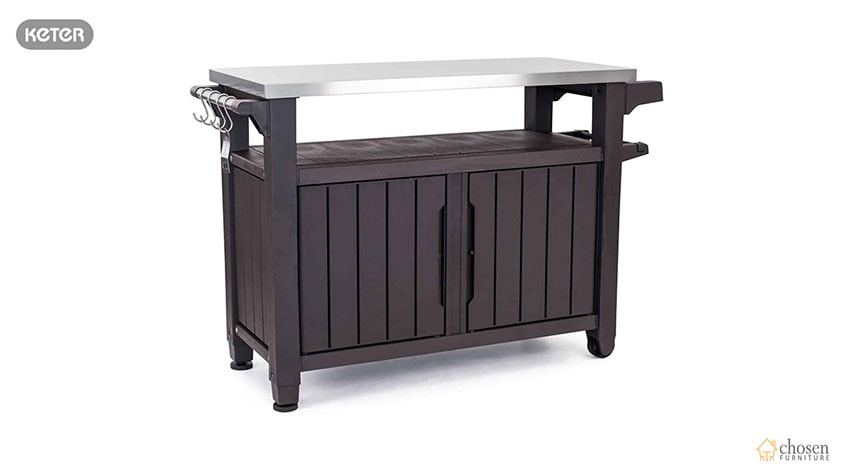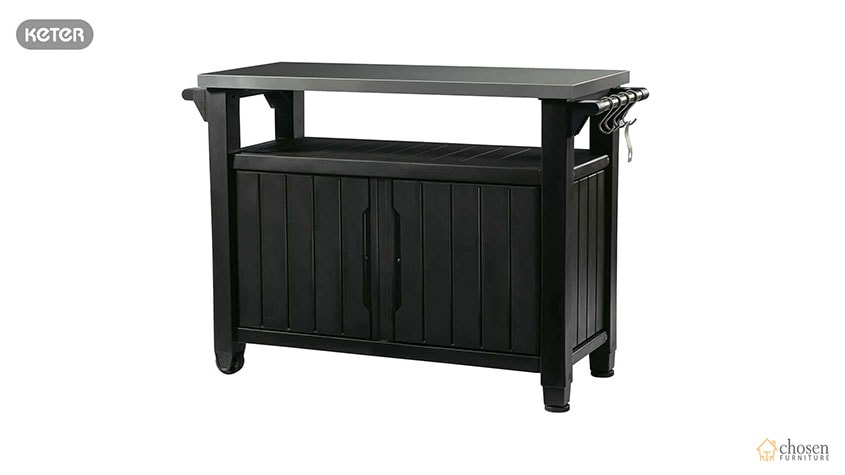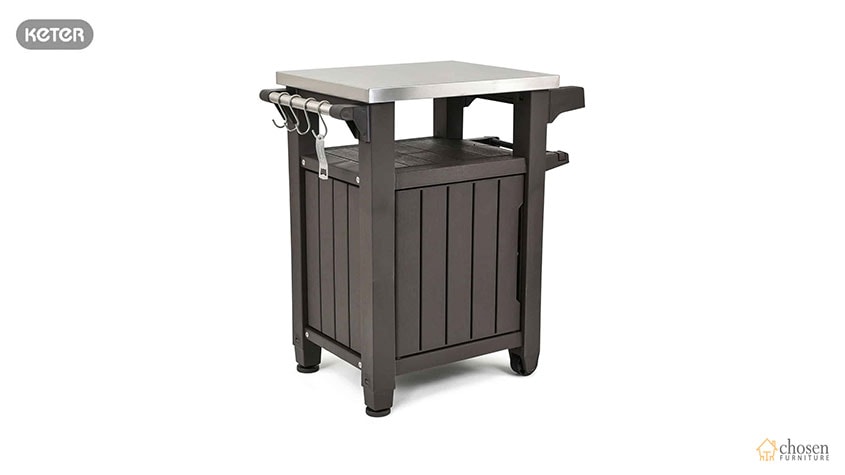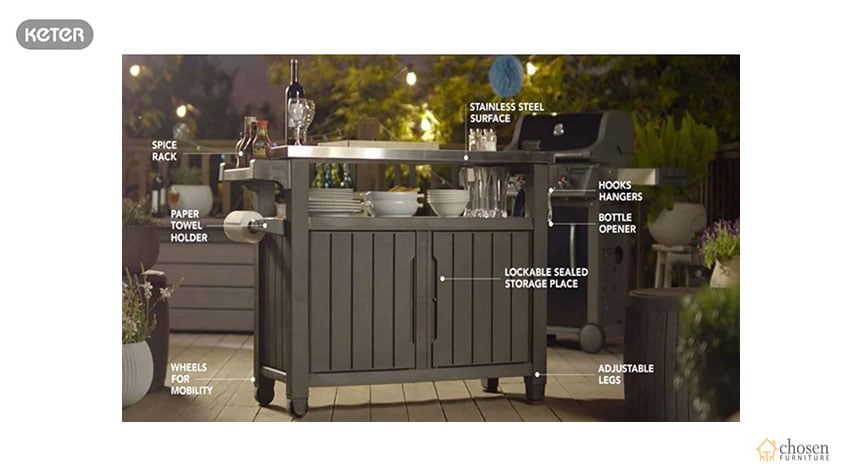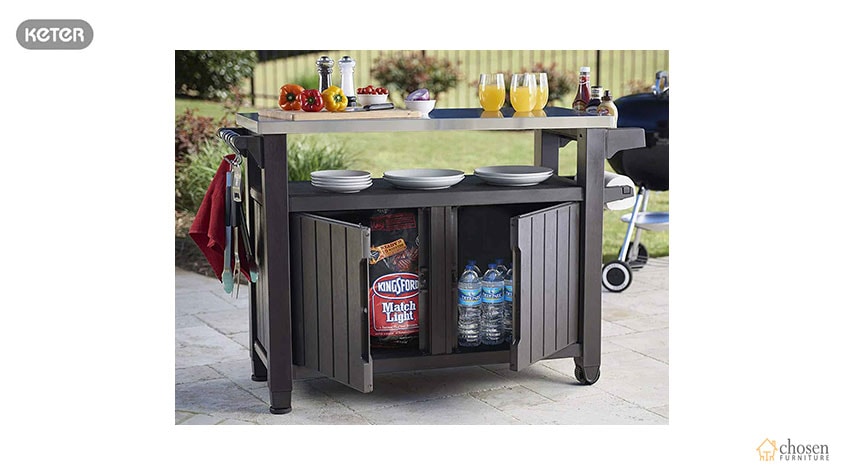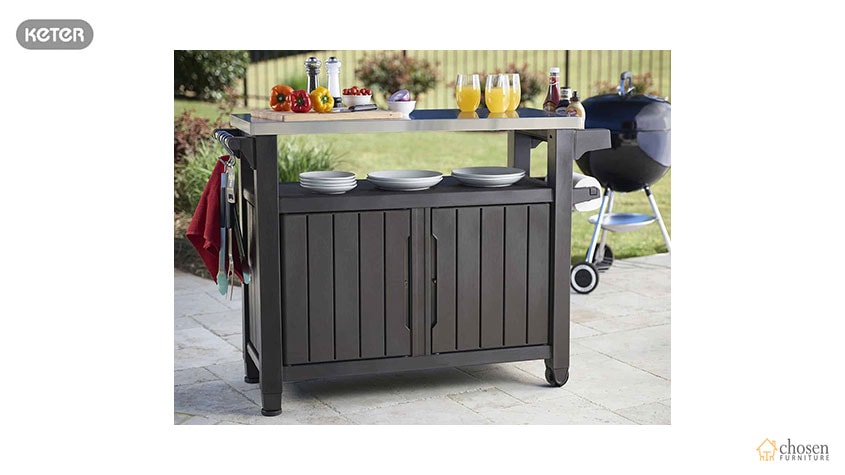 Updated on July 30, 2022
Keter Unity XL Outdoor BBQ Prep Station works perfectly for gatherings on the deck, garden, near the pool, or patio, giving you extra prep and serving space with its stainless steel top and extra sealed and open storage space for plates, water bottles, snacks, and more.
If gardening is your passion, you can transform this kitchen island cart station to meet your specific gardening needs. A versatile workspace and two convenient storage areas offer space so you can keep all your gardening supplies from bag soil, gloves, and water cans to gardening tools in one central mobile storage location.
If you're seriously looking for something more compact to prep a nice BBQ dinner, consider the Keter Unity XL Outdoor BBQ Prep Station. Despite its smaller size, though, the surface is large enough to cook and hold serving plates, condiments, and other items.
You can benefit from service and storage in one. The Keter Unity XL Outdoor BBQ Prep Station is an all-in-one solution that allows you to host comfortably while storing up to 78 gallons of items securely: 54 gallons sealed and 24 gallons open storage. It's made out of a strong, weather-resistant resin with an appealing wood-like texture and has a durable upper surface for cooking, serving, and other hosting duties.
There's a shelf directly underneath for additional storage. Includes two sidebars for a paper towel or hook holder with 4 hook hangers, a spice rack, and a bottle opener. A sidebar can be a convenient storage space for towels, pot holders, and grilling tools.
A 430-grade stainless steel top offers efficient preparation and serving space. It is a great way to serve drinks, hold condiments, and meal prep because it is easily maintained – just wipe it clean. Adjustable legs ensure stability on uneven surfaces.
Two wheels allow this prep station and storage table to be used anywhere. Wheel it out to the patio for the perfect place to serve party food, or use it in the garden when you need a mobile gardening station.
When you want a multifunctional outdoor dining storage unit that looks good and performs well, rely on Keter Unity XL Outdoor BBQ Prep Station.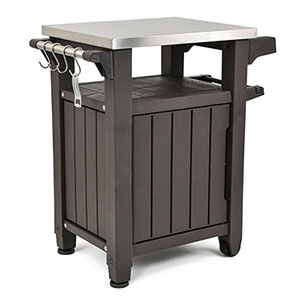 For a smaller version, check out the Keter Unity Outdoor BBQ Prep Station. Dimensions are 29.6 x 22.7 x 35.4 inches, with a total of 40 gallons of storage capacity, including open and sealed storage. Features a polypropylene resin plastic construction and durable 430 stainless steel top.
FEATURES
Brand: Keter
Colors: espresso brown, graphite
Style: Unity, Unity XL
Prep station, storage table, grill cart
Have a total of 78 gallons of storage capacity
Includes 2 side bars, spice rack, bottle opener
Two casters provide easy portability
SPECS
Dimensions: 48.7 x 21.3 x 35.4 inches
Storage capacity: 78 gallons
Weight: 59.6 lbs