When you purchase through our links, we may earn a commission. As an Amazon affiliate, we earn from qualifying purchases.
Article by
Dan S. Morris
Dan S. Morris is the Chief Content Editor and founder of ChosenFurniture. He covers high-quality furniture products designed to last, so he is the best contact for house goods advice.
| Updated on June 24, 2023
What is a Hinge?
A hinge represents a specialized form of hardware employed in joining two components of a furniture piece, facilitating seamless movement and articulation between them. Hinges play a crucial role in furniture functionality, enabling doors, cabinets, lids, or other components to open, close, or pivot smoothly.
The History and Evolution
Hinges have played a pivotal role in furniture design for centuries, with historical evidence tracing their usage back to ancient civilizations like Egypt and Greece. The earliest hardware was simple and functional, made from wood and leather. As furniture design evolved, so did the hinges used in furniture making.
They became more decorative during the Renaissance, with ornate designs featuring intricate patterns and motifs. The advent of the Industrial Revolution in the 18th and 19th centuries marked a transformative era for furniture manufacturing, characterized by the introduction of sophisticated techniques that facilitated the widespread adoption of mass production and the diversified production of furniture components.
Today, they are crafted with an impressive range of materials, embodying the utmost confidence in their construction. These materials span from the timeless elegance of brass to the robust strength of steel, even embracing the modern versatility of plastic. They come in multiple sizes and styles, from tiny butt hinges to large piano hinges. The evolution in furniture design has allowed for greater functionality and design possibilities, making them an essential component of modern furniture making.
How It Can Improve the Functionality of Furniture
These hardware play a crucial role in the functionality of furniture, allowing for movement and adjustability. They are used in various furniture, including cabinets, doors, and tables. In cupboards, hinges enable the doors to open and close smoothly, while in tables, they allow the top to be lifted and adjusted to different heights.
It can also create hidden furniture compartments, adding surprise and functionality. For example, a hinge can make a secret drawer in a desk or a personal case in a bookcase.
Their functional benefits can enhance furniture's aesthetic appeal. Exposed hardware can add a decorative element to statement pieces, while concealed hinges provide a clean and modern look.
🔩 A hinge allows for the movement and positioning of doors, lids, and panels. 🔧 They come in various shapes, sizes and finishes, and are often made of steel, brass or stainless steel. #Hinge #Furniture #FurnitureGlossary 🏡
Click To Tweet
The Different Types of Hinges
Several types are used in furniture making, each with pros and cons. Butt hinges are the most common type used in cabinets, doors, and other furniture. They are simple, easy to install, and visible when the door or cabinet is closed.
Piano hinges are long and narrow and used in furniture such as desks and pianos. They are solid, durable, and visible when the table is closed.
Concealed hinges are hidden from view when the furniture piece is closed, providing a clean and modern look. They are commonly used in contemporary furniture design but can be more challenging to install and adjust.
The Aesthetic Appeal of Exposed Hardware
Exposed pieces can add a decorative element to statement pieces, enhancing their aesthetic appeal. They are commonly used in antique and vintage furniture and rustic and industrial designs.
They can be made from various materials, including brass, steel, and iron. Like captivating pieces of art, hinges possess the potential to enchant and mesmerize with their intricate motifs and patterns. It can effortlessly intertwine functionality and aesthetics, breathing life into furniture with a dash of industrial allure. From ornate displays of grandeur to elegantly minimalistic designs, this hardware can transform any piece, infusing it with character and style.
Furniture that uses exposed hardware includes antique armoires, vintage trunks, and industrial-style coffee tables. The exposed hinges add to the overall aesthetic of these statement pieces, making them unique and eye-catching.
Create Unique and Customizable Furniture
As you guess, this hardware can create unique and customizable furniture designs, allowing for movement and adjustability in various furniture pieces. For example, such hardware can create a folding table or a drop-leaf desk, providing a functional and space-saving solution for small spaces.
Yet, they can also create hidden furniture compartments, adding surprise and functionality. For example, a hinge can make a secret room in a bookcase or a hidden drawer on a desk.
Besides their functional benefits, this hardware can create unique and customizable designs. For example, a hinge can create a unique door or cabinet design featuring a decorative hinge as a focal point.
The Importance of Choosing the Right Hardware
Choosing the right pieces for your furniture project is essential for ensuring proper functionality and aesthetic appeal. The type of hardware you choose will depend on the furniture piece you are making and the desired functionality.
When crafting a cabinet, opting for a butt hinge can be a practical choice due to its straightforwardness and effortless installation. If you are making a modern bathroom vanity, you may want to choose a concealed piece for its clean and contemporary look.
When choosing them, it is also essential to consider the weight and size of the door or cabinet. Heavy or oversized doors may require more robust hardware, while smaller doors may require smaller hinges.
How to Install and Maintain
Installing and maintaining is essential for ensuring proper functionality and longevity. Following the manufacturer's instructions and using the appropriate tools and hardware is necessary when installing hinges.
To maintain them, it is vital to keep them clean and lubricated. Regular cleaning and lubrication can help prevent rust and corrosion and ensure smooth movement and adjustability.
More Reads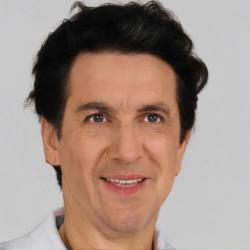 Dan S. Morris is a longtime furniture and design enthusiast with a passion for beautiful and functional arrangements and a human-centered approach to home decor that integrates the needs of people. He is the founder of Chosen Furniture. Dan and his team are faithful to serving you with savvy client-focused information and furniture reviews, with uncompromising integrity as the hallmarks of their service.