When you purchase through our links, we may earn a commission. As an Amazon affiliate, we earn from qualifying purchases.
How to find it and how to use it
Article by
Dan S. Morris
Dan S. Morris is the Chief Content Editor and founder of ChosenFurniture. He covers high-quality furniture products that are designed to last, so is the best point of contact for furnishings advice.
| Updated on August 25, 2022
Your bean bag filler is extremely important when it comes to comfort and durability. You might not consider what's inside of a bean bag chair as long as all you want is to relax. However, the material inside and cushioning of the bean bag decides invariably its softness and comfort grade.
Bean bag filler elements can be very noisy and crackling, so every time you move, the bag will make strange noises. A bean bag chair should always be soft and spongy, depress with your weight but be firm enough to support your body. Moreover, it should be durable, sitting on it for an extended period shouldn't destroy it.
What is the best filling for a bean bag?
The type and form of a beanbag determine how much filling you need. By understanding the different types of beads that may be inside, you'll have a better idea about the best filling for bean bag chairs. We'll give you instructions on refilling beans and more in the article below.
Top 5 Best Bean Bag Fillers – Consumer Reports and Reviews
If you are buying the first bean bag refill pack, then you might be paying more than you should. There's a lot of hype in the furniture industry and what seems like the best choice may not always be so. We will help you understand the pros and cons of each variety, and show you what variables to consider before you choose the best bean bag filler in the market.
Xtreme Comforts Shredded Memory Foam Refill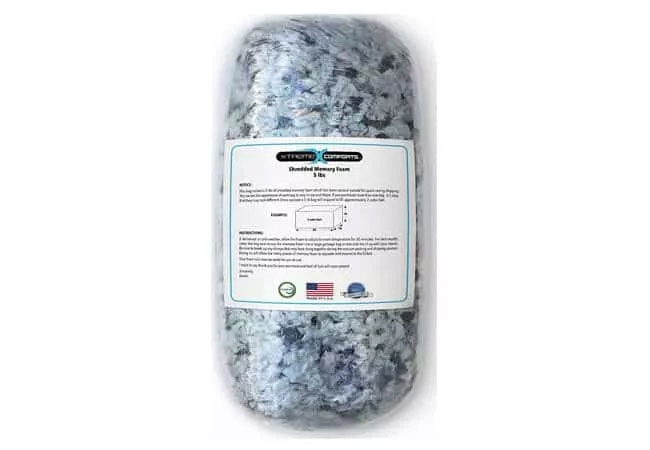 Image credit: Amazon
SPECS:
Dimensions: 8 x 16 x 8 inches
Material: shredded memory foam
Available size: 2.5 pounds, 5 pounds, 10 pounds
Shredded memory foam filling is what allows the compressible surface. Unlike regular memory foam that contours to your body, shredded memory foam take on your weight and redistribute it without becoming too tightly packed together, thus creating a harder, unyielding surface.
This also allows for an increase in airflow as the space between the shredded foam supports breathability, unlike a solid memory foam which has a poor cellular structure for a free flow of air. With the use of a shredded version, you receive all the benefits of memory foam contouring, without any of the heat retentions it often has.
Xtreme Comforts Shredded Memory Foam Fill meets the CertiPUR-US standards for content, emissions, and durability, and is analyzed by independent, accredited testing labs. Has no ozone depleters, TCEP flame retardants, TDCPP, PBDEs, lead, mercury, heavy metals, formaldehyde, phthalates regulated by the CPSC, or CFCs.
It is more comfortable than traditional polystyrene beads and styrofoam filling pellets. It is perfect for stuffing bean bag chairs, pillows, couches, sofa cushions, stuffed animals, upholstery, arts, and crafts. Simply re-fluff to bounce back to the original shape. It is comfortable, soft, and gentle.
This Certipur memory foam fill from Xtreme Comforts rates among the best options you have. Compressed packing for easy shipment – 5 pounds expands to about 2 cubic feet when fully fluffed and expanded.
Pros
Excellent quality.
Easily fill one adult-sized bean bag.
Does not get flattened with daily use.
Does not create pressure points.
No odor or off-gassing.
Child safe.
American made.
Cons
Pricier than standard bean bag chair refill beans.
Big Joe Comfort Research Megahh Ultimax Bean Bag Refill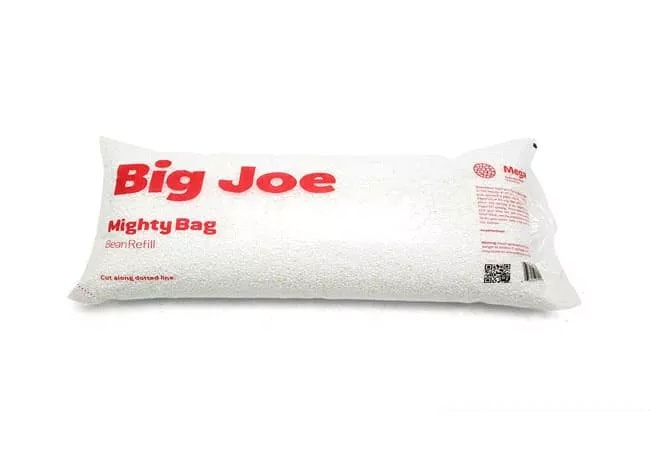 Image credit: Amazon
SPECS:
Dimensions: 12 x 35 x 16 inches
Volume per pack: 100 liters
Material: polystyrene
Available size: single pack, 2-pack, 3-pack, 4-pack
Big Joe Megahh bean bag refill is our top choice among all the cheap bean bag fillers in the market currently. This is a single pack, each one with 100 liters of refill beans – that's approximately 3.5 cubic feet of beans per bag (enough beans for an adult-sized bean bag).
The Megahh Ultimax pack is full of beans made of 100% virgin polystyrene. These beads are longer-lasting, up to 20% denser than other beads. They are also lighter, making the entire bag lighter and easier for carrying.
Big Joe is an American brand that manufactures bean bag chair refills and other furniture products, and most Big Joe bean bag chairs take 1 – 2 bags to rejuvenate. Purchase a refill pack and give a much-needed dose of plumpness to your bean bag. For the price, you get quite a bit of bead to work with as well.
Lastly, these refill beans are used for various crafting projects, such as packing material, or arts and crafts.
Pros
Top rated bean bag refill.
100% recyclable polystyrene beans.
Good quality.
Comfortable once in place.
Great for DIY projects.
Affordable as price.
American made.
Manufactured in a zero-landfill certified facility.
Cons
Flatten out easily.
Beans are very small in size.
Posh Beanbags Bean Bag Refill Virgin New White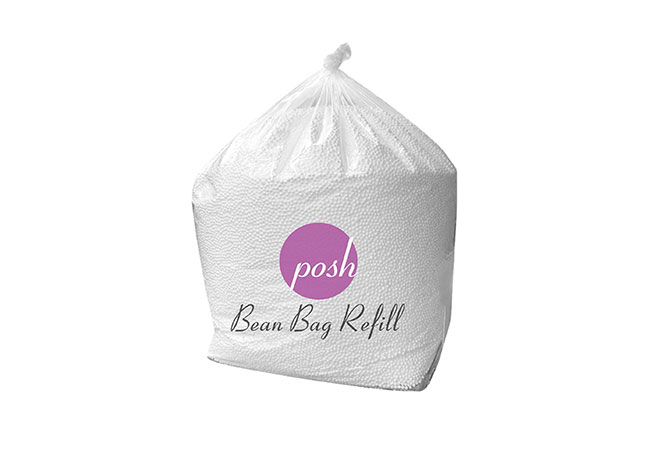 Image credit: Amazon
SPECS:
Dimensions: 30 x 20 x 10 inches
Volume per pack: 100 liters
Material: polystyrene
Available size: 5, 10, 20, 30, 75, 100 liters
Premium expanded polystyrene (EPS) is not the best choice for large sized bean bags chairs. But certainly they are perfect filler for bean bag chair for kids, dolls, corn hole bags, foot bags, and blanket weights.
The Posh Beanbags Bean Bag Refill is next on the list. Another one of our budget-friendly favorites, this 100 L bag is also available in a variety of additional weight versions at reasonable costs. This one can do it all, whether it's for a new bean bag or replenishing an old one.
To begin with, the pellets are comprised of expanded polystyrene, which means they are resistant to heat and moisture. So you may unwind on those hot summer days without sacrificing comfort. Unlike other refill packs, this one's box lacks cut-markings, but they shouldn't be too tough to insert into the bean bag.
We recommend wrapping a tight ring (made of cardboard or plastic) around the aperture for this. This will keep the beads from dropping all over the place. Aside from that, the high air content of the beads adds nothing to the total weight. While we chose the 100-liter pack since it is ideal for refilling smaller bean bags, you can select various amount versions according to your needs.
Pros
Perfect for small-sized bean bags.
Longer product life.
Comes in a heat-sealed bag.
Recyclable material.
Cons
Chemical concentration is high.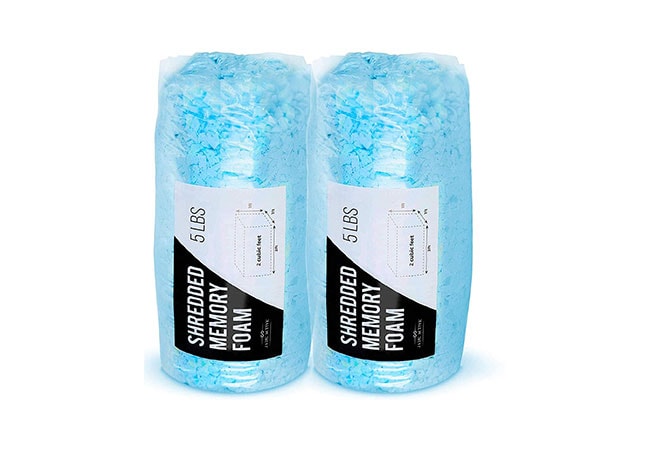 Image credit: Amazon
SPECS:
Material: premium shredded memory foam
Available size: 5 pound, 10 pound
Vacuum packed and sealed
If you fill your bean bag with the Jade Active Premium Shredded Memory Foam, you'll have a long-lasting bean bag chair that provides the comfort you want. This bean bag filler is also ideal if you intend to create your DIY chair because it is composed of memory foam, which is one of the most durable and pleasant fillers available.
This shredded memory foam may be used to refill, replenish, or re-fluff bean bags, pillows, pet beds, stuffed animals, and cushions. It is soft and of great quality. Traditional beads and styrofoam filler pellets are less pleasant. This high-quality foam ensures optimal comfort and long-term satisfaction.
The premium memory foam in Jade Active is compressed and vacuum-packed. Open in a confined setting, such as a waste bag or box. Allow the foam to warm up and unfurl for 48 hours for greater volume.
Pros
Perfect for use with bean bags, couches, love seats.
Odor-free, non-toxic memory foam.
Vacuum sealed bag.
Child safe.
Cons
Needs 48 hours to decompress.
Gold Medal Virgin Expanded Polystyrene Bean Bag Refill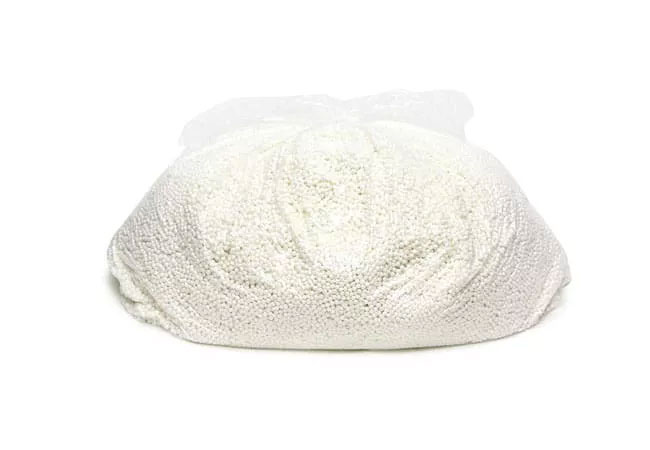 Image credit: Amazon
SPECS:
Dimensions: 19.2 x 16.5 x 19.2 inches
Material: virgin polystyrene
Available size: 2 pounds, 4 pounds
The small virgin polystyrene refill from Gold Medal is made in the USA and meets the California fire code Cal 117. These are the ultimate in fluffing up your bean bag chair. Not to mention, for the price that you pay, you're getting a good bargain.
Virgin polystyrene beads are an ideal choice because they aren't recycled and they will most likely last longer than beads or shreds that have been recycled.
You can choose two refill bags, a 4 lb bag, or a small bag.
Pros
Comfortable in beanbags.
Easy to refill.
Affordable as price.
Why Bean Bag Chairs Go Flat and How To Prevent It?
Many people new to beanbags are shocked to discover that their fluffy bean bags have gone flat have extended periods of regular use. What was once a fluffy, round and comfortable chair has become a flat disc about half the size. However, this is a universal phenomenon experienced by all bean bags filled with traditional polystyrene beads.
Bean Bag Compression
Most bean bags are stuffed with beads made of expanded polystyrene (EPS), which is a close relative of Styrofoam. Quality bean bags are filled with virgin beads that are manufactured exclusively for use in bean bags. These beads have numerous pockets of air inside them, and as they are used, the beads become compressed, reducing their size. This compression, in turn, gives the beanbag a flat appearance, and it compromises the comfort and ergonomics of the furniture.
Fluffing Your Beanbag Chair
Before you refill a bean bag, you may be able to prolong its usability by attempting to fluff the contents. To do this, you need first to unzip the child-resistant cover in a safe environment. Always keep a close eye on open bean bags, and never allow a child or pet to crawl inside. If your bean bag chair does not have a zipper or enclosure, do not attempt to cut or rip it open. These bean bags are meant to remain closed at all times.
After you have removed the outer shell, flip the beanbag chair over. Next, hold the bottom of the chair and shake it up and down firmly. Repeat this action repeatedly until you reach the desired level of fluffiness. The more you agitate the inner core of the chair, the fluffier it will get.
Once you have the bean bag open, hold it, so the opening is facing upwards, and shake it for two to five minutes. As you shake the beanbag, it will regain some of its fluffiness. After closing the bean bag and activating the child-resistant mechanism, sit on it to see if it provides adequate support. If not, you can try to fluff it again, but if a second fluffing does not do the trick, it is time to refill your bean bag with new beads.
Bean Bag Filling Buyers Guide – Select The Best Bean Bag Filling
Does your beanbag need plumping up a bit? When this happens, do not panic. You need to refill your bag and we compiled the ultimate bean bag filling buyers guide. Revive your slouching bags and watch your favorite beanbag come back to life.
Type of the Filler
Bean bags can be filled with anything you want. The natural filler includes dried grains, buckwheat hulls, sand, and even hay or feather. But these beanbag fillers are not practical choices because it makes sitting extremely uncomfortable. So, there are three types of bean filler that are commonly used nowadays. We'll discuss them later in this article.
Quantity
Every bean bag chair has its size and thus you must be aware of exactly what quantity you need to refill a beanbag chair. Make sure you calculate the right quantity and purchase respectively.
Quality
The quality of the bean bag filling is crucial. Purchase only good-quality beans so that they can attain the comfort you are looking for. Poor beans mean less comfort and probably you'll need to refill your bean bag chairs earlier than necessary.
Durability
The durability of refill beans is also important. If the refills start to shrink after a few weeks, it's nothing but a waste of your money. When you purchase filler for a bean bag, make sure that the product shows a promise of longevity. Memory foam is the most durable type of bean bag fill – it also retains its shape for months, doesn't sink or squish under the weight, and is resistant to moisture and heat.
Since EPS beads are 98 percent made of air. they tend to flatten a lot sooner, particularly if the beanbag is used frequently. Most bean bags are filled with EPS and as long as you are not heavily using it every day, it should last a few months with no problems.
Comfort
Bean bag chair comfort is based on inner experience rather than facts, yet most people have very similar requirements from bean bags – to be very comfy. When filling a bean bag chair, the comfort is associated with the degree of firmness that you prefer. Some people like a soft surface that sinks in when they sit, others like a firm surface. Compressed memory foam might be a better choice for softer surfaces, and if you like a firm fill, purchase EPS beads. For example, when considering buying a bean bag chair for gaming, comfort becomes your first priority.
Cost
Bean bag refills are a recurrent expense you'll have to perform for the lifespan of the bag. In terms of cost, EPS beads are the cheapest option followed by plastic pellets, while memory foam is the priciest. It is critical to restoring a bean bag to its chunky form but it must not cost an arm and a leg – only a small fraction of a new identical product.
Weight
No one likes to move heavy bean bags around the house. A great bean bag chair is meant to be light and portable. EPS beads are the lighter options as a bag filler material. Memory foam is pretty light as well. Polyethylene plastic pellets are the "heaviest" and are normally used for smaller-sized bean bags to provide stability.
What Is the Best Bean Bag Filler?
Bean bag fill can be made from a variety of materials and should meet strict safety regulations. There are different bean bag fillings available on the market today. Here are the main types:

Natural bean bag filler – a great option for those who prefer the traditional and eco-friendly bean bag chairs. Natural bean fillers are dried beans, dried peas, unpopped popcorn, and rice. Natural fillers are cheaper options and do not lose their stuffing capacity quickly. The main disadvantage is that they attract pests, are much heavier, and don't provide the much-expected comfort. Some people prefer natural bean bag fill and bean bag refill because of the texture that can help massage tired muscles.

Shredded foam filler – this type of bean bag refill is made from polyurethane foam, a traditional foam fabric in making pillows, poufs, ottomans, crafts, stuffed animals, pet beds, chairs, and couches. Bean bags with shredded foam filler use foam cut into tiny, super durable pieces. The flexible property of shredded foam allows bean bags to back into shape after being depressed. This type of filling is more flexible but less stable compared to polystyrene beads.

Expanded PolyStyrene (EPS) Beads – most bean bags are filled with EPS. EPS is a hard-celled plastic very similar to Styrofoam, which is extruded polystyrene. EPS is perfect for most bean bags because it is lightweight but rigid enough to retain its form. In fact, EPS is 98 percent air. The EPS beads used for bean filler are 3 mm to 5 mm in diameter, plus, they are resistant to moisture and heat. Even though EPS is not biodegradable, it can be reused and recycled. When you need replacement beads, it is recommended to use virgin beads rather than recycled beads, which may have a shorter lifespan.

Polystyrene pellets are tiny synthetic polymers. Polystyrene pellets are similar to polystyrene beads except that they are smaller in size, and have a cylinder form but are rounded on one side. Good elasticity and compression deformation resistance provide maximum comfort and durability compared to other bean bag fillings. The material has also excellent heat-insulation properties, high impact strength, vibration resistance, and resistance to physical processing.
Expanded PolyproPylene (EPP) is a thermoplastic polymer more popular in Asia. EPP foam is very strong and durable yet incredibly resilient. They do not lose their volume as quickly as EPS beads do, and they do not have a strong odor. The primary problem with EPP is that they are very sensitive to fire and burning, and it also degrades when exposed to oxygen. EPP has excellent energy absorption and high strength properties, it is durable, lightweight, and recyclable. EPP can withstand multiple impacts without significant damage.

As bean bag fill, Packing Peanuts have been in the top many years ago. The packing peanuts (you may know them as "popcorn") are made of expanded polystyrene (EPS), which most people mistakenly confuse with the Dow Chemical Company trademarked name Styrofoam. They are roughly the size and shape of an unshelled peanut. Packing peanuts have larger sizes than polystyrene beads but are considerably more lightweight. Polystyrene peanuts have fallen out of favor because of worries over chemicals used in their manufacturing process and the fact that they aren't efficiently recycled.
How Much Beans is Needed to Fill My Bean Bag?
Getting your first bean bag is always a great joy. Overtime, beanbags go flat so when you refill make sure it is properly filled to preserve its intended shape and comfort level.
How much …. well, this is a very common question when it comes to bean bags refill. Because every bean bag chair is a little different, here is a guideline:
A 6 cubic foot bag of refill will fill a bean bag that is about 35 x 35 x 40 inches.
This is just a guideline but hopefully will give you are starting point when purchasing a bean bag refill.
How To Fill and Refill Bean Bag Chairs
It is well known that beanbag chairs require low maintenance, yet, they do need a "basic set up" before they can be used. Don't get scared, this step is very simple but needs to be done carefully to make sure that the chair is filled correctly.
Determine The Amount Of Filling
First, you need to determine the amount of filling you're about to use. Too much filling and the beanbag will be rigid. Too little filling and it will be too soft and uncomfortable. That's why a bag comes with a label or documentation listing exactly how much filling is needed. Depending on the model and manufacturer, this documentation may display a weight or a volume.
Once you determine the exact quantity, buy your fillings – consider investing in an additional amount that can be used as a backup if a certain quantity is spilled or disposed of.
Start Filling The Beanbag
Once you have the fillings, it's time to call for help from a friend. Ask him to hold the bag so that the opening is easy to access and start pouring the filling until it reaches the right capacity. Don't rush and distribute the filler material around so that it does not stick near the opening.
If you want to save time, use a funnel to drive the filling inside the bag. If a funnel is not available, one can quickly be made by rolling up a sheet of paper and inserting it into the opening. As you pour the filler into the beanbag, continue to shake the fill so that it spreads around until the capacity is reached.
Test To Determine If It's Ready
Once you finish the filling operation, test the beanbag slowly because a sudden move may cause the beans to spill out across the room if the bag wasn't sealed properly. Once you are sitting on the bag chair, start to move around to determine if it has been filled enough.
If you sink into the beanbags too much, consider adding a small amount of filling. If the seat is too firm, try to remove some of the beans until you reach the perfect level of comfort. As you guess, achieving the desired filling level involves a bit of trial and error as everyone has a different comfort level. Now it's time to start relaxing in style!
Frequently Asked Questions
If you're not getting the support you used to once, it's time to re-energize your beanbag with a refill or perform a bean bag stuffing. We hope the answers below will help to answer your questions.
What can you use to fill a bean bag?
Most bean bags are filled with expanded polystyrene (EPS). Besides EPS, beanbags are filled with memory foam, shredded foam, polystyrene pellets, or other natural fillers.
What are polystyrene beads?
The beads used to fill most bean bags are made of expanded polystyrene foam (EPS), which is a hard-celled plastic very similar to Styrofoam, which is extruded polystyrene. Polystyrene can be produced in two forms, rigid and foamed, and it is commonly used as protective packaging and packing material.
How long does a bean bag last?
A good quality bean bag is supposed to last for around 3-5 years without changing the beans, depending on how you use it and maintain it.
Are bean bags good for kids?
Yes, they are great and fun. A bean bag for kids is safe, and a monogrammed bean bag can make them feel special. Kid's bean bag chairs are sized just for them, in many fabric colors to please everyone.
Final Verdict
Finding a bean bag filler that meets your requirements can be a daunting task. Our buyers' guide should help you overcome this challenge and pick an affordable product that will be perfect for your beanbag chair. Go through all the bean bag filling we review their features, their pros, and cons. After carefully studying all of these, see what matches your specifications, and based on that pick the product which suits you most. Thus makes an informed decision that promises your money's worth.