All giant bean bag chairs are meant for comfort and relaxation at your home. Oversized bean bags are great for dorms, study spaces, game rooms, basements, movie rooms, and more. Besides being large and comfortable, their price is reasonable without sacrificing quality or durability. These large bean chairs are just what you have been searching for as a gift.
You'll find a variety of styles and comforts depending on your budgets, made with the most comfortable materials. Below we list the best giant bean bag chairs and beds that will cater to your desired comfort.
As a size, this list range from large to XXL, and all models are available in a wide range of fabrics and colors to suit any home. They are the perfect alternative to heavy, uncomfortable couches and sofa beds. However, without the right quality, you will not be able to get the comfort you are expecting. So, it is very important to choose the best one!
Everything You Need to Know (or Remember) Before Buying a

Giant

Bean Bag Chair
Choosing the best giant bean bag chair might not be similar in choosing a simple wooden or metal chair. Here are some essential features you'd better know before buying large bean bags chairs.
Cover: it decorates your home or workplace, plus, it's the piece that protects your bean bag chair from dirt and water. Bean bags chairs' cover is available in many forms that you can choose wisely to fit your environment.
Softness: the softness of a bean bags chairs provides you the convenience and comfort. It boils down to what you have inside of your giant beanbag. Is it foam, beans, or recycled materials? What is the best bean bag filler for a bean bag chair?
Durability: oversized bean bag chairs and fluffy bean bags are not made of wood or metal, however, needs lots of care. High-quality bean bags chairs can last as long as others chair. Manufacturers have created bean bags chairs that can last for a very long time. For the purpose of strength, look after bean bag chairs that are stitched twice, use overlock stitching, or flat-felled seams with 2 rows of lock stitches, have two zips, inner nets, and are made of strong, resistant to wear fabrics.
Weight: bean bag chairs are not meant to stay exactly in one place. We like to move them around the house, for example, moving to in front of your TV, or close to your table or kids' room. If you need to move your chair around, the weight of the chair should be considered.
Of course, we only talk about just couple of things to consider. But if you are serious about learning everything about them before buying a model, check our bean bags buyer's guide for 2020. And if you want to please your kids, don't forget to read top 10 best bean bag chairs for kids and toddlers.
For all the teens and grown folks out there, following is the list of the top giant bean bag beds and chairs of 2020 through which one can easily select the best and the most suitable one for your use. Every oversized beanbag is meticulously selected considering a few factors including fabrics, quality, brand name, customer reviews, money-back guarantee, and all types of other factors that make them stand out from each other.
Shop from large bean bags to family size giant bean bags, perfect for living areas of any size. Getting any one of these extra-large bean bag chairs and throwing it inside your home is a definite must.
Lumaland Luxury 7-Foot Microsuede Giant Bean Bag Chair and Lounger
The Lumaland Luxury 7-Foot Microsuede Giant Bean Bag Chair is a real big size bag lounger. Is made to fit all kinds of living rooms, bedrooms or movie rooms. Enjoy great everyday fun and relaxation in all situations. So take your time and lean back with your friends and family. It is way better than a couch with flimsy wooden parts inside and fabric that you can't easily get clean.
Key Features:
Ultra soft microsuede cover is designed for daily use by children, adults, and pets.
The cover is removable and machine washable.
Filled with shredded foam, ensures long-lasting soft comfort and coziness. Reflects your body heat and provides absolute well-being.
The foam expands gradually over a 48 hour period till the bag lounger is full size.
There is an inner cover in the lounger so you can use your lounge chair all the time.
Deep colors and different sizes are mixed so you can choose the best bean bag for your own.
Dimensions: 7-foot. Weight: 60 lbs.
Really big product. If you have a large room, this will be great; but if you live in an apartment or condo, this will probably be too large.
Shipped in a single box with a fraction of its size; expands to full size within three days.
Chill Sack 7.5-Foot Micro Fiber Giant Bean Bag Chairs
If you are thinking about replacing your old sofa and give your living room and new boost, well then, the Chill Sack 7.5-Foot Micro Fiber Giant Bean Bag Chair Lounger would be perfect to make your room look nicer. However, don't rush to conclusions, this beanbag chair, and lounger is a great add-on to any basement, game room, home theater… you name it. Bean bags are highly personal pieces of furniture and a great buddy for anyone. Just buy them!
Key Features:
The premium fabric cover looks very luxurious and feels awesome. Resistant to stains and discoloration.
The removable cover can be easily removed as well as machine washing.
Stuffed with a shredded, soft, memory foam blend that is highly durable to maintain shape. It will expand to its full size within few days.
Double stitched for maximum strength and durability.
Designed with safety measures – child safe zippers are provided
Dimensions: 90 L x 48 W x 34 H (inches). Weight: 92 lbs.
Shipped vacuum sealed to reduce size and costs.
Cozy Sack 8-Foot Giant Bean Bag Chairs
If you have a numerous family, Cozy Sack 8-Foot Giant Bean Bag Chair would provide you people with comfort to watch TV, play video games, or have a relaxing time together. This bean bag affords easily 3 adults or 4 kids and manages their weights. People buy this beanbag because it conforms itself according to the weight and the body shape of the person sitting on it.
Moreover, if you're alone, lounge and let go of the stress you have. As you can see, this is a premium longer which is huge in size – significantly larger than a good-sized couch. It's perfect for your living room because of its premium luxury fabric, it is heavier and silkier than the normal bag chairs.
Key features:
The removable double stitched microsuede cover is soft to the touch, machine washable, and resistant to stains, and discoloration for easy maintenance.
Filled with urethane foam that will spring back. Fluffing after use restores bag chair to its original shape.
Protective liner, all the seams are double-stitched and the zipper is a No.5 YKK for extra strength.
One person can manhandle it if you have to, but to fluff it or move it with any accuracy, you need two people.
Recommended floor space 8.5 x 4.5 inches.
Dimensions: 96 L x 48 W x 30 H (inches). Weight: 66 lbs.
Cheaper than a comparable couch, way more comfortable, easier to keep clean, plus your pet thinks it's the worlds largest bed.
It is sturdy and comes tightly packed so don't be surprised when it really expands outwards after it is opened.
Sofa Sack 7.5-Foot Giant Bean Bag Lounger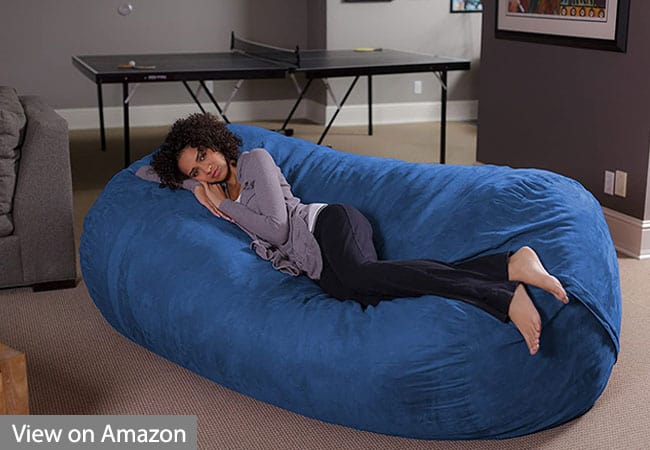 Here is Sofa Sack 7.5-Foot Giant Bean Bag Lounger which contains numerous size, color, and weight features. The bag chair gives you the flexibility of a nice comfy lounger that you can lay down on or you can sit on it like a couch. Most of all, no matter in what position you relax, this bean bag is going to make you feel comfortable.
It works well as a sleepover extra bed and everybody can fit on it to watch a movie, read a book, or play video games with plenty of space to kick each other. As a result, it definitely made a family room feel more cozy and complete.
Key Features:
Made of soft and ultra durable fabric (100% polyester) which feel like suede. Cleaning this bean bag cover is easy, just machine wash it, and it will be fresh as new.
Softest memory foam blend inside it. The foam is the material which will get this bean bag into its original shape and prevent to go flat.
There is no inner liner containing the foam. If you did remove the cover, you would need to store the filler.
For extra strength, the bean bag cover is extra double stitched and use excellent quality zippers.
It takes time to inflate, maybe 25-48 hours. Every few days, roll it partway over to fluff it up, which it's quick and easy to do.
Accommodate 2-3 persons at a time, comfortably sitting on it.
Dimensions: 90 L x 48 W x 34 H (inches). Weight: 92 lbs.
The box is about 3 ft squared, and 2 ft high. It is shipped vacuum sealed and compressed.
Big Joe Media Lounger Bean Bag

Big Joe Media Lounger Bean Bag is just right for movie night-but you might have to buy a few so no one feels left out. Spend five minutes on a fuf and your body will thank you for it. Easy to move with two people, the handles are super helpful. The whole family, including the dogs will enjoy some hang out time on this Big Joe!
Key Features:
Upgraded the fabric to a thicker, softer, more luxurious material built to stand the test of time.
Never go flat and never need to be re-filled.
Filled with uncycled shredded foam for an amazing feel.
Liners are solid with a child safety zipper.
In addition, fluff this bean bag over time again and again in order to refresh the cushiness.
Available in many different colors from where you can choose your favorite.
72 foot long by 42 foot wide and 42 foot height; 33.4 pounds in weight.
Yogibo Max 6-Foot Giant Bean Bag Chairs
Max 6-Foot Giant Bean Bag Chair is the most popular product from Yogibo. This multi-function large bean bag bed chair can be used in a variety of different ways. As a chair, it's the ultimate gaming or reading seat. Or you can use it as a recliner to lay back and almost float in front of your TV.
It can also be a much more comfortable alternative to air mattresses. Since up to 4 people can share the Max at one time, it makes a great couch. You can just relax for hours on this with your laptop, phone, and books or simply listen to music.
Key features:
The cover is made of cotton or lycra. It is soft and comfy, but pet hairs do stick to it.
Filled with little BB sized white polystyrene foam balls. These balls will compress over time, however, you can replace them easily.
The outer cover is removable and washable which allows you to make it clean again after it gets dirty.
Requires about 6 x 2 x 2 inches of floor space, but weighs less than 20 lbs, so it's not hard to maneuver and drag around.
Conforms to your body and provides even support, making it ideal for pregnant women or people with back issues.
Dimensions: 74 L x 24 W x 24 H (inches). Weight: 18 lbs.
Compressed packaging to reduce shipping costs and protect the environment.
Jaxx 7-Foot Giant Bean Bag Chairs
How amazing it feels to be seated on a huge beanbag? Jaxx 7-Foot Giant Bean Bag Chair can fit more than one person to provide enough of the comfort. It's perfect for home theater, game rooms, playrooms, and overnight guests. Jaxx multi-positional 7-Foot giant bean bag act as sofa, lounger or sleeper for teens and adults.
As a seat, three normal-sized teens fit easily, while two would probably be more comfortable. To use it as a sofa, it comes with the perfect amount of foam filling. If you need it as a bed, after a couple of weeks it's better to order extra filling to make it a little bit firmer.
Key Features:
Microsuede cover it is soft, removable, and provides great comfort. It is also resistant to stains.
To clean the outer cover, wash with cold water and tumble dry on low heat.
Filled with multi-density polyurethane shredded foam. The foam filling is compressed, and it will take some time to get it apart and fluffed.
The childproof zipper along with the moisture resistant inner liner protects the filling while the cover is taken off.
Provides pressure-relieving support while remaining soft and comfortable.
Dimensions: 86 L x 47 W x 36 H (inches). Weight: 80 lbs.
Finally, it's pretty comfy and it distributes the weight really well.
Shipped in 2-boxes containing an inner bag, the cover, and three cubes of shredded foam.
Christopher Knight Home David 8 Foot Bean Bag

Easily customize your home with this bold bean bag from Christopher Knight Home. They have skyrocketed the softness and comfort of the bean bags to a higher level. You can use it anywhere to have a delightful sitting arrangement regardless of the place. David beanbag measures 84 inches long which can accommodate two people perfectly. This is the supreme bean bag chair and bed to cuddle up with your partner!
Key Features:
Clean, precise double-stitched lines, our bean bag is the ideal modern accessory for your interior space.
The cover is made up of faux suede microfiber which is sturdy and also durable. The material feels extremely nice to the touch and provides a comfortable experience. It can be easily removed and also washed in the machine.
Include a protective liner and child safety zipper with which is great for those family having kids.
Filled with small chunks of high-density foam, which helps retain shape and provides amazing support. It requires a little time to fully expand. There will be a lot of slack in the bag for the first few days. Repeated fluffing or punching of the bag will break up the foam faster.
It's amazing how well the bean bag it manages to breathe and not increase your body temperature. Other pieces of vinyl or leather bean bags tend to get warm and sticky after a few hours on them, and that doesn't happen on David 8-foot model.
This gigantic bean bag chair is a whopping 84 long, 48 wide and 30 high (all inches) and it can easily accommodate 2 adults or 3 kids. Weighs 60 lbs.
It delivers the best comfort for having a relaxed time. It stays fluffy and supportive year after year.
If you're lucky enough to have a room dedicated to entertainment (a real man's cave) than David 8 Foot Bean Bag Chair is one of the comfiest things you can stuff in such a room. If you've got the money, you need this beanbag chair and bed!
Xorbee 8-Foot Foam Filled Bean Bag Lounger Chairs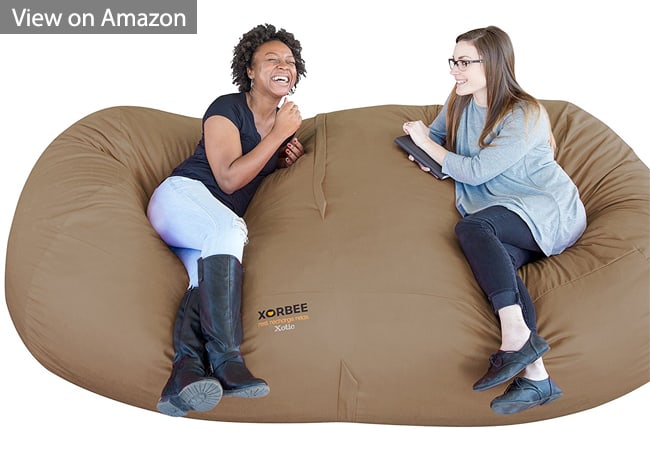 Do you like to take things to the extreme? In this case, Xorbee 8-Foot Foam Filled Bean Bag Lounger is the perfect piece of furniture for you. If you like to stretch out a lot or share your comfy spaces with people you love, this is your absolute beanbag. With his microsuede cover, you get an extra touch of comfort. Grab a nice pillow and soft blanket to take a nap on this boundless island of foam.
No other bean bag chair can compare to the supreme awesomeness of the Xorbee 8-Foot. Just take a look at it – it's a space station compared to other bean bags. Here's another great feature – its ample cushy softness will suck you in and keep you relaxed for hours to come.
Key features:
Covered in soft, durable microsuede fabric for maximum comfort.
The ultra-durable foam has "quick memory" built in so it springs back to its original shape instead of being crushed flat. It is filled with polyurethane foams that can provide great comfort to the one sitting on it.
Durable and water-resistant inner liner keeps everything in; complete with childproof zipper.
Best for large family rooms, replacing a sectional couch or standard couch, large seating areas, open study spaces in schools, or using as a bed.
Great seats for 4 adults, 4-5 teenagers, 6-7 smaller children – the whole darn family.
Dimensions: 96 L x 48 W x 48 H (inches). Weight: 125 lbs.
Shipped in compressed packaging to reduce shipping costs.
SLACKER Sack 8-Foot Round Microsuede Giant Bean Bag Chairs
SLACKER Sack is a premier giant foam bean bag manufacturer. They are selling the highest quality memory foam beanbags at reasonable prices. And SLACKER Sack 8-Foot Round Microsuede Giant Bean Bag is perfect as a huge foam beanbag chair for 2-5 people. Furthermore, will fit the whole family!
Perfect for a family room, theater room, dorm room, or den. The 8-Foot Round beanbag model is among the most comfortable, fun, and versatile pieces of furniture – you'll find yourself sucked into this bag chair and disappear into its comfortable abyss.
Key Features:
Premium microsuede has a soft feel and makes a durable cover.
The cover is removable, stain resistant, and machine washable.
Filled with shredded polyurethane and Durafoam blend, not large clumps that you can feel them hit you in the back when you lay down.
Include a solid inner liner for filler that makes cover cleaning much easier.
Use a very strong zipper for extra strength and all seams are double stitched.
Each beanbag is constructed by hand in the USA, from start to finish.
Its other color variations are Dark Red, Dark Brown, Charcoal Grey, Earth Brown, Royal Blue, Navy Blue, Light Brown Tan, Olive Green.
Dimensions: 96 x 34 (inches). Weight: 130 lbs.
This model is really, really big so make sure you have the necessary free floor space for it.
Compressed under vacuum and placed into 2 boxes so it can be efficiently delivered to your doorstep.
Conclusion
So, these are the top 10 best giant bean bag chairs you can buy. Keep in mind that a bean bag chair or lounger should be a center of relaxation at home or office. After reading our articles, buying a giant bean bag chair for you is now simple: plan accordingly due to your budget, figure out what kind of style and color you're looking for, determine which room you're going to put the chair in and if you have adequate space for it, and make sure the filler inside is high-quality.
All of the large and extra-large bean bags or oversized bean bag loungers listed here have a cool design are made of highest quality materials, their covers are easy to remove and to maintain, as well as cleaning them is quite convenient. Therefore, getting any one of these is a definite must.