Camelback sofas for every budget
The camelback sofas history starts in the late 18th century and comes from the design studios of Thomas Chippendale. As you know, Chippendale was an influential British furniture designer at that time, and his style influences the industry even today. The Chippendale style, associated with different furniture forms, was the first to be named after a designer. Camelback sofas are a tried and true favorite of the ages and will become a centerpiece in your living room.
According to Merriam-Webster Dictionary, a sofa is "a long upholstered seat usually with arms and a back and often convertible into a bed."
Her origin reflects that people have been sitting for all recorded history. No matter if we choose to buy a sleeper sofas, a click clack sofa bed, a Chesterfield sofa, or whatever sofa type and style you like, these are probably the essential pieces of furniture in any home.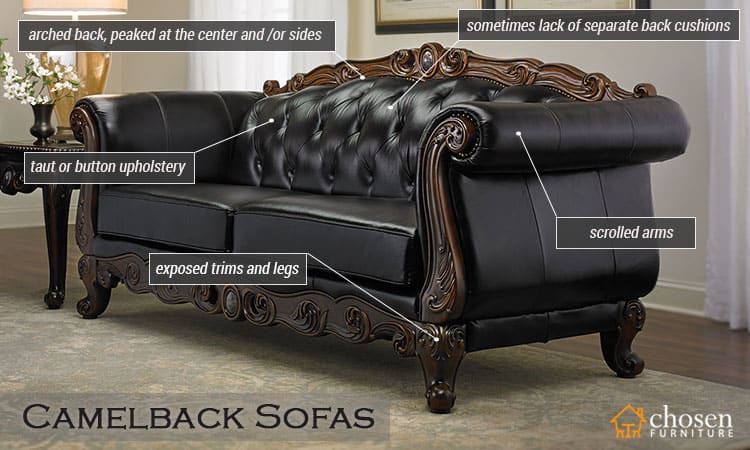 Fun Facts: you guessed it right – this piece of furniture it gets its name from the animal it resembles. The main characteristic is the arched middle and higher points at both ends. Modern versions of this sofas, called humpback sofas, may have only one or two humps.
Camelback Sofa Features
If you like to hold formal events in your living space and also need a comfortable sofa for daily naps, the camelback sofa will be a good choice. The traditional design of a camelback sofa and its timeless look makes this sofa a smart option today. Without a doubt, the authentic camelback sofa design has its charm.
Its classic silhouette, anchored in elegance, features an arched back, peaked at the center and sides, exposed trims and legs, scrolled arms, taut or button upholstery, and sometimes lack separate back cushions. You can use a camelback sofa slipcover to customize it with your favorite fabric and color, refresh the look of the place regularly, protect the sofa, and keep it clean all the time. Graceful wood legs, along with decorative wood elements on the back and arms, can be featured in this sofa type.
Given the timeless popularity this furniture has accrued over the years, the market is now filled with camelback sofas in a wide variety of sizes, materials, prices, and so on. For a rookie, choosing the best camelback sofa can be quite challenging. The question then becomes – which one to buy?
Here are some of the top camelback sofa models for everyday use – and we love them all.
Brika Camelback Sofa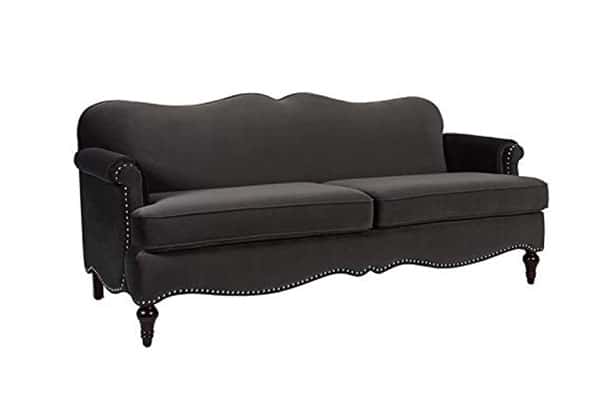 The Brika Camelback Sofa is a great addition to any living space if you like to add a bit of traditional flair. High-quality fabric wraps a solid wood frame made from kiln-dried birch, providing exceptional support, comfort, and stability. His unique scalloped camelback design is accented with nailheads along the arms and bottom edge. Upholstered in a woven fabric with a top premium high-density flame-retardant foam – all these offer a luxurious medium-firm feel. The Brika camelback sofa is ideal for your living room, den, or office. With its lines, this 3-seater sofa brings class and lounging comfort to any room in the home. Some assembly is required.
Duffield Settee with Reversible Cushions Camelback Sofa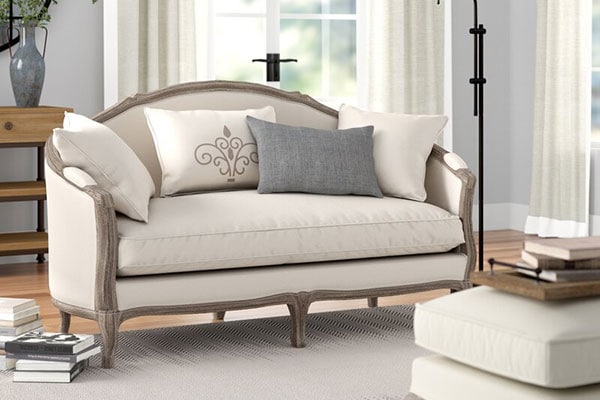 If your couch is looking awful, switch things up with Duffield Settee with Reversible Cushions Camelback Sofa. A piece like this is perfect for adding an aristocratic touch to your home while still delivering much-needed seating. Wrapped in a linen-look microfiber, this piece features traditional accents like pad feet, a camelback, and carved arms, plus a striking silhouette to make this piece a forever favorite. This French cottage-inspired piece is perfect for daydreaming or working through Les Miserables, and this French cottage-inspired piece features a feather blend and foam reversible seat cushions that elevate this settee.
Ramsey Camelback Sofa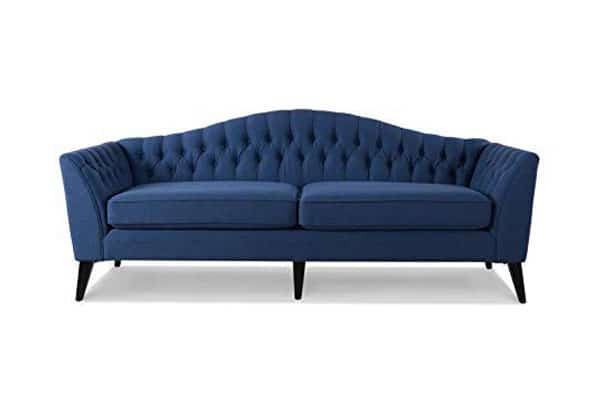 The Ramsey Camelback Sofa by Jennifer Taylor Home will add excitement to your decor with its unique, modern, and upscale design. These camelback sofas will truly stand out in any setting area in your house. With its button-tufted sloped arms and camelback backrest, tapered mocha-finished legs, and large double seat cushions, the Ramsey sofa is one of a king among all sofa collections. High-strength sinuous spring suspension mounted for long-lasting comfort and support. Masterfully handmade by experienced furniture craftsmen and women. Only leg assembly is required.
Renea Chenille Rolled Arm Camelback Sofa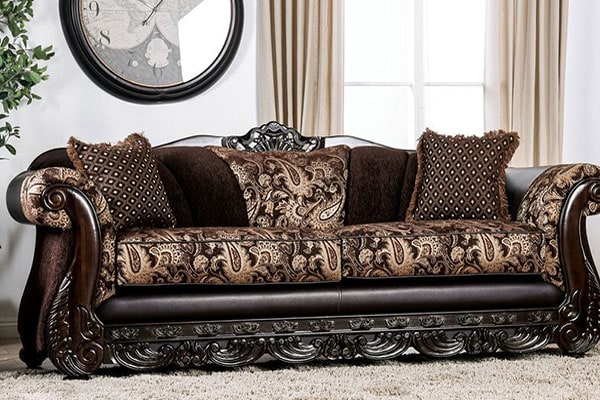 Elegantly designed and rich in style, the Renea Chenille Rolled Arm Camelback Sofa is upholstered using chenille, and it will instantly upgrade your living room. This collection reflects a completely classic and elegant style and is a must-have for instant style elevation. Crafted from the finest materials, this sofa has detailed trim, tufted details, plush seating, and cherry legs to complete the look. Featuring carved wood trim and a black arched seatback. Magnificent details and ornate majesty make this traditional sofa a commanding showpiece.
North Shore Leather Camelback Sofas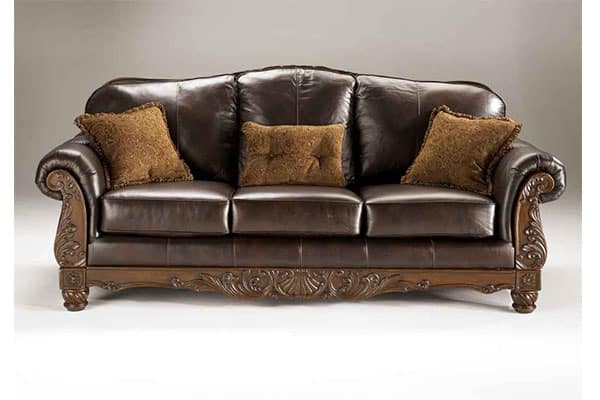 Old World furniture collection from Ashley is irresistibly stylish and a comfortable place to chat and unwind. North Shore Leather Camelback Sofa features elegant curves softened with luxurious top-grain leather and three decorative pillows. Cushioning is firm and inviting, from the box seat to the arching back and arms. Classical plumes and medallions highlight the exposed frame. Frame constructions have been tested with various equipment to simulate the home and transportation environments to ensure durability. Corners are glued, blocked, and stapled. Seats and back spring rails are cut from 7/8 in hardwood. Stripes and patterns are match cut. Cushion cores are constructed of low-melt fiber wrapped over high quality foam. The cushions cannot be flipped as they have leather only on one side.
Lucie Rolled Arm Camelback Sofa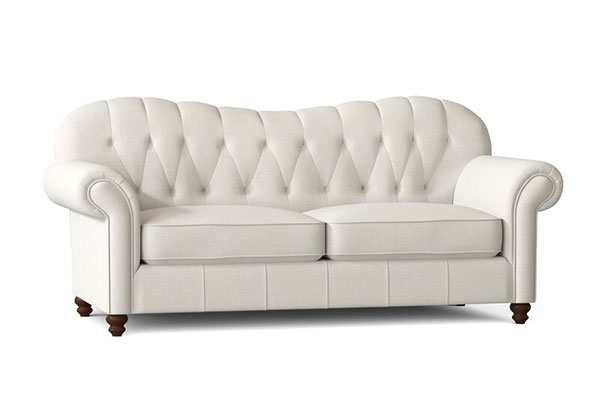 Elegance comes in all types of structures and colors. Lucie Rolled Arm Camelback Sofa is a gracefully designed piece of furniture with extremely soft fabric. Proudly made in the USA, this eye-catching design showcases rolled arms, a tight camelback with button tufting, and low-profile turned feet for a traditional look. With various upholstery options, you're sure to find a design perfect for your space. So much better than a regular everyday couch.
Midwood Camelback Sofas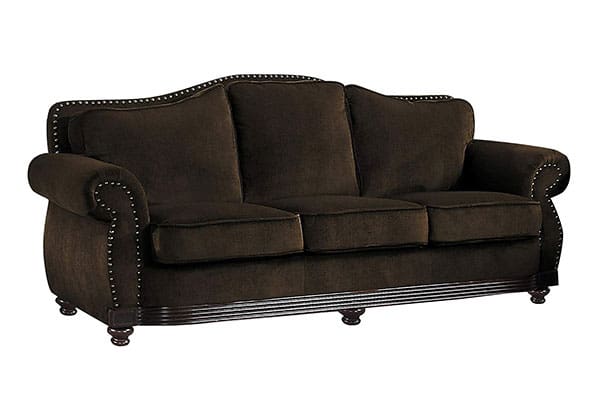 Traditional design elements lend an air of refined relaxation to the Midwood Collection. Rolled arms of Midwood Camelback Sofa design feature a nailhead accent while the contrasting show wood routed frame accentuates the rich chocolate or dark brown bonded leather covering these camelback sofas. The seat and back cushions are not reversible. You complete your seating arrangement with matching Midwood loveseat.
Eloise Camelback Sofa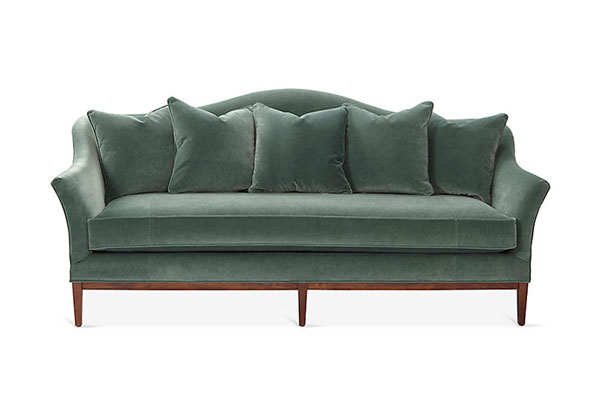 A refined take on the transitional style with a lovely wood frame, the Eloise Camelback Sofa instantly elevates your favorite seating space. Add it to a living room ensemble alongside a pair of wingback armchairs and complementing sofa for a cohesive arrangement, then accent the space with embroidered patchwork pillows for a touch of texture. Anchor the space with a pedestal coffee table, then top it off with a weathered wood lantern for a charming nod to the past. This handsome design is a must-have addition to your home, perfect for seating guests at your cocktail party or relaxing while reading a mystery book. A long bench cushion with generous padding ensures long-lasting comfort. Made in the USA.
Casey Camelback Sofas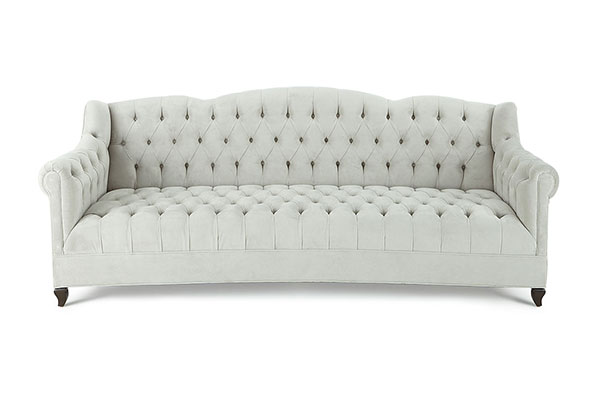 Liven up your living room look with Casey Camelback Sofas. Founded atop four angled legs, its frame is crafted from Alder wood and takes on an eye-catching curved silhouette. Foam padding lends comfort to the seat, while velvet upholstery wraps around to tie it all together with a solid hue and camelback. It offers space to seat up to four for cocktail parties and movie nights. Hollywood glam takes on a new meaning when this camelback sofa makes its way into your home. Haute House is a Hollywood-based design and manufacturing company that creates haute couture furnishings for the home. Designer and owner Casey Fisher has been designing furniture for years as an upholstery, textile, and retail space stylist.
Welling Camelback Sofa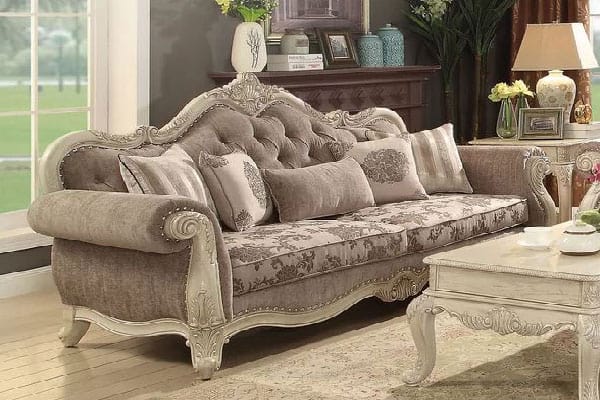 This Welling Camelback Sofa combines traditional details with functional design to accommodate today's styles. Features a tight back cushion, rolled arms, crown and raised scrollwork ornamental trim, and button-tufted backrest. Crafted from wood, polyresin, and fabric upholstery, this sofa exhibits a royal look and is sure to enhance the ambiance of your home space. Five accent pillows are also included to make your living room more splendid. Find comfort at the end of a hectic day and sink into these camelback sofas. Seat construction with pocket springs.
FAQs
When were Camelback sofas popular?
Camelback sofas were popular during the early 18th century and the late 19th century. They were first introduced in the colonial period and remained a popular furniture style throughout the Victorian era.
Are Camelback sofas comfortable?
Camelback sofas can be comfortable depending on the materials used in their construction and the quality of their cushions. They are known for their elegant appearance and sturdy construction, but comfort can vary from model to model.
What is a camelback sofa in furniture?
A camelback sofa is a type of sofa that features a curved backrest that rises in the middle and dips on each end, resembling the hump of a camel. It is typically made with wood frames and high-quality upholstery and is often seen as a classic and elegant piece of furniture.
What is the highest quality sofa brand?
Many high-quality sofa brands, depending on your style preferences and budget. Some of the most well-regarded sofa brands include Herman Miller, Burrow, La-Z-Boy, and Jonathan Adler.
Summary
Always remember, with any camelback sofas purchase, there is no need to rush into it. Take your time, read user feedback, and trust your intuition. When you find the perfect look and price range of a camelback sofa for you, consider investing money into a high-quality product. Although there are various models to choose from, the ten Camelback sofas mentioned above are some of the best and most popular we've come across.