When you purchase through our links, we may earn a commission. As an Amazon affiliate, we earn from qualifying purchases.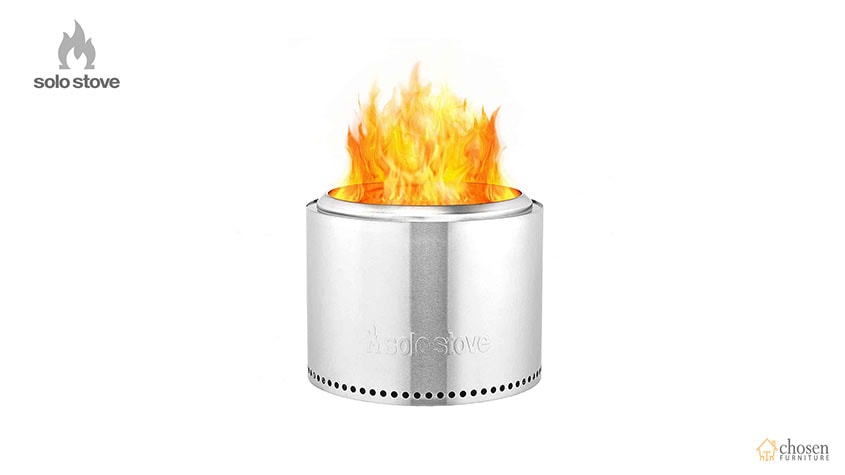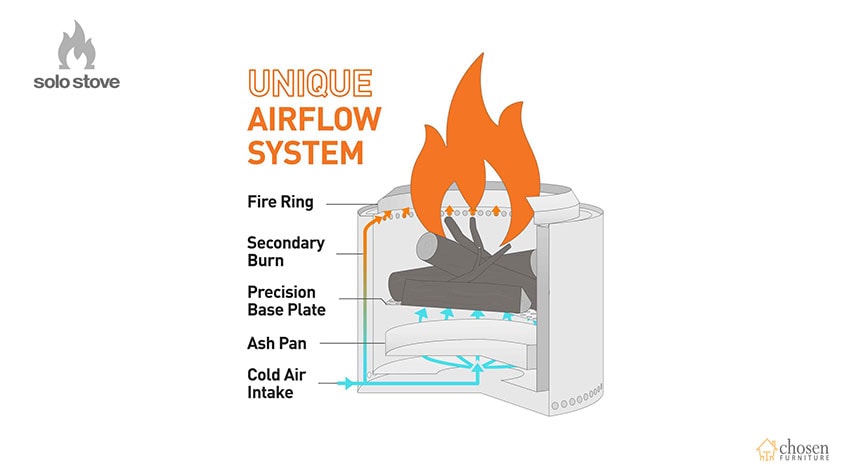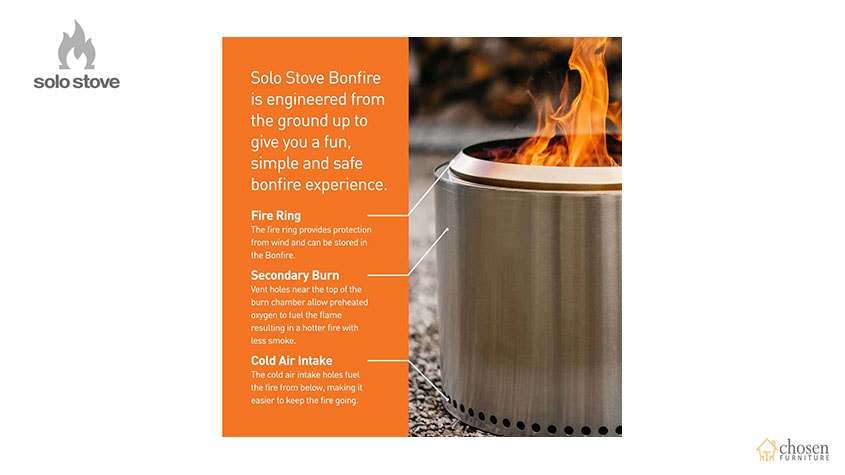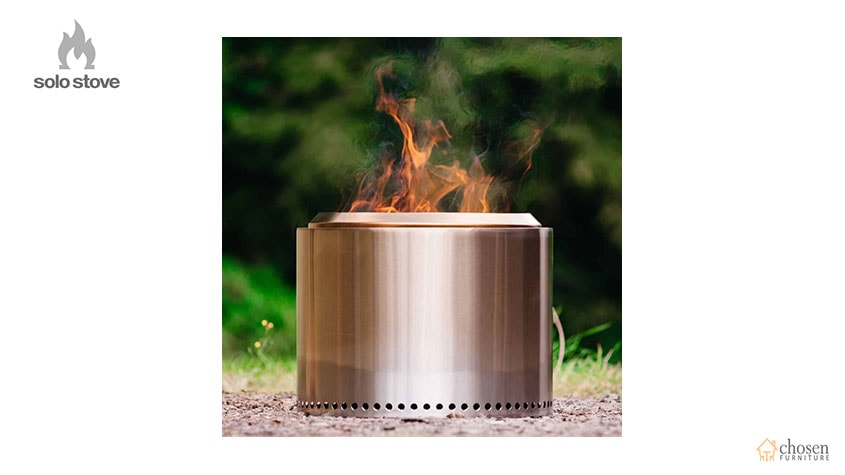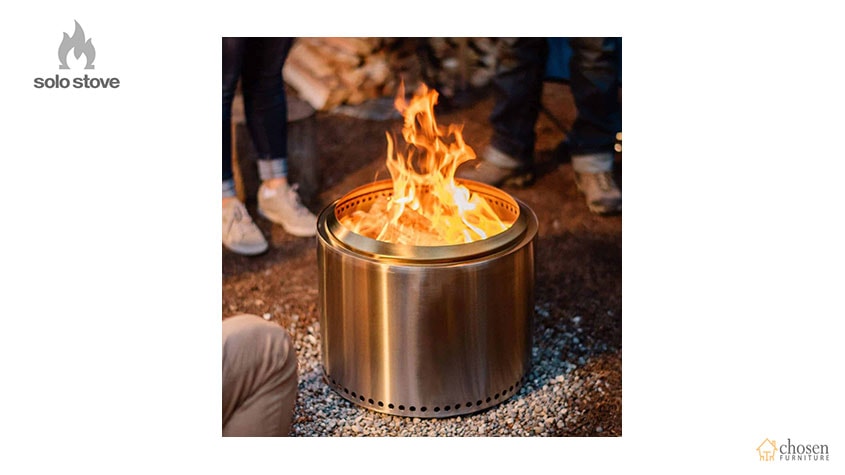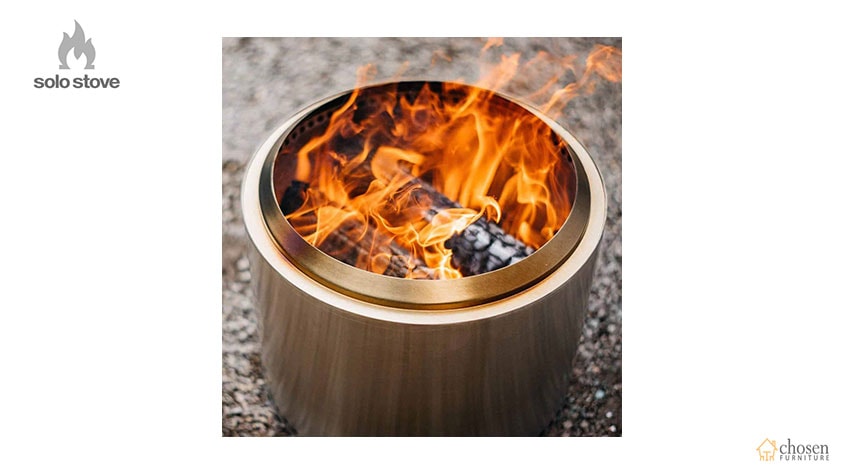 Updated on July 30, 2022
Solo Stove Bonfire Fire Pit is the world's most unique outdoor and patio fire pit, and it pushes the limits of both combustion airflow efficiency and minimalist design. It is engineered to provide a backyard fire experience that cannot be duplicated. Using a Solo Stove patented design and specialized construction process, this company creates one of the most beautiful single-unit fire pits ever.
Pros of the Solo Stove Bonfire
Durable stainless steel construction
No moving parts to break
Patented design
Channeled airflow system
Low smoke
Portable – great to take camping
Setup and cleanup is fast and simple
Great quality, works exactly as expected
Impact on the environment is minimal
High sides block view of the fire
You can't really cook over it
Heavier than some expected
Manufactured with a double-wall, Solo Stove Bonfire Fire Pit has unique airflow properties which make it extremely efficient. The air intake holes on the bottom of the stove channel air to the bottom of the fire while at the same time, channeling warm air up between the walls of the stove. This burst of preheated oxygen feeding back into the firebox through the smaller holes at the top of the stove causes a secondary combustion. This allows the fire to burn more completely which is why there is very little smoke during a full burn. A more efficient burn means you'll use much less wood compared to an open campfire.
Each and every Solo Stove Bonfire Fire Pit is precision made with state-of-the-art machinery and premium materials. Bonfire Fire Pit is every bit functional as it is beautiful. This outdoor fire pit is built to last, made out of premium grade 304 and 430 stainless steel. Whether you use the Bonfire to keep warm and toast some marshmallows or as the perfect backyard ambiance for your summer party, we know you'll have unforgettable experiences around this patio fire pit.
Any firewood logs will burn for optimum efficiency, but it is recommended to use dry hardwoods. Hardwoods such as birch, maple, hickory, and oak will burn longer. Nonetheless, all of the wood will burn to ash which promotes cost-effectiveness and added reliability.
Other stoves will let you wait a few minutes before the flames start to pick up. With the Bonfire Fire Pit, on the other hand, the flames will start to stir up in less than a minute. Waiting times are shortened just to get the fire started, even if it's freezing outside. You can even add some catalysts, such as a few pieces of straw to make the flame light up faster than the norm.
Once the Solo Stove Bonfire Fire Pit heats up, it does produce less smoke than other units on the market – it even produces less smoke than a regular campfire. However, it does take a good 10 to 15 minutes before it reaches this less=smoke point. Nonetheless, it's a practical choice if you want to minimize smoke emissions and not scare your neighbors.
A remarkable feature of the Solo Stove Bonfire Fire Pit is that it can rapidly cool. Even if the temperatures go significantly high while it's burning wood, the stove will cool down in just a matter of minutes. Once it burns everything inside to ash and there's nothing left to heat up, the temperature in the unit goes lower rapidly.
Cleaning up the remains of the wood burning with the Solo Stove Bonfire is just as easy as firing it up. Since the unit cools down fairly quickly, you can tip your Bonfire upside down to dump the ashes from the wood you've used to heat the surroundings. Once the ashes are out, you use a fresh batch of wood to keep the flames going.
Along with being a sleek, beautiful design, Solo Stove Bonfire Fire Pit it's also lightweight. The height of the stove is 14 inches while the width is 19.5 inches. It's a fire pit that weighs less than 20 pounds. The stove comes with a durable bag (with handles) to enclose the unit and make it easy to carry. You can easily pack it to take on vacation if you're planning on camping – you can take it anywhere with you. The Bonfire has a low smell when packed in the car because it burns all of the wood with less smoke than normally happens with regular fire.
At last, still one question: can you cook over it? Well, unlike other Solo Stove's smaller portable fire pits – the Lite, the Titan and the Campfire models – you can't easily cook over the Bonfire other than hot dogs and marshmallows. The reason is that you can't disassemble it, it's an all-in-one fire pit.
So if any liquids fall in the double-walled chamber, it can be a pain to clean it out. It also doesn't have prongs over it like Solo Stove Lite, so if you want to cook over it, you'd have to buy a grill grate. Even then, we'd recommend cooking in pots or pans, not directly over the flame.
Want a better option to heat up a large space? Check our
Top 10 Best Cast Iron Chimineas
. Chimeneas have become very popular and can add excitement and character to almost any place.
Solo Stove Bonfire Fire Pit Questions & Answers
Here are some frequently asked questions about the Bonfire model we've personally been asked or seen others asking.
How fast does the Stove burn woods?
Due to having the actual structure of the double-walled chamber, the Solo Stove Bonfire gets hotter than others but the wood doesn't seem to burn much quicker.
How quick the flame will start?
With the Solo Stove Burner, the flames will start to stir up in less than a minute while other stoves will let you wait a few minutes before the flames start to pick up. By adding extra catalysts, you can make the flame light up faster than the norm.
Is it possible to warm myself at an outdoor party?
Sure you can. You can enjoy the warmth of an efficient fire pit with your folks with an outdoor temperature below 45 degrees even. The stove does an excellent job of emitting heat.
How can I cook with the stove?
As we previously explained, this stove is not made for cooking. Though, it worked amazingly well and heated a heavy cast iron pan in about 45 seconds. A round grill grate will work for you as well. The Bonfire fire pit is ideal for smores, hot dogs, bratwurst, or roasting some marshmallows. You are advised to clean it after a few uses.
How can I carry the stove outside as it has no handle?
The Bonfire model comes with a very durable bag that has carrying handles. Just wait for a few minutes to cool down the stove to put it in the bag to carry the stove safely. The stove is light enough to be easily transported.
How quickly the stove cools down?
The Solo Stove Burner can rapidly cool down. The temperatures are significantly high while it's burning wood, yet, the stove will cool down in just a few minutes depending on the ambient temperature.
What is the safest way to extinguish in case of emergency?
In an emergency situation, you can use water as the quickest way to extinguish the fire. Be ready for a premature rusting of the inside by doing so. You could also try a fire blanket. They cost about $20.
What better fire materials should I use for efficient burning?
You can burn any type of biomass such as twigs, small and large branches, pine straw, pine cones, dried grass, garden waste, wood pellets, etcetera. You can use a small amount of charcoal to start then add the firewood if the wood is a little wet. While softwoods can still be used with Solo Stove Bonfire, hardwoods (maple, hickory, oak, or birch) will last longer. Nonetheless, all of the wood will burn to ash.
How "smoke free" is this?
Once you get the fire burning, the stove is close to smoke-free. There will be some smoke at the initial start of the fire, but once the fire gets going and you get some hot coals, the circles at the bottom and airflow system make this fire pit virtually smoke-free. As long as you are burning firewood and not garbage or wet wood, it has minimal smoke.
Can I lay the stove directly on a wooden deck?
Yes, you can. Even better, use a 2-inch thick concrete paving stone or ceramic tiles between the stove and deck.
Is it risky to place the stove on sand?
If the sand is firm and compact, there's no risk. Make sure that the hole is not covered.
What's the interior dimensions
Internal fire pot diameter is 17.75″ and approx 11″ high. There is a separate ring that installs around the top of the fire pot that narrows the opening to 15.75 inches. The ring also increases the height by about an inch. If you add the recommended cover screen the overall internal height of the inside of the fire pot to the inside of the screen is 19.75 inches.
What's the difference between the Bonfire and other Solo Stoves?
The Solo Stove Lite, Titan and Campfire are more portable and were designed for backpacking and campsite cooking. Solo Stove Bonfire was created to be an awesome fire pit for your backyard!
Overall Verdict
You can find a lot of stoves on the market that can provide you with an adequate source of heating or even for camping trips. However, the Solo Stove Bonfire Fire Pit features like less smoke, minimal ash, and a crazy super-efficient burn will bypass the Bonfire price. Whether you're a camper, hiker, backpacker, or simply want one for your backyard, the eco-friendly wood-burning Solo Stove Bonfire is an excellent choice.
FEATURES
Brand: Solo Stove
World's most unique fire pit
Double wall =maximizes airflow and burning process
Burns with almost no smoke
Heavy duty carry case included
There is literally no setup
SPECS
Product dimensions: 19.5 x 19.5 x 14 inches
Product weight: 20 pounds
Materials: stainless steel
Fuel: firewood logs