When you purchase through our links, we may earn a commission. As an Amazon affiliate, we earn from qualifying purchases.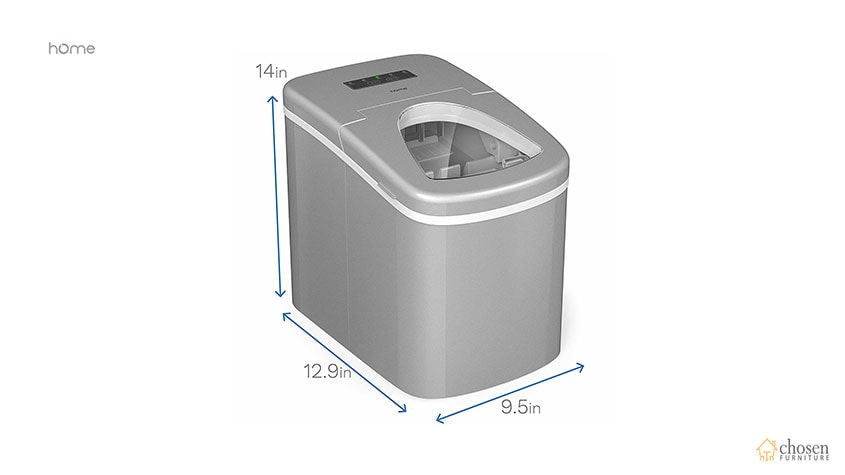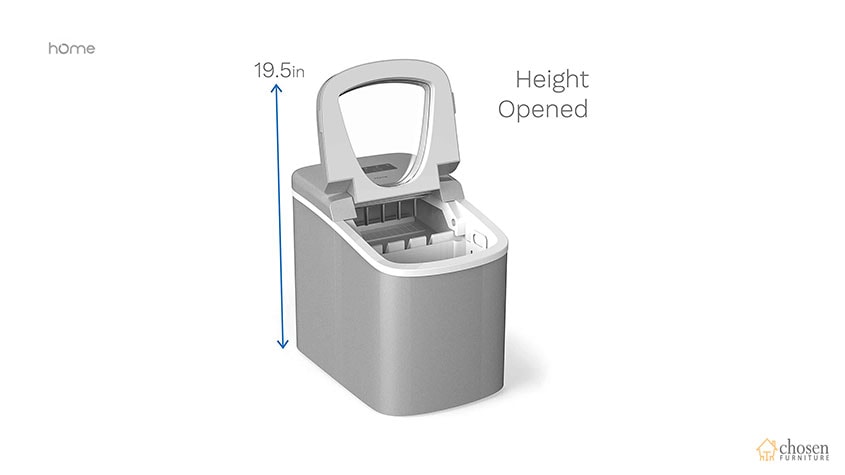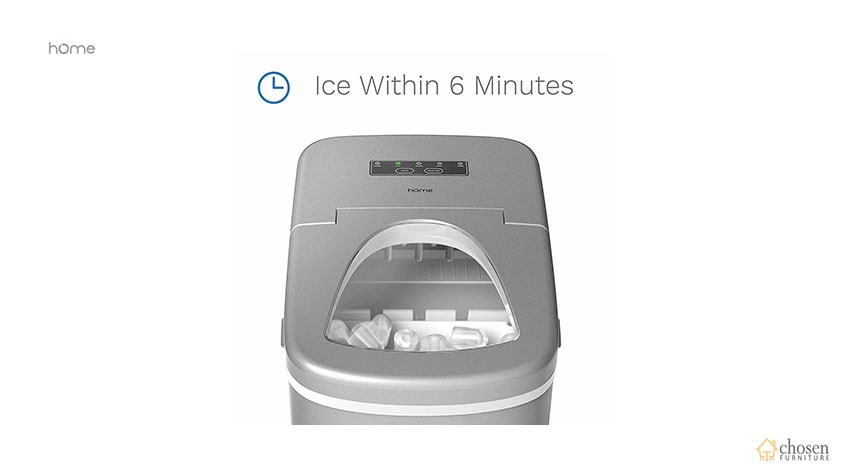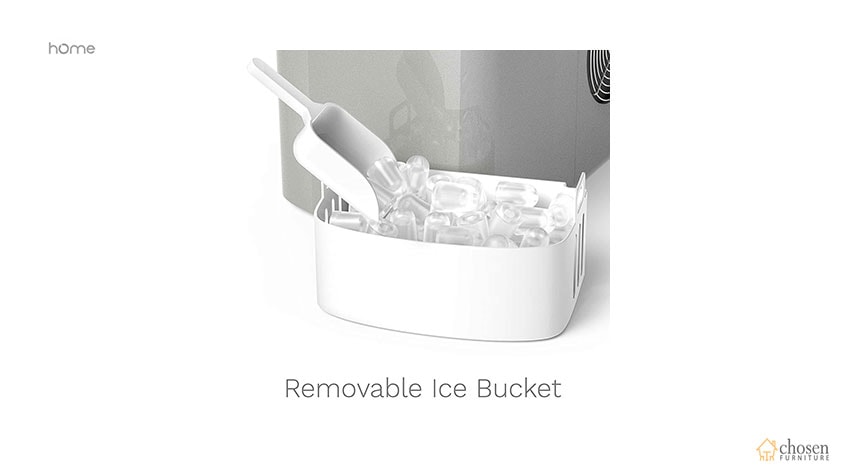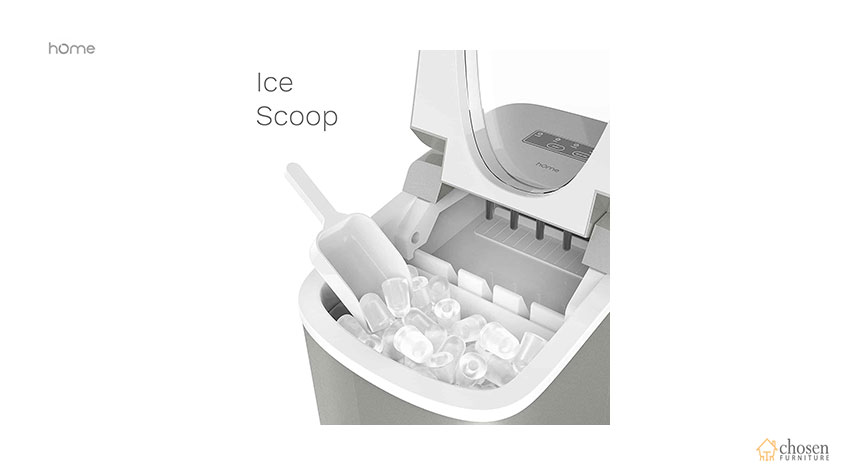 Updated on July 30, 2022
Compact and portable, the hOmeLabs Chill Pill Portable Ice Maker Machine for Counter Top can produce 26 pounds of ice in the cycle every 24 hours. In just 6 to 8 minutes, you'll have beautiful, smooth, bullet-shaped ice cubes that make every fast drink a pleasure to enjoy.
Pretty easy to use and no installation required. Its compact and lightweight design makes it not only great for your kitchen but also camping, road trips, boats, and RVs. Just plug it into a grounded 110V-120V outlet, and you are ready to go.
The hOmeLabs Chill Pill Portable Ice Maker can supply ice for less than 6 people indefinitely because it produces 5 batches an hour. Since it's much smaller than a full-sized ice machine, it's highly portable. You can set the hOmeLabs unit up in the center of the action so you don't have to go back to the kitchen to get more ice.
Also, feel free to stuff it in your trunk when traveling by car. As long as you have a power source nearby, this ice machine is a great way to enjoy chilled drinks when out of town on holiday.
hOmeLabs Portable Ice Maker – Ice Making Ability
The hOmeLabs portable ice maker make up to 26 lbs of ice per day or about 1 lb per hour. That's not bad for such a unit! The inside storage bin holds about 1.5 lbs of ice, which is enough for about 6-7 drinks. It produces ice in 8-cube batches that take 6-8 minutes to make.
Once the bin is full, the ice maker automatically lights the FULL indicator and shuts itself off. Note that this ice bin is not a refrigerator (although it is insulated) so you need to remove the ice cube otherwise it will melt down.
hOmeLabs Portable Ice Maker – Ice Quality
hOmeLabs portable ice maker lets you choose between 2 ice cube size – small and large. If you want to produce the best quality ice, always use clean filtered water. It's also important to regularly clean the appliance to avoid bad taste or smell.
The ice made by this maker is ideal for a wide variety of drinks like margaritas, iced tea, and smoothies. However, we found that it is not the best ice to use in premium drinks like fine whiskey, as it tends to melt quickly and dilute your drink.
hOmeLabs Portable Ice Maker – Aesthetic appeal
This silver unit is made of sturdy steel to handle everyday needs and is designed for placing on the countertop. It works relatively fast, doesn't emit noise, and is easy to operate thanks to the practical layout.
As with other products from this brand (like hOmeLabs Compact Countertop Dishwasher), this unit is ergonomically designed for easy handling and portable.
This ETL Certified electric portable ice machine has an easy-to-use control panel and comes with a removable ice basket and scoop.
Conclusion
hOmeLabs Chill Pill Portable Ice Maker Machine for Counter Top is a sleek, high-performance countertop ice-making machine that produces 26 lbs of ice per day. It can store up to 1.5 lbs of ice. It is perfect for kitchens, recreational vehicles, boats, bars, backyards, and more. The hOmeLabs portable ice maker is a small portable ice machine with lots of positive customer reviews.
hOmeLabs portable ice maker it is also far less expensive than other portable ice machines, and requires no line-in or draining. A big plus, hOmeLabs provides a 30-day no-questions-asked money-back guarantee plus a 2-year warranty – and an additional 6 months if you register the appliance online.
Silver in color, reliable and economical – hOmeLabs portable ice maker deliver superior quality at best low costs.
Pros
It has a quiet compressor cooling system
It is compact, so it doesn't take up too much space
Fast ice cube production, it takes about 6 to 8 minutes
Cons
If the ice cubes are not removed immediately, they may begin to melt
FEATURES
Brand: hOmeLabs
Countertop ice maker produces 26 pounds of ice per day
Stores up to 1.5 pounds of ice at a time
Ready for beverages in just 6 to 8 minutes
Modern refrigeration technology and quiet compressor
Automatically shuts off when ice is full
Certifications: ETL, CE-EMC, CE-LVD, FDA, ROHS
SPECS
Water reservoir capacity: 2.2 liters / 0.58 gallons
Item weight: 19.35 pounds
Product dimensions: 12.9 x 9.5 x 14 inches
Color: silver
If you liked this article, you'll also be interested in: